Real Estate Product Reviews on ActiveRain
Here's where you'll find a community willing to share their experiences with everything from computers to coaches and from contact management software to virtual assistants. If there's a real estate-related product or service, we'll have reviews for it.
Consider this patch of ActiveRain real estate your water cooler. Gather around it and talk to you colleagues – get and offer advice. We hope this will be a forum for both teaching others about what you know and for learning from the rest of the ActiveRain community.
What products or services work for you? Don't be shy -- we'd love to hear all about them and spread the word to help all ActiveRainers move on to the next level in their businesses.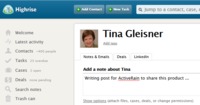 Product Reviews for
HighRise
HighRise Overview
(
This is a super easy contact management platform. From capturing someone's contact information, you can take notes for every conversation you have with them, and archive every email you send them or they send you.

You can assign tasks to team members & I'm sure there's more capability like tracking open proposals, that I'm not using yet
Subscribe
Submit a Review
HighRise Reviews

Scottsdale, AZ
Real Estate Agent
Submitted on 09/29/2017
High Rise is a Five Star Option for teams. Their Basic Plan is for up to six users, 5,000 contacts,...
more
This review has not yet been rated

Andover, MA
Real Estate Agent
Submitted on 01/20/2017
HighRise is another CRM alternative. We have seen many of them, each one of them claiming to be the...
more
This review has not yet been rated

Evanston, IL
Real Estate Agent
Submitted on 09/18/2015
Contact management is such an important part of the business world and HighRise many be a good produ...
more
This review has not yet been rated

Memphis, TN
Education & Training
Submitted on 12/15/2013
HighRise is part of the "37signals" group of products. 37signals was founded as a web design firm by...
more
This review has not yet been rated