Real Estate Product Reviews on ActiveRain
Here's where you'll find a community willing to share their experiences with everything from computers to coaches and from contact management software to virtual assistants. If there's a real estate-related product or service, we'll have reviews for it.
Consider this patch of ActiveRain real estate your water cooler. Gather around it and talk to you colleagues – get and offer advice. We hope this will be a forum for both teaching others about what you know and for learning from the rest of the ActiveRain community.
What products or services work for you? Don't be shy -- we'd love to hear all about them and spread the word to help all ActiveRainers move on to the next level in their businesses.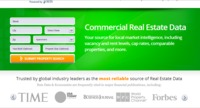 Product Reviews for
ReisReports
ReisReports Overview
(
ReisReports gives the independent commercial real estate professional quick access to objective, industry-trusted real estate data. Pull sales, rent, and new construction comps in an instant, or use the tool to access market and submarket data.

Why ReisReports is different:

Proprietary Data: We own our data, which means we have and always will ensure its integrity and consistency.

Established Company: We have been in business for 30 years and are a household name in the CRE industry.

Unbiased Data: We collect our data using unbiased methodologies.

Industry Leader: Our data is frequently used by the Wall Street Journal, Bloomberg, and other industry heavyweights.

Flexible Licensing: Your account works anywhere, and is not tied to one computer.

In-House Quality Control: We are only as good as our data, so we have an entire team dedicated to quality control.

Fanatical Customer Service: Our client support team is always available to answer questions, give us a call.

Value: Reis data, products, and services will play a leading role in closing the deal.

Heritage: Reis is the nation's most trusted provider of commercial real estate market data, research and analytics. For 30 years, we have maintained an objective, transparent approach to data collection. We cover over 200 metros and 2,500 submarkets across the Apartment, Office, Retail, Industrial, and Self-Storage sectors.

Free 7-day trial. Check it out! http://www.reisreports.com



Subscribe
Submit a Review
ReisReports Reviews

Scottsdale, AZ
Real Estate Agent
Submitted on 01/22/2018
ReisReports is a Five Star Product for Commercial Real Estate. They do offer free sample reports - a...
more
This review has not yet been rated

Andover, MA
Real Estate Agent
Submitted on 11/15/2016
The residential real estate data is now available on so many sites, including franchises and IDX com...
more
This review has not yet been rated

Memphis, TN
Education & Training
Submitted on 08/18/2013
It would be impossible to cover ll that Reis has to offer in this review. Reis is revered in this na...
more
This review has not yet been rated
Portland, OR
Real Estate Sales Representative
Submitted on 03/27/2013
There is so much unreliable data out there--thankfully REIS Reports does what it does, and gives bus...
more
This review has not yet been rated