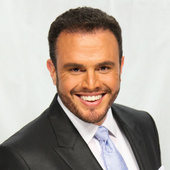 Services for Real Estate Pros
Alex Charfen
Austin, TX

—

Charfen Institute
CEO of Charfen Institute; Author of Certified Distressed Property Expert® (CDPE) Designation, Certified Investor Agent Specialist™ (CIAS) Designation, and LEAD Experience™ http://www.charfen.com
Get to know Alex Charfen
Alex Charfen is CEO and Co-founder of Charfen Institute, one of the few small business success stories to emerge from America's Great Recession, placing 21st on the Inc. 500 list of America's fastest-growing companies in 2011.
Alex and his wife Cadey hit it big during the South Florida real estate boom – Alex as a successful mortgage broker and Cadey as a top-producing Realtor. They also held a large and highly leveraged portfolio of investment properties. When the market crashed, both their businesses and investments took a dive … sending the couple into bankruptcy.
Having lost everything, they set out on a mission to do things differently. They committed to living a debt-free lifestyle and to helping others find stability and success in both their business and personal lives.
The Charfens realized they were one of the few real estate teams in the country who specialized in working with distressed homeowners. Even during a good market, a small percentage of homeowners fall behind on their mortgage, and Alex and Cadey had helped these families out of difficult situations for more than a decade.
With the market shift, they knew there would be a tremendous demand for trained real estate agents who could assist distressed homeowners. The Charfens launched the Distressed Property Institute and spent more than a year developing the course curriculum and materials for what would become the industry's "gold standard" in short sale training – the Certified Distressed Property Expert® (CDPE) Designation.
CDPE was quickly endorsed by several major lenders and brokerages nationwide, including RE/MAX International, CENTURY 21 and Leading Real Estate Companies of the World. Since its inception in January 2008, tens of thousands of real estate professionals have earned their CDPE Designation, making it the fastest-growing independent designation in real estate industry history.
In December 2009, the Charfens acquired STAR POWER Systems®, which had been recognized for more than 20 years as the #1 brand in real estate education. Following the acquisition, the Distressed Property Institute and STAR POWER Systems joined together under one company, and Charfen Institute™ was born. The mission of Charfen Institute is to help members achieve Tangible Results Through Knowledge™.
Charfen Institute made history again in October 2010 when it launched the first designation specifically addressing the needs of residential real estate investor clients, the Certified Investor Agent Specialist™ (CIAS) Designation. The CIAS Designation trains real estate agents to find, create, and close with residential real estate investors, providing the necessary tools and strategies to help them make sound investment decisions for their future.
Charfen Institute's newest offering is the LEAD Experience – an intensive, three-day business acceleration program for small-business owners, launched in April 2011. The Charfens realized early on that small businesses have very little training available to them that is specific to their needs. They set out to dissect the steps they had taken to grow their company, examined the successful practices of other fast-growth organizations, and created a course to show others how to do the same. LEAD Experience teaches entrepreneurs how to forge unrealistic success, transform struggles into strengths, and realign both their personal and business approach.
Since moving its headquarters to Austin, Texas, in 2009, Charfen Institute has grown from $500,000 to $10 million in annual revenue and added more than 70 jobs to the Austin economy – all during one of the worst recessions in U.S. history and with no debt or outside funding. This remarkable growth led to the company's debut on the Inc. 500 list in 2011.
Additional awards for Alex Charfen and Charfen Institute include: Best Places to Work in Central Texas 2010 and 2011; Alex Charfen for Austin's Fittest Entrepreneur and the Austin Under 40 Award for Real Estate; numerous Telly and Omni Awards, and the 2010 Aegis Award.
For more information about Alex Charfen, visit: http://www.alexcharfen.com.
Alex Charfen's Blog Posts
Certifications
The Certified Distressed Property Expert (CDPE) Designation is the most important education a real estate professional can find for success in today's market.
With a growing nationwide network of tens of thousands of real estate professionals, the CDPE Designation is changing the way industry veterans deal with the changing paradigm of success in the real estate industry. The measurement of success has been amended to include how many families have been saved, how many foreclosures have been avoided, how many neighborhoods have been spared, and in the way real estate professionals are turning the tide of trouble in the real estate industry.
Through comprehensive training and experience, CDPEs have an understanding of the complex issues confronting distressed properties. They are able to survive and thrive in current market conditions while providing solutions for homeowners facing hardships. CDPEs don't merely assist in buying and selling properties, they serve and help save their clients in need.
Click here to get started immediately with the CDPE Online Distance Learning Course!Or check out our Schedule of Events for a Live CDPE Event in your area!
What Agents area Saying About the CDPE Designation ...
The two day course was incredibly impactful ...
it gave me all the information including the crucial forms and checklists that are necessary (amazing that everything is included). The Field Manual was clear and it takes you from point A to Z for Distressed Properties. As an expert I am now getting short sale referrals from around the country.
Ileana Oxley, The Oxley Team
The CDPE is a 100% Home Run!
Before I took the CDPE I felt insecure and concerned with taking Distressed Property listings. The day I finished the CDPE I was ready to get started. I am now actively working with distressed homeowners, getting referrals and closing deals. My only complaint is the classes keep selling out and I can't get a seat to take it again!
Thanks again for all your help and hard work!
Sidney Jimenez, SidneyJimenez.com
I have been licensed for over 30 years...
and I have sold over 2,700 homes. this is one of the best programs I have attended in years. Everything you need plus all the books and printed forms necessary to implement the short sale process.
John Lucka, Broker/Owner, RE/MAX PowerPro
Click here to get started immediately with the CDPE Online Distance Learning Course!Or check out our Schedule of Events for a Live CDPE Event in your area!
Introducing a fresh new look for your Profile.
Click the 'Edit Profile' button below to enter 'Edit Mode' and continue the tour.