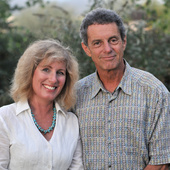 Real Estate Agent
Alan Vorenberg
Santa Fe, NM

—

Sotheby's International Realty

Sotheby's International Realty Affiliates Inc.
Get to know Alan Vorenberg
The Vorenberg family pioneered in northern New Mexico in the 1880's with the arrival of Alan's grandparents, Simon Vorenberg and Theresa Harris Vorenberg, who came west from Pennsylvania. Simon established the town of Cleveland, NM where he opened a US Post Office in 1892. He later ranched at Wagonmound NM where Alan's father Morris was born in 1907. He operated The Vorenberg Mercantile Company there as well. Simon was a delegate from Mora County to the Constitutional Convention that was convened in Santa Fe in 1910 as the Territory of New Mexico was becoming a US State. The Vorenberg family is included in the Jewish Pioneers of New Mexico Exhibition at the Palace of the Governors in Santa Fe.
Alan grew up through high school in Carlsbad NM, where Morris and his wife Adele made their home. After spending a year in Sweden as a foreign exchange student Alan attended NM State University in Las Cruces and the University of NM in Albuquerque. He worked as headwaiter for sixteen years at La Tertulia restaurant in Santa Fe. During those years Alan was a wintertime resident and skier in Taos Ski Valley, where he and his family now have a cabin and all love to ski.
Alan became a licensed Realtor in 1982 with Christopher Webster Real Estate, went on to become a licensed Real Estate Broker in 1989 and achieved the Certified Residential Specialist designation in 1992. Alan is a full time professional, and his production ranks him as a top producer in Santa Fe.
Alan met Anne Jorgensen of Albuquerque while in Taos, and they married in 1994. They have three children. Their daughter, Kitty, is 16 years old, and the two boys, Jeremy and Trevor, are 13 and 8. The whole family has a love for the great outdoors, especially skiing. Golfing and spending time at New Mexico's lakes are favorite pastimes in the summer. Gardening and landscaping at home are hobbies along with cooking, indoors and outside. The whole family loves enjoying Santa Fe's wonderful climate.
Anne has a strong background in sales, finance, and management and became licensed in real estate in 1995. As business partners they form a team with tremendous enthusiasm and energy, and really enjoy their careers as real estate brokers. Their mission statement in business is to provide top level service and expertise for their clients and customers. They know the Santa Fe real estate market and bring along a wealth of experience and knowledge.
Alan Vorenberg's Blog Posts
Certifications
"Alan is excellent. Had incredible patience with me..." C.W., Santa Fe
"He's a professional broker." E.H., Santa Fe
"Mr. Vorenberg is highly professional yet friendly. I recommend him in the highest terms to anyone interested in buying or selling property." C.C., Phoenix
"As was true in three prior transactions, Mr. Vorenberg is the consummate professional." I.C., Santa Fe
"Alan and Anne did a great job!" J.K., Santa Fe
"I am taking this opportunity to let you know that Alan Vorenberg did an incredible job. He is very organized and efficient. I have bought and sold a lot of properties and I have never worked with anyone like Alan. He was always ahead of everything and had things ready before I mentioned them. I know that I will contact him in the future for any property that I buy or sell." L.C., Santa Fe
"Have enjoyed working with Alan and Anne will call them in the future to handle other purchases and sales." R.C. & A.C., Santa Fe
"Alan and Anne are the best." C.V. & S.V., Santa Fe
"Very helpful and pleasant - plan to work with them in the future." R.V. & J.V., Iowa
"It was a lengthy process to first sell our home and eventually buy land to build a new home, however Alan and Anne were there for us. We looked and looked, and then they helped us identify lots and builders, etc. even though it may not have necessarily been in their own best financial interest. Alan and Anne supported us through the process and we both appreciate that." D.B. & R.B., Santa Fe
"While riding the chairlift in Taos Ski Valley Alan told me about Santa Fe real estate, and I'm very, very happy I bought..." R.G., Santa Fe
"Mr. Vorenberg is an excellent Realtor and gave us fine and willing service. Very helpful, informative, available, and responsive. And always on top of everything to help us conclude our business. Congratulations on having him in your company." R.B., Virginia
"Alan's manner and business acumen are of the highest level. I would not hesitate to recommend his services or to use him again. It is often difficult to handle everything over long distance and even though we had never met I felt a comfort level with this gentleman." R.C., Maryland
"We trust Alan and Anne to help and to represent our interests in buying and selling. They have done both very well." J.J. & G.J., Tucson & Santa Fe
"Alan has really done a great job. We were good friends before I bought real estate in Santa Fe based on his recommendation, and I'm happy to say that our friendship has been enhanced. He has constantly updated me and kept me informed of other investment opportunities." M.F., Albuquerque
"Sensitive, intuitive, and honest people. Their integrity shows." S.T. &R.T., New Mexico
"Could not ask more of a real estate pro." W.R., Santa Barbara
"Alan and Anne were always looking out on my behalf. Super!" D.A., Santa Fe
"Mr. Vorenberg does an excellent job. He is always available, helpful, patient and extremely well informed with everything concerning the job he does. We never felt pressured, and we worked very well together with his unobtrusive, low key, yet very effective sales manner. We like him very much...." S.B.& U.B., Texas
"Alan was a real pleasure from start to finish! Alan was so helpful on the telephone without having met me that I decided to work with him. He is a real pro in every sense of the word! Couldn't have been more knowledgeable or helpful! Great follow through! Very positive experience." J.Z., Santa Fe
"Alan exhibited great patience and support during our search for the perfect property. He's knowledgeable, professional, and personable." M.S. & R.S., Santa Fe
"I interviewed five or six realtors before I got that safe feeling . . . Alan was a great choice. Very helpful." P.V. & B.V., Santa Fe
"I am a broker of 25 years, a CRS and CRB, and my husband and I think that Alan was very professional and thorough. We will continue to do business with him and refer clients to him." M.S., Tucson
"He's an outstanding representative for your firm. A hard-working and knowledgeable person. No sales pressure and knows the business of real estate. Would like to keep in touch with him." W.R. & J.R., California
"To say that we are grateful and appreciative of Alan's services would be an understatement. He's professional, diplomatic, thorough, persistent, optimistic yet honest & pragmatic. Alan was clearly devoted to fulfilling our quest on this particular residence yet realistic & open about possible options and alternatives. I don't think the deal would have gone through without Alan's determination and thoroughness - he took charge. His memory for details, figures, and obligations was tremendous asset to us. We are so impressed with his abilities, and honestly feel that without his assistance we'd still be looking for a home! You are fortunate to have such a fine representative for your company. Thank you Alan!" B.H. & T.H., Santa Fe
"Alan and Anne did a friendly and professional job. I was pleased with their helpful attitude." D.H., Santa Fe
"Alan is excellent!!" R.B., Santa Fe
"Very personable; he has integrity; felt he was honest and wasn't trying to make a fast buck. He has made excellent references and recommendations for other service providers. Very helpful!" I.J., Dallas
"They could not have been more helpful to us. They went out of their way to get answers to our questions and did extensive follow-up even after we left Santa Fe. They made this sale possible. We are pleased to know them and will refer our friends to them." D.C. & B.L., Manhattan Beach
"Alan and Anne helped us through a tough road to closing this difficult transaction. Very professional." R.M., Malibu
"Alan was wonderful to work with. He kept his eyes open and although it took some time, he helped us find a very good deal. I would be happy to work with him again in the future. Very professional and courteous." C.C., Santa Fe
"Alan strives to protect the customer. 1st class - Santa Fe style." H.G., Santa Fe
"Alan and Anne worked hard, performed much extra work in sorting out the confused tangle of paperwork surrounding the original property purchase and put forth a great deal of effort in showing and obtaining a buyer for our property. We consider them exceptional, and we recommend them highly." R.F., Santa Fe
"Alan was extremely helpful and very professional. We plan on using him again in the near future. He made the sale of our home go exceptionally smoothly. Although we live in Chicago and never met with him I had complete confidence that he would do the job and he did! Thank you!" B.L. & S.L., Chicago
"Appointments kept, calls answered, problems solved." J.R., Kansas
"Alan and Anne were most thorough and patient in working through the intricacies of our real estate transaction. We look forward to working with them again in the future." M.H. & B.J., Santa Fe
"Alan handled the unexpected complications in our sale with poise and confidence. He pulled it out of the hat when we thought we might lose the sale! Thank you. Excellent!" A.S., North Carolina
"Alan was a pleasure to do business with; remarkably available, prompt, straightforward and well informed. Very professional and easy to deal with . . . a stand-up, show-up broker!! All agreements made were kept." J.S., Santa Fe
"Returned my phone calls and kept in communication with me. Demonstrated expertise and knowledge of real estate. Gave attention to my special needs." K.M., Santa Fe
"Professional and responsive." J.H., Santa Fe
"Very good and very professional." V.S., Santa Fe
"Excellent and professional. They are very good in all respects." J.K., Atlanta
"Very prompt." G.G., Santa Fe
"Very, very good." J.B., Santa Fe
"Great!" O.S., Santa Fe
"Excellent -- Super!" P.R., Santa Fe
"Alan was great. I personally believe he saved us money." J.M., Santa Fe
"Excellent, consistent help but no high pressure." J.J., Pennsylvania
"We had more than a satisfactory encounter - it was excellent. Very friendly and professional." M.J., Colorado
"Alan is a superb real estate person. I cannot recommend him too highly. He has been a pleasure to work with, and I am lucky to have had his services." P.R., Santa Fe
"Professional and organized with strong emphasis on customer satisfaction." L.S., Albuquerque
"It is because of the following attributes that we will encourage others to seek out Alan Vorenberg when looking for a home: he encourages; he's courteous; he's professional; he has a positive attitude. We are very happy with him." N.M. & M.M., Santa Fe
"We found Alan to be personable, well informed, and very eager to assist us in finding our new home. He went beyond the call of duty. He was very persuasive on our behalf in the negotiation. He was always gracious and considerate. We thought he well represented your company as well as the real estate industry." A.S. & P.M., Vancouver
"Thanks Alan for upholding so well the level of service and commitment that we hold so dear." J.G., Santa Fe
"We were quite pleased with Alan's assistance. He was most professional in all of his work and rendered a very positive and solid feeling. He is to be commended for his effort and confidence that he provided to us. He was able to exercise control and authority to ensure the completion of the sale. Alan has the means and ability to understand all situations, which reflects upon his responsibility towards our community, but most of all to each customer." B.L. & L.G., Santa Fe
"We always enjoy working with them." G.G. & K.G., Santa Fe
Introducing a fresh new look for your Profile.
Click the 'Edit Profile' button below to enter 'Edit Mode' and continue the tour.