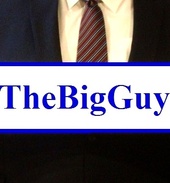 Real Estate Broker/Owner
Christopher Benedict
AskTheBigGuy
Collegeville, PA

—

BIG Realty
You can search the Main Line, Malvern, Paoli, Wayne, Berwyn and the entire Delaware Valley for Philadelphia Real Estate. Simply click the website above to get started and you will be well on your way.
Get to know Christopher Benedict
Welcome to my profile the "Gateway to the Main Line" where you will learn all about fantastic Pennsylvania and about the wonderful Pennsylvania Real Estate available including homes, gentleman and horse farms, investment and commercial real estate and an entire MLS Search that is updated daily.
I am licensed in Pennsylvania and serve the greater Philadelphia Pennsylvania area including the major cities of The Main Line, including Malvern, Paoli, Wayne and Berwyn and the surrounding Delaware Valley area of S.E. Pennsylvania. I began my real estate career in 1997 doing real estate flips and investments, and then decided it to take it to the next step and earn my license and become a REALTOR. At this time, my wife Stephanie and I have expanded our operations to include a mortgage company, The BIG Mortgage Co. as well as an investor portal, Benedict Investment Group, LLC. I have spent the past 10 years developing a system that focuses on my clients needs and takes care of them before, during and after the closing. I have surrounded myself with excellent consumer service focused professionals which include a variety of mortgage lenders, home inspectors, title companies, appraisers & insurance companies. I do not jump from lender to lender, title company to title company etc. I prefer to use the same companies that are tried and true and will be here when the real estate market is strong or weak and that place customer service, integrity and honor at the head of their list of goals they strive for.
My philosphy is that at the end of the day, if I can create a terrific win-win situation for all my buyers, sellers and investors, and if I take care of my clients/customers needs and show them respect, my production will take care of itself. My goal is to have everyone walk away from a real estate transaction feeling they had the best service they could ask for.
My team of agents specialize in all phases of buying as selling real estate with RE/MAX Main Line, as well as offering turnkey investment opportunities in Chester County as well as Philadelphia, Montgomery, Delaware, Bucks and Berks Counties.
My agents and I never focus on our accomplishments, rather we completely focus on the client and their needs. Through the use of several marketing programs such as Realtor.com, HomeGain, Harmon Homes, The Real Estate Book, RE/MAX International, REMAX MAIN LINE, and Tour Factory our homes sell fast and for top dollar.
Christopher Benedict's Blog Posts
Certifications
Philadelphia: The city of Philadelphia is the largest city in Pennsylvania and the sixth most populous city in the United States. It is also known as Philadelphia County, and serves as the county seat. It is often referred to as "the City of Brotherly Love." The city is commonly and informally referred to as "Philly," and best known for the Philadelphia Cheesesteak.
Ardmore: A community of approximately 13,000 residents, located on the Main Line, west of Philadelphia. Ardmore is a historic downtown, with one of the largest business districts in the area, and contains a delightful mix of restaurants and small specialty shops, including antique and gift shops. Historic Ardmore is adjacent to Suburban Square, one of America's oldest shopping centers.
Bryn Mawr: The name Bryn Mawr means "Big Hill" in Welsh and takes it's name from an estate in North Wales. Part of Lower Merion Township, and home to over 4000 residents, Bryn Mawr is located just west of Philadelphia along Lancaster Ave (US-30) and borders Delaware County, and is notably home to Bryn Mawr College.
Berwyn: Also known as Devon-Berwyn, the area is a densely populated split of Devon and Berwyn, in Chester County, and home to about 5000 residents. Point of interest is the Jenkins Arboretum, a 46 acre non-profit public park and wildlife sanctuary.
Devon: Regionally famous for the renowned Devon Horse Show, and the Devon Preparatory School, Devon, also known as Devon-Berwyn, the area is a densely populated split of Devon and Berwyn, in Chester County, and home to about 5000 residents.
Gladwyne: One of the wealthiest zip codes in the country, Gladwyne is a suburban community in Montgomery County with a population of over 4000 residents. Home to the Philadelphia Country Club, and, most notably, M. Night Shyamalan, the famous film director, and Andy Reid, Head Coach of the Philadelphia Eagles.
Haverford: Most famous for being the site of Haverford College, Haverford is a community located mostly in Haverford Township in Delaware County, however part of the area is located in Lower Merion Township in Montgomery County.
Lower Merion: Lower Merion Township is located in Montgomery County, Pennsylvania and part of the Pennsylvania Main Line, and home to about 60,000 residents, the ninth largest municipality in Pennsylvania.
Paoli: Home to about 5500 residents, Paoli is located in Chester County, Pennsylvania and sits upon portions of three townships: Easttown, Tredyffrin and Willistown.
Merion: A community in Lower Merion Township, Merion is contiguous with Philadelphia. The main commercial area of Merion is located along Montgomery Avenue and extends into neighboring Bala Cynwyd. This area is sometimes called the Merion-Cynwyd District. It includes restaurants, gift shops and other stores, as well as local landmark establishments including Hymie's Deli, the General Wayne Inn and the Barnes Foundation.
Narberth: Narberth is 1/2-square-mile Borough located in the center of Lower Merion Township. Because of its size, it is known as a "Walking Town" with shopping, recreation, library and schools all within a comfortable walking distance.
Radnor: Also known as Radnor Township, Radnor is a picturesque enclave in Delaware County, with part of the township also located in Chester County. Once a country retreat for the elite, Radnor is now home to Cabrini College and Eastern University.
Rosemont: A Main Line community partly situated in Radnor Township, and Lower Merion Township. Visually known for the beautiful campus of Rosemont College.
St. Davids: Originally named after St. David's Church, located near I-476 (a.k.a. The "Blue Route") and Lancaster Avenue. St. David's is located in Radnor Township, and borders up to Villanova and Wayne Pennsylvania.
Strafford: See Devon or Berwyn.
Villanova: The most notable feature of this Lower Merion Township and Radnor Township community is Villanova University. Also known for its wealthy citizens, such as Michael Smerconish and Pat Croce.
Wayne: A community based in three counties, located on the Main Line and situated in Delaware County, but also extends into Chester County and Montgomery County. The center of the Wayne business district is the intersection of Lancaster Avenue and Wayne Avenue, its main street. The historic Wayne station is located one block north of this intersection. Other institutions and attractions in Wayne include the Valley Forge Military Academy, with a monument from the Battle of the Bulge located by the parade ground.
Wynnewood: Once home to Kobe Bryant while attending Lower Merion High School, Wynnewood is a suburban community of 13,000 residents located just outside Philadelphia in Lower Merion Township.
Introducing a fresh new look for your Profile.
Click the 'Edit Profile' button below to enter 'Edit Mode' and continue the tour.