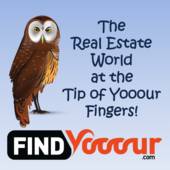 Real Estate Technology
Find Yooour
The real estate world at the tip of your fingers!
New York, NY

—

Find Yooour LLC
Promote your real estate business for free! FindYooour.com!
Get to know Find Yooour
FindYooour.com, a unique platform tailored exclusively for real estate industry. We believe with this platform the whole real estate industry will be organized and transparent.
Real estate professionals (agents, investors, contractors, movers, marketers, bloggers…) will have the most affordable and highly effective opportunity to showcase property listings, real estate services and at-the-end-of-the-the-day generate more leads.
Homeowners will have every opportunity to get help, resolve their problems, get answers, find the perfect home and the most important find the perfect local real estate professionals with just a few clicks.
12 Reasons Why You Should Promote Yooour Real Estate Business On FindYooour.com
12 Unique features tailored for real estate businesses. If you have a real estate business (Agent, Broker, Mortgage Broker, Inspector...) you can dominate your real estate market when you create your Business Page on http://FindYooour.com
Certifications
What is FindYooour.com and how is working?
FindYooour.com is a unique end-to-end platform tailored for real estate industry. Our goals are to connect the Property Hunters with Property Owners with local Real Estate Professionals.
We have divided the real estate industry in 3 different part: Business Directory, Property Listings, and Property Hunters.
Below you can find a list of a few unique features listed by every part. These wonderful features will help all private persons and businesses, related to the real estate industry without any restrictions.

1. #YooourBusiness - Business Directory
- FindYooour.com is the only platform (based on our knowledge) where all Real Estate Professionals can promote their real estate related services through a Business Page with responsive design.
- Anybody, absolute anybody can create a Free Business Page (agents, brokers, moving companies, mortgage brokers, painters, real estate bloggers, real estate news, websites, newspapers...).
- With the "MyMarket" feature the business owner can limit their business geographic border, to dominate one particular location.
- Real Estate Professionals can connect with local clients, answer their questions, promote their services directly to the customer through Connect feature.
- Real estate professionals with a Business Page can set a Property Alert to get notified when a new property hits the market
- A fully featured blog allows the Business Page owners to communicate and build an online reputation.
- Business owners can embed videos, upload images and customize their Business Page for their needs.
- Business Page owners can collect reviews and embed them anywhere their want, by copy/pasting an embed code.
- Every Business Page comes with 90 days free trial. After the end of the trial, the Business Page owner has a possibility to extend the Premium Business Page Subscription or just using the free version of our service.
- Our pricing is simple and transparent (no hidden fees, no transaction fees, no administration fees, no cancellation fees, no cheating) and affordable! Anybody who owns a real estate business can create a Free Business Page! We offer many of our tools for free, but our most powerful features are reserved for our premium subscribers.
FindYooour.com is the first company in the real estate industry who offers 2 super-crazy guarantees to our Premium Business Page Subscribers: Satisfaction Guarantee and Grandfather Guarantee.
2. #YooourListing - Property Listings
- FindYooour.com is the only real estate platform (based on our knowledge) where any type of real estate can be advertised!
- We do not have any restrictions at all, anyone (agents, brokers, landlords, property managers or private persons) can create an unlimited number of Property Listings for free!
- We have created 6 different Property Listings to cover the real estate industry: Room, Apartment, Single family home, Residential investment, Commercial building, Commercial space, and Land.
- The users have the possibility to list their short-rent, rent and for sale properties too.
- We believe the average Property Listing doesn't provide any values … not anymore! The well-known, usual Property Listing (address, price, few details and a description) it seems like, it's just one item from a phone book with a property description.
What we believe the detailed real estate listings gives value and saves time to the Property Hunters, to Property Seller and also to the Real Estate Professional. On FindYooour.com the Property Seller can describe the listings, upload pictures and embed videos room by room.
- Property Sellers also have this unique feature called "Embed your ad" to create a great exposure to their listing or all of the listings in the same time. With a simple embed code copy/paste it into the blog article, website, Facebook page, social media post… anywhere … all for free!
3. #YooourProperty - Property Hunters
- FindYooour.com is the only real estate platform where all Property Hunters can find answers to their questions, solutions to their problems, the perfect property, and the most reliable local Real Estate Professionals.
- Property Hunters searching for unique properties (penthouse with a city view, affordable downtown room or cottage with waterfront) have the possibility to find the perfect property in minutes with our state of the art advanced search.
- Property Hunters can get answers and solutions in minutes, by filling out the Connect form with your questions and/or problems.
- No match for the ideal property? Property Hunters also have the option to fill out the Property Wanted form and ask the local home professionals about the available properties.
Real estate its part of our basic needs, humans need shelter. We believe making the real estate industry transparent through our platform, will change the way we think and do business today. With a transparent real estate platform we will eliminate the scammers, we will avoid unfriendly landlords, review our management company, make real estate more affordable and we are creating a worry-free real estate environment.
We hope this short description about our platform gets you excited and you are interested in participating in building the next-big-thing for real estate industry. Feel free to write about it to your audience, ask a question or even sign up and #ExperienceTheDifference.
Introducing a fresh new look for your Profile.
Click the 'Edit Profile' button below to enter 'Edit Mode' and continue the tour.