Brigita McKelvie, Associate Broker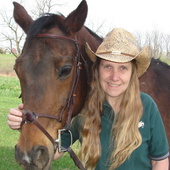 PA License #AB068077
Real Estate Agent
Brigita McKelvie, Associate Broker
The Broker with horse sense and no horsing around
Lehigh Valley, PA

—

Cindy Stys Equestrian and Country Properties, Ltd.
Brigita McKelvie c/o Cindy Stys Equestrian & Country Properties
720 Smith Hill Rd.
Stroudsburg , PA 18360
---
Specializing in Rural and Horse Properties and Farms in the Lehigh Valley, Poconos and Eastern Pennsylvania. The Broker with "horse sense" who doesn't horse around.
Get to know Brigita McKelvie, Associate Broker
Brigita's mission is:
-  Helping Buyers and Sellers achieve their real estate goals in an honest and professional manner going the extra mile to accomplish it using my expertise.
-  Committed to bring the best personal service to clients throughout the transaction and beyond.
-  Working towards a win-win result.
-  Becoming the client's agent for life.
 Pennsylvania licensed Associate Broker (#AB068077), e-Pro Certified REALTOR, with a GRI (Graduate, REALTOR Institute) designation, specializing in Rural, Farms and Equestrian (horse) properties in the Lehigh Valley, Poconos and Eastern Pennsylvania. 
Brigita is passionate about her job and horses, and is involved in helping the community.
She is:
- a member of the National Association of REALTORS  
- a member of the Pennsylvania Association of REALTORS  
- a member of the Lehigh Valley Association of REALTORS  
- a member of the Pennsylvania Equine Council  
- a member of the US Equestrian Team Federation  
- a 4H Leader of a local horse club in Northampton County  
Brigita has: 
- been a District Commissioner of a local chapter of the US Pony Club for about 10 years
- helped with the Handicapped Riding Program  
- taught riding and trained horses
- was a horse show judge  
- over 35 years experience in many aspects of horses  
- owned and managed her own horse property
Brigita adopted an off the track Thoroughbred gelding that she is currently training. 
Brigita is consistently increasing her knowledge with studies in equine related topics and real estate to better serve clients and customers.   
Hire Brigita as your REALTOR with equestrian experience and horse sense to assist in your farm, rural and horse property needs. 
Brigita McKelvie, Associate Broker's Blog Posts
|
Just for Fun
–

4 months ago
ActiveRain Community
–

4 months ago
Just for Fun
–

20 days ago
ActiveRain Community
–

8 months ago
ActiveRain Community
–

7 months ago
ActiveRain Community
–

4 months ago
Reasons Why Equestrians Consider Eastern Pennsylvania as Horse Country
Ever wonder why Pennsylvania is considered great horse country? Find out what local equestrians say.
Certifications
Brigita is an e-Pro Certified REALTOR.  This means that she has successfully completed the REALTOR e-PRO course to become one of a select few real estate professionals to earn this prestigious certification, offered through the National Association of REALTORS.  This course is specifically designed to provide real estate professionals with the technology tools needed to assist consumers in the purchase or sale of a home.  E-PRO certified agents have the experience and expertise to meet the demands of today's buyer and seller.  The course certifies real estate agents and brokers as Internet professionals.  Graduates use the skills they've acquired to provide clients information on properties for sale, local communities, and the local real estate market.
Brigita earned the GRI (Graduate, REALTOR Institute) professional designation from the Pennsylvania REALTORS Institute.  The GRI Designation is a nationally recognized mark of achievement in the real estate profession.  I was awarded this designation after completing 90 hours of classroom instruction, covering subjects including contract law, professional standards, sales and marketing, finance, and risk reduction.  Individuals completing this program learn the fundamentals of brokerage and other areas of real estate specialization, allowing them to better serve prospective clients and customers.  The courses are taught by leading real estate instructors from around the region.  This is a select group of approximately 4,579 residential specialists in Pennsylvania who have earned the GRI designation.
Specializing in Rural properties with expertise in Equestrian (horse) properties and farms.  Having 40 years experience working with and owning horses and a farm, she is familiar with horses' needs.  Therefore, it is beneficial for you to to use her services to sell your horse property or find the right type of home, small or large, residential or commercial, that suits both you and your equine friend(s). 
Testimonials for Brigita McKelvie, Associate Broker
I have had the pleasure of working with Brigita over the years on many projects. Brigita is always professional, upbeat and her integrity is beyond stellar.

I first got to work with Brigita when I was buying a house that she was representing the sellers. I had no agent representing me. She was diligent and made sure both sides were happy. I appreciated her style so much I hired her sell two properties that we both knew were going to be challenging to say the least.

One was a single family house that was below value to what was still owed. Within a short amount of time it was sold and I was breathing easier. The next project was a bit more of a challenge. The bank wanted to foreclose, but we wanted to have a Short Sale. Within two weeks of listing the property we were able to place 5 offers on the bank's desk to consider. Despite the bank being especially difficult with paperwork, Brigita worked tirelessly to get them to accept an offer. Since Brigita was so diligent, we were able to avoid foreclosure and an investor was quite happy with their new project. Also, due to life throwing me a curve ball, I needed Brigita to sell the property that started all this. For all three projects I was out of state, but thanks to technology and tenacity it all got done.

I would highly recommend Brigita hands down, whether it's a horse property - which is her specialty- or another type. You will be in great hands.

Thanks again for all you have done Brigita!

Sincerely
Shauna Bailey


Wanda & Family

06/07/2016

My family and I had tried to sell my Mom's small farm privately several times and each time it fell through. We saw properties Brigita had listed on Lehigh Valley Horse Network on FB and she had been referred to us as well. Within a week of listing with her an offer had been made. She's wonderful and very helpful to work with hands down. We would recommend her to anyone! Thanks for making a difficult situation more positive.
Wanda and family


Gregg Morrison, Melissa Mahoney

06/15/2015

We would like to take a moment to provide a Letter of Recommendation for Brigita McKelvie. While she was unable to effect the sale of our property, she worked tirelessly to reach that goal, and did so against extremely difficult circumstances.

The property in question is co-owned by the two of us and one other individual. Unfortunately, for personal reasons, the other party was uncooperative during the terms of the listing agreements for the property (and continues to do so). In fact that particular individual was highly obstructive in any way possible, from delaying required actions such as signing of listing agreements, to refusing to sign required documents such as Sellers Disclosures. In addition this individual was extremely rude to Ms. McKelvie at every opportunity, at times even becoming confrontational and threatening.

However, throughout all of this, Brigita remained steadfast and focused on our goal - sale of the property.

During the terms of our listing agreements Brigita created more showings and interest than any of the three prior realtors - in fact she exceeded their combined showings many times over. Brigita did this by effective advertising, in particular by presenting the property in venues where interest would be the highest, and potential buyers were most likely to be found.

In addition, although this property is well away from her home and office, Brigita never failed to make herself available at the property for any reason whatsoever - be it a showing, another realtors question/concern, or any activity related to the sale of the property.

Perhaps the best example of her dogged determination is this final one - after our last listing agreement expired and the one individual refused to renew the contract, Brigita continued to market the property even though it was not listed on the MLS. Using her own funds to pay for these marketing efforts Brigita managed to contact several potential buyers and I believe even showed the property on at least one occasion.

I have no doubt that given the opportunity to continue as our realtor, Brigita would have found us a buyer and closed the sale - she has shown far more interest, and expended far more effort, than any of the numerous realtors I have dealt with during my years as a homeowner. It is unfortunate that circumstances, including a court order for auction, have removed Brigita from the position of our realtor. However, I also have no doubt that our property is still in her files, and on her mind - and that if she encounters a potential buyer for whom the property location and features are a good match, she will again be working hard to make a sale for us.


Thank you Brigita, from both Melissa and I, for your tireless efforts on our behalf under difficult and sometimes unmanageable circumstances. We would both recommend you very highly to anyone interested in selling their home or property.


Gregg Morrison
Melissa Mahoney


Joseph & Debra D'Agostino

02/09/2015

Dear Brigita,
Our recent farm purchase was "one for the books!" The unforeseeable setbacks and seemingly unresolvable negotiations were the ultimate endurance test for any realtor. More complicating... was that we were purchasing an estate, yet your determination and patience in dealing with SO many diverse personalities was boundless! In the past, we have dealt with many agents from NJ to PA and you were the only one that left us confident that you were actively continuing our search for our "perfect property." You stayed in constant communication with us and responded in a timely fashion. Impressively, as the listing agent for the property while also representing us as buyers, you worked double-duty as the direct go-between. Despite the frustration that was inevitable under the circumstances of our transaction, your professionalism never waivered. We sometimes tend to criticize more than compliment... but our recollection of all your services since Day 1 has been nothing less than stellar!
I don't believe that we would have made it this far to closing without your diligence. You were forthright yet soft spoken. You didn't come on like a powerhouse, but you definitely gave the full commitment...and that is all that mattered in the end!
With sincere THANKS for your exceptional services.... Joseph and Debra D'Agostino and Family


Jane & Mike L.

10/06/2014

It was such a pleasure to work with Brigita McKelvie. She worked with us for over a year to help us find our new home. Seeing property after property was trying at times but Brigita gave us input and hope during this journey. She is a rare combination of friendly as well as very professional and knowledgeable which was essential during this process. We feel as though we now have a new friend.

We just wanted to thank you for representing us as our realtor on both the sale of our farm house to the purchasing the new home we are in today.The whole process from listing our home to holding both closing in one day was quite a feat but working with you was a pleasure, your professionalism and demeanor was very calming and reassuring to us when things got a little stressful.

You will be highly recommended by us to anyone who is looking to sell or buy a home or horse property.

Introducing a fresh new look for your Profile.
Click the 'Edit Profile' button below to enter 'Edit Mode' and continue the tour.