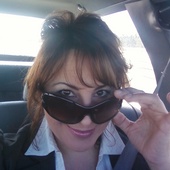 Real Estate Agent
Carla J. Holt-Spahr
Maple Grove, MN

—

Home Sale Options (Formerly EXIT Now Realty)
Licensed MN REALTOR®, Professional Illustration Artist, Web&Graphic Designer, 10 Years Real Estate Experience, Current with today's e-commerce technologies "Making it a Win/Win for EVERYONE!"
Get to know Carla J. Holt-Spahr
For Sale! URGENT! BIG BLUE TAKING OVER! You see it everywhere - statistics show 90% of buyers are on the internet shopping for homes, clothes, whatever...using keywords... 1. An agent from a realty company loads a listing into MLS, and maybe to Sellpoint. 2. The listing is pulled in by Trulia, Zillow, Movoto, and likesites 3. CBB pays 'contact me' spot on these sites 4. The buyers sees your listing, and contacts CBB 5. CBB sold your listing, you make a profit, and CBB adds to their fame of 'who sells the most homes' or 1. CBB loads a listing in a site like Trulia, Zillow, Sellpoint, but NOT MLS 2. The buyers sees CBB's listing because they are only using Trulia, Zillow, Sellpoint 3. CBB just got a hogger and added to their fame of 'who sells the most homes' A target audience of home buyers ages 22 - mid 40's, currently searching for homes, were put in a controlled setting with a computer and internet access, and told to look for homes. The data collected was geared towards finding out how the buyer finds the home. The results were astonishing. The first thing they did was open their preferred browser. The next thing they did was located the search tool and typed in the criteria followed by the area. The most popular criteria was the keywords used "homes for sale" followed by the area or the zip code (ie 'homes for sale maple grove', 'homes for sale brooklyn park', 'homes for sale 55340'). When pulled, the browser showed all relevent links, with Trulia being first or near the first in the results; this is the link most preferred to be opened and used by the group. What was shocking was when opened the contact agent was not the list agent, it was the agent who 'paid' for the zip code or area. 80% of the time, the contact agent was affiliated with CBB. What is wrong with this picture? Buyers are looking for a home and they type in keywords in the search toolbars of Yahoo and Google "homes for sale brooklyn", or "homes for sale san diego", or "homes for sale zip code 88101"...the webpage displays 3 areas: the sponsored links uptop, the sidebar adword links, and the organic links in the main area. Buyers stated they do not go to the sponsored links or the adword links on the side that you pay so dearly for because 'todays buyers' are a generation that knows better than to go to a site that someone 'paid' to put there, but does not guarantee the service. They go to the organic link area in the main search results. What do you think shows up? TRULIA, ZILLOW, MOVOTO... What do you think happens? Buyers open the first ORGANIC link - Trulia, or whatever other organic link is on the first page. Now, when Trulia, or like-sites, are opened-what do you think happens? Any agent who has paid for that 'spot' will lock out any other agents because of the contract way Zillow and like-sites operate...so, the agent, though they did not list the house, through 'broker reciprocity', gets that buyer! Now, who has that spot? Well, you will find CBB has that spot (see for yourself by typing a key word specific search and see what comes up, and who), and CBB has that 'spot' on most of these sites, which makes them appear to be 'selling the most houses', thus, in the public eye, 'they are the best because they sell the most houses'...SELLERS, AGENTS, BUYERS - DO NOT BE FOOLED. The CBB agent is not smarter or better than any other Realtor. It is not fair to the hardworking agent who listed the home and is spending significant amounts of money to make the home visible to buyers that companies like CBB take all the credit by making themselves appear as the 'go to' agent; and they are using a site like Trulia (who syndicated the MLS listing that were provided by the agent who actually went out in the rain, sleet, snow heat and hail to get all the measurements and pertinent data) to capture buyers - 90% of them to be exact - who should be captured by the actual list agent. This obviously is NOT PLAYING FAIR because this company also does not put a significant portion their listings on MLS; instead they put them on sitebuilder templates similar to the popular 'Sellpoint' agent list template, where it is then SEO'd to Trulia, and where Trulia then pops up first, and then where the buyer sees the listing, and then where CBB gets the hogger because they are the 'preferred agent who pays for the spot' on Trulia... HERE IT IS AGAIN IN BLACK AND WHITE 1. An agent from a realty company loads a listing into MLS, and maybe to Sellpoint. 2. The listing is pulled in by Trulia, Zillow, Movoto, and likesites 3. CBB pays 'contact me' spot on these sites 4. The buyers sees your listing, and contacts CBB 5. CBB sold your listing, you make a profit, and CBB adds to their fame or 1. CBB loads a listing in a site like Zillow, Sellpoint, but NOT MLS 2. The buyers sees CBB's listing 3. CBB just got a hogger GET INVOLVED WITH YOUR MARKETING Now, if I was not smart enough to know this, and did not further optimize the way I do to sell my listing, which is my job and that I work my tush off to do, then CBB and other 'contact agent spot' owners would rake in! By further loading your listing into sitebuilder templates or listing service sites like 'Sellpoint' syndicate to Trulia, Zillow, Movoto-who then gives it back to 'contact agent' spots like CBB.... IN SHORT, you are marketing for them, making them money, and giving their realty empire more credibility amongst 90% of an unknowing buyers market unaware of this unfair method of 'todays real estate' purchasing practices. KEEP IN MIND sites like Zillow, Trulia, Movoto, and hundreds of other copycats, would not have this info if it was not for you-the actual list agent who went and met with the seller, got the listing, and loaded it to sites like 'sellpoint' and 'mls'.... Right now, these big-name companies have the advantage because they were the first to pay for 'special contact agent' on sites like Zillow back when the internet craze started. It is not too late. TO STOP THIS UNFAIR SELLING PRACTICE, it is essential for YOU THE LIST AGENT 'NOT' load your listing to MLS, but also NOT to load your listing to 'Sellpoint' and other template-based generic SEO sites that 'do all the work' - THEY DO ALL THE WORK ALRIGHT, them and CBB where CBB will sell the home because they are the contact agent on the very site that your home is SEO'd out to-Movoto, Zillow and Trulia - therefore, they keep building the CBB empire, and keeping you down. Rather, get involved with your marketing: 1) MLS: select the 'do not allow on VOW' box - this will keep your listing from auto-populating to the sharks. 2) TRULIA, ZILLOW, MOVOTO, etc - they only have what is populated from MLS and other IDX or site template based search sites. Thus, create a free account and manually load/update your listing like you do in MLS - and then keep it updated manually. 3) Create a private site and upload your listings to it manually. Put the link to your site into the space provided by Trulia, Zillow, etc. Trulia and Zillow are positive to use - and if you do it right as mentioned above, you will be the contact agent when the buyer lands on those sites EVERYTIME. If you are a buyer, ask the 'contact agent' if they are the listing agent - chances are they are not, and if they are not, then they may not have necessary information that only the list agent will have. If you are a seller - know that the service is key, and a good agent is not based on who they are with (cbb, exit, re/max, edina, c21, christian, zip, lakes, oak, etc) but how they present your home to make it available to such a large crowd of 90% of buyers. Finally, if you are an agent and want to get back control of your listings - then get a private website for your listing, and optimize it yourself. Do not be lazy and let these SEO sites do it for you....you will lose in the end. ---------------------------------------------------- Article written by: Carla J. Holt-Spahr -Bachelor of Science - Internet Marketing, Art Institute of Pittsburgh - Online Division Student, 2008-Current -Internet Marketing Research Specialist, 1994-Current -Real Estate Practitioner, 2007 - Current ------------- 10 Ways to Make Your House More Salable Selling your home is not as easy as putting a sign in your yard, running an ad, and the phone starts to ring. It takes work on both parts of the team - you and your REALTOR®. Under legal representation it is the duty of your legal real estate agent to keep your best interest in mind by making sure you are protected in every legal step of the transaction from start to finish; to bring prospective buyers to your marketed property and present it currently available for sale, as well as provide tours and advertisement to showcase your property alongside millions of other properties for sale, and deliver the value so your property is ranked at the top of it's class. An excellent REALTOR® will ensure your home is always in show condition, which is where your part comes in. According to statistics, key deals are made from first impressions, followed by location, price, and value. Not all 4 have to be happening at the same time, or at all. What does need to happen is a good, clean, presentable product is on the shelf, and ready to buy. You, the seller, are the keeper of this product, therefore, to keep it ready show is key in the success of your sell. Check out some tips base on buyer consumer feedback: 1. Get rid of clutter. Throw out or file stacks of newspapers and magazines. Pack away most of your small decorative items. Store out-of-season clothing to make closets seem roomier. Clean out the garage.2. Wash your windows and screens to let more light into the interior.3. Keep everything extra clean. Wash fingerprints from light switch plates. Mop and wax floors. Clean the stove and refrigerator. A clean house makes a better first impression and convinces buyers that the home has been well cared for. 4. Get rid of smells. Clean carpeting and drapes to eliminate cooking odors, smoke, and pet smells. Open the windows. 5. Put higher wattage bulbs in light sockets to make rooms seem brighter, especially basements and other dark rooms. Replace any burnt-out bulbs. 6. Make minor repairs that can create a bad impression. Small problems such as sticky doors, torn screens, cracked caulking, or a dripping faucet may seem trivial, but they'll give buyers the impression that the house isn't well maintained. 7. Tidy your yard. Cut the grass, rake the leaves, trim the bushes, and edge the walks. Put a pot or two of bright flowers near the entryway.8. Patch holes in your driveway and reapply sealant, if applicable. 9. Clean your gutters.10. Polish your front doorknob and door knobs. Carla J. Holt-Spahr - REALTOR® within Monticello, MN. Before I was licensed, I bought several homes as a consumer. Above I picked, from a very long list, the best tips that made an impact both on my buying experience, and on the the buyers statistics mentioned above. I will help you determine what needs to be show-cased, and what it will take to get your market property show-ready. DESIGNATIONS Licensed MN REALTOR® Member MAAR (Minnesota Area Association of Realtors) Member NAR (National Association of Realtors) 10+ years knowledge with Investment Property Valuation Bachelor of Science in Web Design & Interactive Media (Art Institute of Pittsburgh) 2008-current Associates of Art Graphic Design & Animation (CCC, New Mexico) 1994 Provide valuable resources for special funding programs Educated in Short Sale and Loan Modification process Continue education quarterly to keep current with Laws affecting Real Estate consumer rights Rates are flexible with different percentage and marketing options I was born in Glendale AZ on Luke AFB. My dad retired in Albuquerque NM at Kirtland AFB. When I was 18 they moved to Clovis NM, home to Cannon AFB. I attended Clovis Community College when my daughter was 1 and my eldest son was on the way. I had all 3 kids by the time I had obtained my Associates in Graphic Design & Animation; I went on working towards my Bachelors in Computer Animation & Graphic Design, but decided to put my school aside for a bit to have more time with my new family. While I was 'on break', I went on to keep myself polished in the 'sales & marketing' field. I held jobs that involved telemarketing (phone skills), door-to-door salesperson (prospecting) and Kiosk selling (networking). I learned from the best early on how to ask for the sale, when to ask for the sale, and what to ask for the sale. While the jobs themselves did not pay much, the value they instilled in my toolbox is priceless. Because I grew up in a family of investors I've always had a good understanding of Real Estate. My parents became investors and rented out many properties to military and working families. This is where I gained my military bylaws for housing and home buying experience; I learned about property investment knowledge through my parents and their experiences. I have been working in the Sales & Marketing industry now for over 15 years. 11 of those years I have been a resident of Minnesota. Over the past 4 years I have gained extensive Minnesota Real Estate Knowledge-2 of those years through my administrative assistance to 16 Top Producing Real Estate agents, also great mentors. Every year since 2005 I continue to stay educated in current laws regarding the new frontier of this ever-changing real estate market. As you saw in my designations above I am a member of The National Board of Realtors (NAR), an association that is mandatory for an ordinary 'agent' to be dubbed a REALTOR® and therefore considered credible and responsible to practice Real Estate under the 'Code of Ethics', outlines and policies of NAR's membership protecting the consumer and keeping integrity of our members at the broker reciprocity frontline, steering the transaction straight to the finish line with all legalities intact. Jantelle on the left in the green shirt with JoJo, her best friend, at one of many July 4th festivals popular all over Minnesota Family 3 Kids - all grown - almost ; ) I have a 21 year old daughter in nursing school. My youngest is 18 and set to Graduate! My how time flies...While the days of plays and parent school meetings are soon to be gone, I look forward to their college days and watching them become loving, caring adults. Still, I don't look forward to rolls of bills turning into receipts of worthless paper...but, that's life, and in the end it is always worth every tear, penny, and roller coaster of emotions...I am truly blessed. Billy, the youngest of the bunch, is now a Senior! HOORAY! He is bright and full of excellent jokes - a great trait for college! He is also good at pushing buttons. Aaron - front and center - just graduated and is college bound this year It was a hard road for him, but he kept on keepin on, and he keeps on goin...Way to Go Aaron! In the way of marketing I continue to stay current with the most recent software and marketing strategies so that the techniques I use, including web design and Internet marketing, both which are highly used in this day and age by the house-hunting consumer, are guaranteed to make an impact on them when buying or selling Real Estate. My marketing techniques have proven to get faster response resulting in less market time for the seller, and a larger database with more detailed information for the buyer - I make sure it's a win/win for everyone. Working with military families is natural for me - in fact, as we move forward on the new frontier, one of my specialties will be assisting returning military personnel in finding the home that suits their family, pocket and lifestyle for years to come. I look forward working with you too. Sincerely, Carla J. Holt-Spahr Please call me anytime 763-219-8918 or email me cjosieholt@gmail.com Carla J. Holt-Spahr www.superspahrhomes.com
Home Value: $ Loan amount: $ Interest rate: % Loan term: years Start date: JanFebMarAprMayJunJulAugSepOctNovDec20082009201020112012201320142015201620172018201920202021202220232024202520262027202820292030 Property tax: % PMI: % Output parameters » Draw charts Monthly vs bi-weekly payments Show annual amortization table Show monthly amortization table Mortgage Calculator Script
Certifications
For sale!!!
5 Reasons You Need a Real Estate Agent
1. A real estate transaction is complicated. In most cases, buying or selling a home requires disclosure forms, inspection reports, mortgage documents, insurance policies, deeds, and multi-page government-mandated settlement statements. A knowledgeable guide through this complexity can help you avoid delays or costly mistakes.

2. Selling or buying a home is time consuming. Even in a strong market, homes in our area stay on the market for an average of 145 days.
And it usually takes another 60 days or so for the transaction to close after an offer is accepted.

3. Real estate has its own language. If you don't know a CMA from a PUD, you can understand why it's important to work with someone who speaks that language.

4. REALTORS® have done it before. Most people buy and sell only a few homes in a lifetime, usually with quite a few years in between each purchase. And even if you've done it before, laws and regulations change. That's why having an expert on your side is critical.

5. REALTORS® provide objectivity. Since a home often symbolizes family, rest, and security, not just four walls and roof, home selling or buying is often a very emotional undertaking. And for most people, a home is the biggest purchase they'll every make. Having a concerned, but objective, third party helps you keep focused on both the business and emotional issues most important to you.
Introducing a fresh new look for your Profile.
Click the 'Edit Profile' button below to enter 'Edit Mode' and continue the tour.