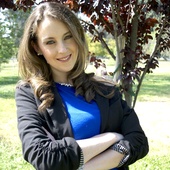 BRE# 01927742
Real Estate Agent
Chelsea Robinson
Chelsea Robinson
Encino, CA

—

Rodeo Realty
I'm a full service concierge Realtor in Los Angeles guiding you through a sometimes stressful process & help you to feel confident, well cared for, & satisfied--no matter how near or far you may go.
Get to know Chelsea Robinson
ABOUT ME
I started my real estate career nearly a decade ago, while still attending Eastern Michigan University. Beginning as an unlicensed assistant for a Coldwell Banker team, I began to learn the Ann Arbor market and progressed from a licensed assistant to Customer Care Manager to Buyer's Agent. Taking time to learn the business from the best and placing priority on each individual client, I became an integral member of one of the most successful teams in the state—winning "Best Customer Service" for Coldwell Banker Schweitzer. While in Michigan, our team had the pleasure of closing more than 85 deals within a 12 month period—helping us rank in the top 3 teams in the state and top 8% in the country.
Soon, Southern California called my name, and so I packed up as much would fit in the car until the moving truck could come—the dog, the cat, and a trunk full of clothes—and started the 3,000 mile journey to Los Angeles to take a position with Oakwood Corporate Housing—learning the rental sector along the way. Since joining Oakwood in 2006, I've earned regional recognition for my customer service with a "Sales Support of the Year" win. I also won national recognition for my sales, having the most closed bookings in a single month. In 2010 I gained national recognition as an "Oakwood Gives Back" winner for the donation program I created in partnership with the Los Angeles Mission. My work helping people has stretched to people from all walks of life. High-end and short term housing to the elite requires much flexibility as one moment I could find myself helping a CEO's family smoothly transition to their new home, to helping acclimate entertainment industry personalities or royalty from the Middle East.
With my background strengths lying in customer service, my priority is to make sure every client is put first. I love the challenge of finding the perfect fit for each client and make it my priority to have each client's satisfaction. I bring to the table a fierce commitment to excellence and paired with my savvy marketing sense and keen negotiating skills, I will be your biggest supporter.
HIGHLIGHTS
AWARDS/HONORS- 2009 Sales Support of the Year winner for outstanding customer service. - Won national sales contest in Nov. 2007 for closing the most number of nationally generated leads. - Customer Care Manager and member of team whose 2004 sales exceed 18 million and who won best Customer Service Award within company. Also ranked top 8% nationally and top 3 teams in the state.- Service Coordinator for Keystone Volunteerism Club as well as volunteer experience with Sun coast Therapeutic Riding Program, the Humane Society, and the Boys and Girls Club.
QUALIFICATIONS- 16 years of experience in Sales/Customer Service as well as 3 years as a Customer Care Manager—managing office of top Coldwell Banker agent. - Client generated customer service scores are consistently between 5-10% above national average. - Won multiple contests including top monthly sales on national level, Sales Support of the Year and various others for high levels of customer satisfaction. - Created charity donation program currently in use in Downtown and Pasadena territory which was nationally recognized and in process of implementation on a national level. - Proficient in Microsoft Word, Excel, PowerPoint, Access, Final Draft, Publisher, and Top Producer, among others.
EDUCATION2001-2005 Eastern Michigan University (Graduate 2005), Ypsilanti, MIBachelor of Arts: Major: History Minor: Communications
AFFILIATIONS- Southland Regional Association of Realtors - California Association of Realtors - National Association of Realtors
Certifications
­­­A FULL SERVICE, CONCIERGE REALTOR
I am here to help guide you through a process that is confusing and stressful, and instead help you feel confident, well cared for, and satisfied.
It's easy to feel overwhelmed by the idea of a move—no matter how short or far the distance might be. There are so many pieces to juggle, so many steps to coordinate. That's where I come in to help educate, guide, and help take whatever I can off your plate so that it's a seamless transition.
To help alleviate some of the stress, I have created a concierge service for both my buyers and sellers to help coordinate the details before, during, and after the moving process. Going beyond listing your current home or finding the new perfect pad, I strive to enhance your experience by helping with the little details that turn a house into a home. From helping to finding the new dog walker or the new lawn service to a list of contractors to make the final repairs before listing your home, I can help with the little details to help alleviate some of the stresses that moving makes.
Whether you are moving across town or across the country, my goal is to take care of you and your family. Your needs are first and foremost, and I want you to walk away feeling as though you are the most important people in my world. I am a full service concierge Realtor—providing the proverbial chocolate on your pillow.
BUYERS
Whether it's your first time in Los Angeles or you've lived here all your life, buying a new home is an exciting, and sometimes scary, adventure. However, for someone who is not familiar with the process, or who does not have the best resources and information at hand, it could also end up very costly—both in time and money.
If you're like most people, buying a home is the biggest investment you will ever make. One of my specialties is representing buyers to be sure that their best interests are well served. I want to be sure that you get the best home for you, at the best price possible.
In addition to the high level of quality care, I have created a Buyer Concierge program to help alleviate the minutia that would normally make the process more stressful than it needs to be. What a first time home buyer in Encino requires might be different than someone relocating to Studio City from across the country. No matter what your specific needs may be, the Buyer Concierge program helps clear your moving checklist from "to-do" to "done". I can help you with whatever step you might be: whether that be finding your new abode, to negotiating the terms that suit your needs, to checking off each inspection on your "to-do" list, I am here to help your purchase be more enjoyable, less stressful, and a complete success.
SELLERS
Making the decision to sell your home comes with a mass of emotions. Some might be exciting, some might be bittersweet, and some might be just plain nerve-wracking. Selling a home is a blend of head and heart. You might be feeling hesitant to leave your memories behind, or you might be eager to start fresh and move on to the next adventure. Whatever those feelings might be, I am here to help.
I know how to handle every aspect of the sales process, finding at the core to be precision pricing, strategic marketing, and a commitment to doing my best on your behalf. For most families, a home is their largest financial asset, and it comes with a lot of preparation and work to make the big decision a reality. When you're ready, it's important to have someone like myself in your corner to handle the details that are involved in having a successful top dollar sale.
In addition to the high level of quality care and commitment, I have created a Seller Concierge program to help alleviate the minutia that would normally make the process more stressful than it needs to be. No matter what your specific needs may be, the Seller Concierge program helps clear your moving checklist from "to-do" to "done". At the end of the day, I am here to help your sale be more smooth, less stressful, and a complete success.
Testimonials for Chelsea Robinson
You are extremely diligent, and research until you know your stuff backwards and forwards, in and out. You're one of the most organized, driven and hard working people I know. Once you set your mind to something, you will stop at nothing to achieve it. You're a ninja!

You're always very honest and trustworthy. These qualities are ALWAYS noteworthy, but are very meaningful when making a life change like this. Also, you fight heavily for your client because you have a lot of drive and hate being beat. Top that with several years in the industry and it is a no-brainer.

What really impressed me was how carefully she researched every house and its history. I appreciated her support while we played chicken with the seller, during negotiations, over the last $5,000 we wanted off the price (we got it!). We are now enjoying a big place in a really nice neighborhood where we plan to stay for a long time. In short, Chelsea seemed to me to be very well-informed and enthusiastic about the real estate process and sensitive to a buyer's needs.

What impressed me most about Chelsea is her willingness to go the extra mile for her clients. She will make sure all needs are attended to, all questions satisfactorily answered, and everything done with warmth and professionalism.
Chelsea puts your needs first and makes sure you know everything there is to know about the property you are interested in. She is genuinely passionate and loves what she does, and she is definitely somebody you want to handle all your real estate needs.

I have worked with Chelsea Robinson for the past 6 years and I can attest to her outstanding character and work ethic. She is the most driven person I know and does not stop until she achieves whatever she sets her mind on.

Her motivation and upbeat personality are qualities that I've always admired and with all her encouragement, she has inspired me to achieve higher goals. She is also compassionate, caring and loves to help people in need. She is definitely someone I can trust to look out for my best interest.
Introducing a fresh new look for your Profile.
Click the 'Edit Profile' button below to enter 'Edit Mode' and continue the tour.