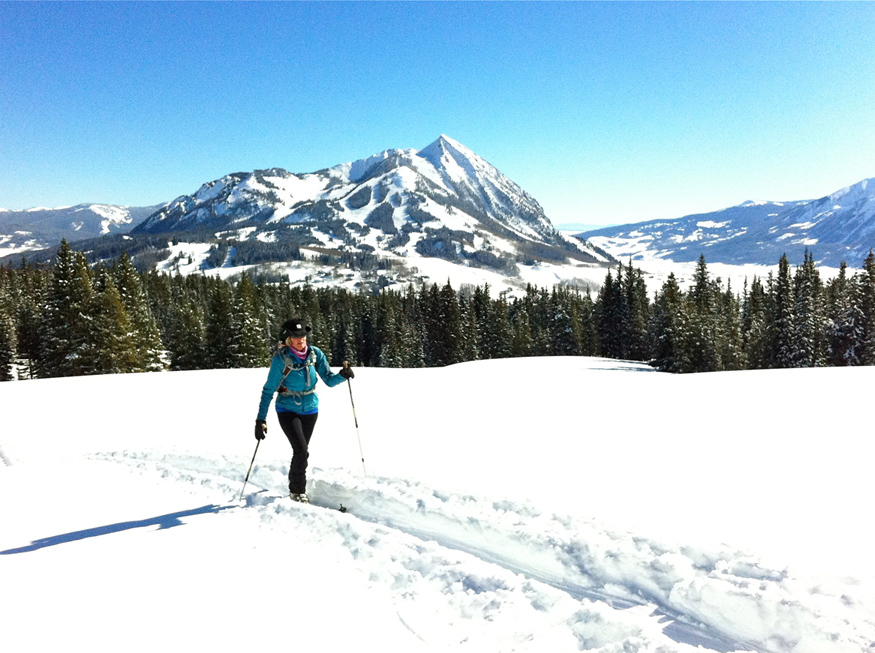 Get to Know Chris Kopf
Chris is a proud husband and father of three daughters. His wife Francene is from Tulsa, Oklahoma, but they met in Dallas when they were competing in tri-athalons, and were married in 1991.
Chris has successfully completed both the Texas Water Safari (260 mile canoe race) and the Elk Mountain Grand Traverse (40+ mile ski race from Crested Butte to Aspen that starts at midnight). Chris has learned the value of preparation, endurance and execution in all that he does.
Customer service, hard work and attention to detail are the keys to Chris Kopf's satisfied clients. 
Chris has consistently been one of the top agents in Crested Butte. He has also earned numerous awards including Coldwell Banker Top 1% Agent in North America, #5 Agent in Colorado, Kopf has routinely been among the Top Agents in the Crested Butte market and #1 Agent in Crested Butte 2014. 
Chris was also a second homeowner in Crested Butte for ten years prior to moving to Crested Butte full-time with his wife Francene (from Tulsa, Oklahoma) and their 3 teenage daughters. Chris spent 25 years in Texas where he had a successful career in sales and sales management in the technology industry, as well as being a business owner in a real estate and advertising company. Chris is a golfer and a member of The Club at Crested Butte, an avid fly fisherman, and skier. 


Visit www.ChrisKopf.com to see Chris' Crested Butte Real Estate Market Report and see the big picture and get all the details...
Specialties: Representing Luxury Home Sellers in Crested Butte, Representing Second Homeowner Buyers, Crested Butte Real Estate, Mt. Crested Butte Condos, River/Fishing Properties, Ski-in/Ski-out homes, Crested Butte Real Estate Market Reports
Chris Kopf, Coldwell Banker Real Estate
Certifications
Global Luxury Property Specialist certification, the top 1% of Coldwell Banker Sales Associates in North America, servicing the luxury segment of the Crested Butte Real Estate Market. 
Certified Negotiation Expert, CNE
Visit my website at www.chriskopf.com for additional info.
Awards
Multiple Coldwell Banker's International President's awards, including International President's Premier a level achieved by only the top 2 percent of the approximately 87,000 sales associates worldwide in the Coldwell Banker® system. 
Consistently a Top Real Estate Agent in Crested Butte, #5 Real Estate Agent Coldwell Banker 2018 - Colorado, #1 Real Estate Agent in Crested Butte 2014 - Total Volume
Skills
Helping ensure my clients real estate transactions are smooth and successful.
Jeremy Goddard
10/31/2015
Chris sold our home in Skyland. We found him extremely professional and knowledgable. He is a full time realtor and puts a lot of effort into understanding the local market. Our house was professionally marketed and sold relatively quickly. We were traveling overseas for the whole time our properly was listed for sale and we returned to Crested Butte with the house under contract. We pretty much left Chris to get on with it. Based on our experience, I would highly recommend Chris to anyone needing a realtor in the Crested Butte area.
Kevin OBrien
10/31/2015
Where do I start - incredibly knowledgeable about the area, great advice on all aspects of our purchase - site as well as contract, super available and responsive, and very patient as we worked on our project on and off for over a year. Chris helped us buy land that met an evolving and very narrow set of criteria and he nailed it. He is simply superb. I'd want him in my corner whether buying or selling
Frank Stringer
02/01/2015
Chris Kopf is a wonderful person to work with on any real estate matter you may have in Crested Butte. He is extremely knowledgeable of all elements of the Crested Butte area. He helped us recently to buy a new second home in Skyland and the entire experience was first class under Kris's guidance. I would highly recommend him to anyone who has a real estate need in Crested Butte
Jim & Sandra Wickham
07/20/2012
We found Chris Kopf to be very personal and attentive to exactly what we were looking for. He showed us every area in Crested Butte and was totally knowledgeable about all aspects of the town and what it had to offer. He is very active, himself, in all the sports, social activities, and civic organizations, therefore, very qualified to answer all our questions. His patients and persistence paid off for us in finding the right house for the right price. We would highly recommend to any potential buyer.
Tom & Mary Aton
07/10/2010
We bought a condo in Mt Crested Butte in '10. It was a great experience working with Chris, after showing me what I thought I wanted, he advised me of the pros and cons on the different condos and found one that I am thrilled with. Our family and friends love the place and I think Chris led us to the condo that will prove to be a great investment for the future. He has the knowledge of the area that he has been going to for many years and now has lived there with his wife and daughters for several years. Chris also writes a very informative real estate report complete with graphs several times a year. I think Chris would be a great choice to handle your real estate needs in the area whether it is a lot or a multimillion dollar home.
Georges Lussier
02/01/2010
My sale was a short sale. From listing to sale was less than five months. The thought of a short sale was intimidating,but Chris made the experience very easy with lots of guidance from start to finish. I would highly recommend Chris for any Real Estate need buying or selling.
format_quote
Buying, Selling or Looking to? Let Me Help. Faith, Integrity, Hard Work.