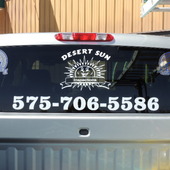 10072923
Home Inspector
Clint Mckie
Desert Sun Home, Comm. Inspection 1-575-706-5586
Carlsbad, NM

—

Desert Sun Home, commercial Inspections
carlsbad, Roswell, Hobbs, Artesia, Lovington, Loving, Dexter, Hagerman New Mexico
Eddy, Lea and Chaves Counties in South East New Mexico
Carlsbad , NM 88220
---
We offer residential and commercial inspections. Residential and Commercial Green certification, and energy audits . Also insurance claim inspections and freight inspections. Desert Sun Inspections.
Get to know Clint Mckie
      About myself And Desert Sun Home Inspections
At Desert Sun Home Inspections we offer at no cost to the buyer a free Recallchek and a 90 day warranty. This is conjunction to the warranty you might purchase from the agent when buying a home.
 I have been in the building trades for over 30 years. I have been inspecting for 20 years. At the State of Michigan I tough building trades for 2 years for the CCCC college program. I have been in the manufactured housing business for 30 plus years . I know what I am doing, I am a INTERNACHI Certified inspector with 28 certificates. I am also a VIP member of CAMBRIDGE'S WHO'S WHO for 2010. I am a 1999 member of the NATIONAL REGISTRY OF WHO'S WHO. I have written several books on home repair and have been a technical consultant on several energy conservation books. I have 2 books on display in the Mobile Home Hall Of Fame. I was a columnist for The Journal Of Manufactured Housing for Five years. I have inspected over 5,500 homes and have completed over 6,000 inspections. I have the expertise to get the inspection done right the first time. I also do insurance claim inspections and Virtual Freight Inspections. I will Inspect residential, commercial or industrial. I do construction draw inspections. If you can build it, then I can Inspect it. I am a member of Angie's list and a member of the U. S. Inspect team You can also find me on Service magic I am a member in good standing.As a member of InterNachi, I am held to a pretty big standard when it comes to customer service. Inspecting the right way for the client's is number one.
I also do all kinds of commercial inspection. I perform commercial inspections on restuorants as well as all types of businesses.
Oil Field inspections.
I also do Oilfield draw inspections for the oil and gas industries. If there needs to be a verification of the work that has been or is in progress then we can help with the draw requests.If you are looking to buy a business in Southeast new Mexico, then give me a call. My rates are very affordable.
CERTIFIED INSPECTOR New Mexico. I am the only Certified inspector in Eddy County.
I am the recipient of the Gerry Beaumont educational award for 2010, from INTERNACHI
Even though you are a certified inspector that will not make a competent inspector, unless you have the experience to go with it. I have inspected over 4,000 homes in the last 20 years. and 15 of those years as a certified energy auditor. I inspect all buildings. If it is built then I can inspect it. Since I have become a member of INTERNACHI I have noticed a big turnaround about the way I am perceived as far as the "qualified" inspector. This has opened up other fields of opportunities for me. Even though the name Desert Sun Inspections is fairly new, It's the experience that counts.
Call today to get a free quote for a residential or commercial inspection.
Call Clint McKie at 1-575-706-5586
Construction experience
I have been working on buildings since I was big enough to hold a hammer. And have been owner of McKie construction in Michigan. With all the homes I've built, remodels, additions and retrofits about 5,000+ jobs total. I also would do roofing jobs for the John Q. public and through the LIHEAP programs.  it's easy to see why I have the experience to " get the job done right" referring to inspections.  Low income home owners I could help out through the local Community Action Agency. This was a big help for the owners that could not afford to upgrade their homes.
Clint Mckie's Blog Posts
Home Selling
–

about 3 years ago
Home Buying
–

over 7 years ago
Home Buying
–

over 7 years ago
Home Buying
–

over 7 years ago
Certifications
My areas of Expertise is in residential and commercial Inspecting.  I also offer energy audits, and green certification.          I perform insurance claims. We are offering a $25.00 discount for first time home buyers, this saves them money and helps them got into their home with less costs. Plus don't forget we offer a 90 day warranty and Recallchek free of charge to home buyers. Buyers and agents should look at the inspection as an investment not an expense. If you inspect a home and find defects and they are in the report, then the buyer, lender and agent is less at risk. If they do not get an inspection and the home becomes a money pit, then the lender will get the home back when the buyer walks away. With the proper inspection then the agentk and buyer can make an informed decision wether to buy the home or look at another one.
 Move in certified
At desert sun Inspections, we can Give you the seller peace of mind that when we inspect a home and we certify it as move in ready, there are no worries about the home. This will give the buyer peace of mind as well when considering your home as a purches. check us out and we can get that home inspected for you within 24 hours in most cases.
 Never leave a home sale to chance. Get a pre listing inspection and sell the home with confidence.
These are inspections for the contractors who install anything in or on your home. From roofing, windows and doors. To new Hvac units, Furnaces, water heaters to make sure the appliances were installed correctly.
These fee's are minimal compared to having issues with a mis installed product on your home.
Awards
The InterNachi education achievment award. 2010
2001 Teacher of the year for the State of Michigan CCC Historical Renovation College program.
Skills
Any thing and everything to do with home and commercial inspections and energy auditing. We also do Trust but verify inspections. And Oil Field draw inspections. Commercial draw, risk assement inspections and home loan draw inspections.
If any lender need's to know anything about a project. Call us we will provide the answer to your questions about the project.
We also offer a comprehensive contruction management package. On time every time.
With over Thirty years of Construction and home building experienc and with over 20 years experience inspecting homes. Desert Sun Home inspections is the logical choice for any home buyer or seller. Residential and commercial inspections.
Introducing a fresh new look for your Profile.
Click the 'Edit Profile' button below to enter 'Edit Mode' and continue the tour.