Carra Riley & Declan Kenyon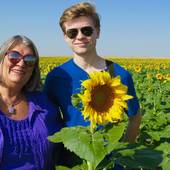 IA100052670
Real Estate Agent
Carra Riley & Declan Kenyon
Helping people Transition at all ages!
Westminster, CO

—

Brokers Guild Cherry Creek Ltd
12050 Pecos St. #180
Westminster , Colorado 80234
---
Carra Riley & Declan Kenyon are 3rd generation Real Estate partners "Making home transitions easy and enjoyable." We help people Connect the Dots in the Cosmic Cow Pie of life. 40 years experience
Get to know Carra Riley & Declan Kenyon
Aloha,
You have found it! 
A place where you can connect to someone who as been there and done what you are going through right now! With over 40 years of Real Estate experience,  We offer a different sort of Real Estate guidance to help you navigate through the Cosmic Cow Pies of the current Real Estate markets. New technology allows me to help people in every state make decisions on who they want to work with to buy or sell Real Estate and what might be a possible plan to follow with specific Real Estate goals. 
Currently we have a group developing the "Transitional Living Real Estate Team" with alliances to make any transitional move easier.  Do you have a family member in transition of will need to be in transition soon?  We can provide help that make the move seamless.  
Feeling confident I can help with any Real Estate transaction or direct you in to a place you can receive the help you need for whatever issue you are facing. Problem solver would be a good description of what I do and love helping make a difference in the world one person at a time.   Read, Think and Reason is my mantra and we will apply it together as we go on a real estate journey.  Quick response to communication, follow through and do what I say I am going to do are all characteristics that describe my behavior.  Having worked at a grass roots level with Banks, Mortgage Companies, Title companies, Builders, Developers and even the US Marshalls office help give me an edge that can help you in your transaction.  Lobbying to get laws changed to help sellers has been rewarding along with teaching for the Colorado Associaiton of Realtors, and acting as a convention speaker for both Colorado and New Mexico.
The Realtor Pledge talks about Golden Rule behavior in the first sentence and the pre-ambIe to the Realtor code of ethics also embraces Golden Rule behavior in our standards of practice. I sincerely value this moral practice of "treating others the way I would want to be treated" and will bring that principle to your transaction. I will help make sense of the Real Estate "Cosmic Cow Pie" and have fun doing it.
Experience comes with me to the table to make the transaction smooth and easy for both the agent and the principle. Whether you are a first time home buyer, seasoned investor with 1031 needs, a homeowner behind on your payments or looking to invest for the first time, I can can assist you in selecting a Real Estate agent who will fit with your personal style. If you need Colorado Real Estate help in the Denver/Boulder area I would love to have you interview me to become your agent.  
Looking forward to hearing from you soon!
Please read and feel free to verify our testimonials, check out the website and links and see what you think.
Warmest aloha,
Carra Riley CRB, CRS, GRI, SRES
Declan Kenyon Broker Associate 
Carra Riley & Declan Kenyon's Blog Posts
Lending / Financial
–

almost 3 years ago
Local News and Events
–

about 3 years ago
Just for Fun
–

almost 4 years ago
Lending / Financial
–

6 months ago
Rebecca Corgan Paul talks about Carra Riley and the Transition Living Real Estate Team
Rebecca Paul shares how Carra Riley helped with the transition of selling the home she grew up in while tending to her parents in an assisted living facility. She talks about Carra Riley getting bids for repairs and upgrades, coordinating the staging and selling of furnishings along with hand holding through the closing
Certifications
Mission Statement: To help people, one at a time, with heartfelt joy and humor.
Vision Statements: My vision is to help mankind by sharing my experiences and possibly save or relieve individuals from unnecessary "pits" in the stomach. I will attempt to help stimulate behavior that makes the world a better place by understanding people are different and by walking in their shoes, expressing respect and love for who they are without being judgmental. The vision is for peace and balance within ourselves and then the world. It all starts one neighbor at a time.
Resume
Carra Lee Riley Born: July 4 
Current Real Estate Consultant, Writer, Speaker
Real Estate Entrepreneur & Sales: Williams, Arizona 2009-2013, Lake Havasu City, Arizona 2002 to 2008 Owner/Broker Associate Prestige Real Estate Group LLC 1999 to 2003Broker/Owner Colorado Real Estate Connections Inc. 1993 to 1999 Broker/Owner Maui Tropical Connections Inc. 1989 to 1993 Broker/Owner Metro Brokers Riley and Company 1984 to 1989 Premier Real Estate 1982 to 1984 Moore & Company 1979 to 1982
Senior Instructor Colorado Association of Realtors Real Estate Convention Speaker: Colorado starting in 1980 and New Mexico Life Time Achievement Award recipient: North Metro Denver Realtor Association 2000 Rookie of the Year: Both, North Suburban Board of Realtors and Moore & Co.
Golden Rule City web site concept developer 2008
Photo Tour Global Directoy tm website and concept developer 2012
Past Owner of Tahoe's Incredible Machine and Colorado's Incredible Machine Buyers Macy's Kansas City & Adler's 1974 to 1976
Graduate: Colorado State University CSU 1974
Graduate: New York - French Fashion Academy 1971 Advisory Board: Colorado Department of Education for McKinney funds. City of Westminster: Legacy Foundation member Graduate: Broomfield High School 1970 4-H Grand Champion winner: Home furnishings and child care. Make It With Wool State Winner Kohl Elementary 1962: 4th grade Carra's Cinnamon Sucker Sales. Doubled money daily.
Awards
Rookie of the Year 1979  Denver, Colorado NMDRA 
Livetime Achievement Award 2000 Westminster, Colorado NMDRA
Skills
Creativity
Patience
Kindness
Spirituality 
Charitablness
Testimonials for Carra Riley & Declan Kenyon
Rebecca Corgan Paul

03/11/2015

If these walls could talk?? This past Thursday the first chapter, which spanned over fie and ha half decades, in a home's lif story came to a close and the second chapter began. It was such a delight to see the tears of joy and excitement of the new owner's faces as we were signing the papers to transfer ownership of the home my brother, John Corgan and I grew up in to a young couple just starting their family. Our Realtor, Carra Riley, my father, Ed Paul, and I are all agreed in prayer that God direct our steps throughout the sale of my childhood home. And as Carra requested, "...That what blesses one, blesses all.." I believe God answered our prayers! The closing was full of laughter, shared stories of the past, plans for remodeling, and dreams for the future. It just doesn't get any better than that!

Thank you, Carra, for EVERYthiNG you did to make this transaction possible. YOu managed every step, from gathering bids for prepping the interior and the exterior prior to listing, monitoring contractor work quality, property marketing, through closing. This allowed me to focus m full attention on parental elder care and end of life issues. You were and are a godsend. My heartfelt thanks!!

Carra is an awesome friend and real Estate Advisor I would recommend her so highly to help any one find their perfect home. :)XX

Lloyd Booth: Financial Services Technology Executive

05/02/2013

Lloyd BoothRe-order
Financial Services Technology Executive
I have worked with Carra on a number of occasions and for a number of opportunities. I have yet to find a colleague with as much enthusiasm, focus and determination. She has an uncanny ability to truly empathize with the individuals she is working with. She has worked tirelessly and with great innovation to accomplish the goals at hand. She is one of the few individuals I consider as a mentor. I count on Carra as a colleague, partner and friend.
May 2, 2013, Lloyd was Carra's client

Margaret Rome Author: "Real Estate the Rome Way"

11/20/2012

We all need a Carra Riley in our lives.

Not only a good friend, a nice person and an author but also a wonderful coach and business executive!

I love to list and sell real estate and find time to do it all…well most of it.
There comes a point when it is necessary to let go of some things.
That's where Carra comes in. This wonderful lady can take the learning curve out of doing technology tasks such as Google+ Hangouts and a myriad of other things. Things we need and want to learn to make our business better so we can spend more quality time with our clients.

Carra's calm and very patient way of showing and teaching allows an agent to concentrate on the actual task of real estate. Need a little help? Need a lot of help? Need help with a specific project? Give Carra a shout!

Valentina Cirasola: Interior Designer

07/07/2012


This morning I had about an hour of business consultation with Carra Riley. She spotted my challenge in the first five minutes of our conversation on Skype. She is a good listener and knows the correct questions to ask that will keep her very productive in the time she allocated to her clients. She gives sound advices and her solutions are doable. I would recommend Mrs.Riley strongly to anyone who is looking to improve business skills, but also because she is a fine human being, caring at a deeper level. She consults through Skype all over the world and in person face-to-face.
Valentina
Valentina Interiors & Designs
www.Valentinadesigns.comless
July 7, 2012, Valentina was Carra's client

Shannon O'Connell: Sales Force / AIM Administrator at Abacus/Epsilon

02/22/2012


I am a past real estate client of Carra's and currently consult with her on the market for out of the box idea's. Carra advised us to liquidate a rental property before the 2009 fall, with some creative idea's, and it worked well. We made excellent money on the property working with Carra. Her follow thru is excellent and she is very personable and trustworthy.
February 22, 2012, Shannon was Carra's client

Sally Franz: Owner, Geronto Communications

10/17/2011


When you want concise information and guidance in this maze called Real Estate, Carra cuts through the ur, um cowpies. She has excellent business integrity, that's a given, but the thing that sets Carra apart is her rapid fire clear insight into a situation. She listens, she 'gets it' and she knows what to do for/with you. If you are looking for a Real Estate consultant (and don't leave home without one) Carra is the best I have ever dealt with and I have dealt with many. In less than an hour she steered me clear of a few land mines (cowpies) and set me on a course where I felt I had some control over my choices again. Thank you for restoring my sanity Carra...sorry if I sounded frantic, I was. But I am now breathing evenly and able to think on my feet again thanks to you.
October 17, 2011, Sally was Carra's client

Mary Anne DeYoung: Broker Associate at Havasu Realty

08/21/2009


Carra is a great lady to know! She is involved in more "stuff" than anyone you have ever met. She is fun, brilliant, and most of all-- game for anything!! Carra is lots of fun and always has a smile on her face. She is a probably the most natural-born salesperson I have ever had the pleasure of meeting!

August 21, 2009, Mary Anne worked directly with Carra at Havasu Realty

Frank Giuliano: at Academy Mortgage Corporation

04/21/2009


Carra is truly a professional in the Real Estate Industry and more Realtors should be like her. She is hard working, loyal, and has high integrity. I recommend Carra because she gets the job done!
April 21, 2009, Frank was a consultant or contractor to Carra at Colorado Real Estate Connections

Monica Hall: Senior Vice President at Mohave State Bank

04/15/2009


Carra is an excellent real estate agent who goes above and beyond to help all of her clients. I have worked with Carra for several years and her customers adore her. She has a heart of gold and believes strongly in moral values and the golden rule "Treat others the way you would like to be treated."
April 15, 2009, Monica worked with Carra at Colorado Real Estate Connections
Introducing a fresh new look for your Profile.
Click the 'Edit Profile' button below to enter 'Edit Mode' and continue the tour.