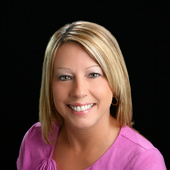 240460
Real Estate Agent
Diane Simmons
Asheville, NC

—

Exit Realty Vistas

Exit Realty Corp. International
I am a realtor in Asheville but I deal primarily in Buncombe and Madison County. I have lived in this area all of my life so I know my market very well. I would love to be your realtor.
Get to know Diane Simmons
Having grown up in this area I know my market very well. I have also been a mortgage loan officer for a number of years before becoming a realtor so I understand the financing ins and outs and find this beneficial in the real estate industry. 
I have been a realtor for over ten years and work with a wonderful company by the name of Exit Realty Vistas in Arden. Our team concept and our marketing system works very well to help get your home sold or find you the right home if you are a buyer. 
I am dedicated to my customers and will put forth every effort to meet their needs. I would love to be your realtor.
Certifications
Having been in the lending industry I do understand the process of lending and real estate going hand in hand. I know how to work with first time homebuyers as well as second and investment home markets.
I also represent buyers and sellers so I know how to find a buyer for your home.
Testimonials for Diane Simmons
Hi, Susan,

We want to compliment Diane Simmons to you for the recent transaction she handled for us on 64 Mountain Site Lane. My husband, Barry, and I have been very active in real estate investing and he has a 40 year history of practicing real estate law in Florida and is also licensed in California. This purchase is the smallest we have ever made: it's designed to be home for our son who will be pursuing additional graduate work in the fall in Asheville, yet we were never treated as lesser clients based on the small purchase price.

Diane literally jumped through flaming hoops to make sure this transaction happened on time. It was complicated by being a foreclosure with an out-of-state lender and a very tight year-end deadline. Diane did not hesitate once to do anything or to show up at the property to make sure things were processed. She exceeded behavior and professionalism of most of the realtors we have ever worked with in our 30 year investment history whether it was a $1M+ property or lesser. And she has gained our trust and commitment to use her services again.

As you noticed from yesterday's email, we have had a significant problem with Jason Peltz' office producing documents on time, most egregiously the Title Insurance. But I also had to call them to get the Deed and the HUD - more than once. Yesterday, I finally 'got on my broom' to try to get them to respond. I have heard nothing this morning and it is already 11:30. I hope your other agents are not experiencing the same unprofessionalism with his office. We would absolutely discourage doing business with him based on our personal experience. He has been dismissive, surly, and conceited in his comments - even telling Barry that NC does not practice r.e. like Florida. Obnoxious. Barry wrote the basis for the first closing software that has been used nationally for at least twenty years so he is well aware there are regional differences but for Peltz to get on his egotistical perch and preach that 'we don't understand' is immature and blatently incorrect. My personal work experience is in Corporate Management of Fortune 5 and 500 companies on a national and international scale, with several thousand people reporting to me. Had Peltz worked for me, I would have fired him.

May you have a wonderful Friday. Again, big kudos to Diane for all she has done.

Thank you,

Juliet Fuller

Rachael Lowery

01/25/2015

Diane is fantastic! We started viewing homes in February 2014 and fell in love with a short sale home in March. Unfortunately the home was owned by two banks which made it very hard to close (as they both had to agree to the amounts they would receive at closing; and they both felt the other bank should take the bigger loss.) Diane kept pushing and kept us informed the entire time. I believe it was her knowledge and experience, plus her will to succeed, that got us the beautiful home that we own today. She was never pushy. She always looked out for our best interests. It took ten months for the banks to come to an agreement so we could close and through that entire time she always treated us like her #1 client! I would strongly recommend Diane to anyone who is looking at buying or selling. In fact, I already have!

Dr. Lewis Dodds

01/03/2015

Diane was extremely helpful in selling our home. She went above and beyond in many ways since we were no longer living in the area. Her local knowledge and contacts were a huge asset.

Frederic Arnold

12/02/2014

Very responsive, very professional, made me feel like her only client. Knows the local market well, has good contacts for local service providers (inspectors, lawyers, etc), and provided just the right amount of advice at the right times. Would definitely recommend her services.

Diane was very helpful in helping us find our new home. She was very responsive to questions and made suggestions for things we did not consider. Overall, it made the experience very easy.

Professional and wonderful to work with! Diane has a tremendous amount of patience considering it took us over a year to find the right house. She never gave up and was willing to work around our schedule as well.

Brett and Shawn Fiora

09/23/2014

Diane helped us for over a year, she never lost patience and always gave us good advice. We were able to purchase the second home we wanted but was overpriced, she helped to get it down to a marketable price that we could afford.
Introducing a fresh new look for your Profile.
Click the 'Edit Profile' button below to enter 'Edit Mode' and continue the tour.