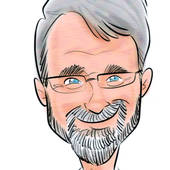 WA Lic# 32507
Managing Real Estate Broker
Doc Reiss
Port Angeles, WA

—

Town & CountryReal Estate
1205 East Front Street
Port Angeles , WA 98362
---
Looking for concierge-level service in your home buying or selling? Call on me, a consistent multi-million dollar agent with GRI and Associate Broker designations. Testimonials attached below.
Get to know Doc Reiss
     I love small town living.  Given the chance, you might as well.  I hear it from people every year:
     "Yeah, I live in (some big city) and I am tired of the traffic, the crime and the pollution.  I want to be somewhere where the people are friendly and the cost of living isn't so crazy.  So, what's it like in Port Angeles?"
     As I answer their questions I can hear the excitement building in their voices.  We have everything a bigger city has, just less of it.  No sugar coating.  We have our problems, sure.  We have crime, but most of it (over 90%) is property crime, not violence against other people.  We have people who are homeless and people who use drugs.  We have our challenges with meeting fiscal budgets and still maintaining services.  They are problems every community faces.
     We also have clean air, clean water, people who care about each other and about the town.  We have fiber optics and a city-wide wi-fi system.  We have arts, cultural events, music festivals and concerts.  There is a community orchestra and a high school orchestra.  Peninsula Community College is a destination school with a strong two year cirriculumand connections to four year colleges.
     We have industries, businesses that conduct trade worldwide, as well as cutting edge technologies developing here.  We sit surrounded by over one million acres of national forest lands with mountains to the south and the Strait of Juan deFuca to the north.  We are 17 minles across the water from British Columbia and 75 miles (as the crow flies) from Seattle.
     For being a small town of 19,000 there is a heck of a lot here -- and people are discovering that and moving here for a better life.  
     It's exciting to be able to show people this area and watch them fall in love with living here.  If you are searching for a better place to live, look us over and you too may be giving me a call to learn more.  I hope you do.
Hurricane Ridge Skiing
Video of Hurricane Ridge outdoor recreation in the Olympic Mountains
Certifications
    In Washington there are three levels of real estate agents;  Designated Brokers - who manage real estate offices, Managing Brokers - licensed to manage an office but do not, and Brokers - licensed to sell real estate.  The majority of us in Washington are also Realtors and abide by a strict set of ethical guidelines and business practices.
     I am a Managing Broker with Town & Country in Port Angeles and also hold CRS and GRI designations. CRS stands for Council of Residential Specialists. GRI stands for Graduate Real Estate Institute, a 90-hour course designation.  I am also a Realtor in good standing.
     I believe in giving back, paying it forward or being of service (whatever you wish to call it) to my fellow townsfolk. I am an active member of Nor'Wester Rotary and a past president.  I was the chair twice and the vice-chair of the city's Planning Commission over the course of eight years.  I am currently on the board of the Chamber of Commerce and the president of the Port Angeles Association of Realtors.
Awards
Rotary International -- Paul Harris Fellow
Citizen of the Year - 2005
Testimonials for Doc Reiss
"If I were President, you would be my Chief of Staff!
If I owned a business, you would be my 'go-to' guy!
If I were in a foxhole (war) nobody but you would be there with me!"

Dave K and Wendy F

02/09/2016

Invaluable Help

""Your help was invaluable and your knowledge and dedication to providing the best service was second to none. We thank you very much and look forward to your services in any future Realtor needs." "Absolutely (use you again). Wouldn't trust anyone else."

"
- Dave K. & Wendy F., Port Angeles

Martha & Gary S

02/09/2016

Found the Perfect Home and More

""Doc is an excellent Realtor:energetic, well organized, 'in tune with the times' -- up on the latest information, extremely flexible and patient. He is a 'possibilities' person who uses his creative thought processing to its greatest advantage. . . . We feel like we have a new friend. Thank you for giving us the 'best' of service.""
- Martha & Gary S,, Port Angeles

Appreciated Doc's Unique Benefits

""I felt comfortable with Doc immediately. The process was clearly explained. He offered help and advice on a number of things that helped get the house sold. The Realtor's inspection was a great help in giving us a 'heads up' on things that needed to be addressed prior to showing the house.""
- Nadine S., Port Angeles

Bill Benedict, Sheriff

05/20/2015

Dear Doc,

Thanks for (once again) providing an awesome backdrop of wonderful music at our Peace Officer's Memorial Picnic. I appreciate ( as does everyone else there) your community service as well as your musical choices. Thanks again and stop by - let me buy you a cup of coffee and chat one on one.

Sincerely,

Bill Benedict, Sheriff

Clallam County
Introducing a fresh new look for your Profile.
Click the 'Edit Profile' button below to enter 'Edit Mode' and continue the tour.