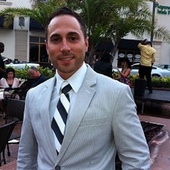 Real Estate Agent
Darren Nelson
Realtor, (954) 881-8800, Foreclosures/REOnulls,...
Fort Lauderdale, FL

—

Coral Shores Realty (downtown Fort Lauderdale -South Florida
South Florida, Broward County, Oakland Park, Tamarac, Hollywood, Lauderdale-by-the-Sea, Pompano, Margate, Tamarac, Coral Springs
1119 E Sunrise Blvd. (downtown)
Fort Lauderdale , FL 33304
---
Coral Shores Realty is the Number 1 Real Estate Brokerage in the State specializing in Short Sales & Foreclosures. * Check out my eNewsletter; http://CoralShoresRealty.housingtrendsenewsletter.com
Get to know Darren Nelson
What's Your Home Worth? Sign Up For A FREE Market Report!http://www.BrowardCountyHomes.info - Best Customized Real Estate Reports for Broward County, Florida. Are you wondering if the Real Estate Market has Stabilized in your area? Would you like to know how much homes actually SOLD for in your neighborhood? Would you like to gauge how the current Real Estate Market is trending? FIND THIS INFORMATION AND MUCH MORE BY SIGNING UP FOR YOUR COMPLIMENTARY MARKET SNAPSHOT REPORT Simply go to http://www.BrowardCountyHomes.info and sign up for a FREE Market Snapshot Report and receive your custom report within minutes!! Click Here Brought to you by Top Producer Systems
Please visit my website @ www.SoFloridaRealty.com
Search the MLS in 13 different languages by clicking the corresponding icon above English Spanish Brazilian Portuguese Italian French German Chinese (traditional and simplified) Japanese Vietnamese Korean Polish Russian
Looking to Buy a Home? Looking to Sell your Home? Want a FREE Home Evaluation?
Fort Lauderdale, Florida From Wikipedia, the free encyclopedia Fort Lauderdale— City — Downtown Fort Lauderdale skyline Seal Nickname(s): Venice of America U.S. Census Map Coordinates: 26°08′9″N 80°08′31″WCoordinates: 26°08′9″N 80°08′31″W Country United States State Florida County Broward Established March 27, 1911 Government - Type Commission-Manager - Mayor Jack Seiler Area[1] - City 36.0 sq mi (93.3 km2) - Land 31.7 sq mi (82.2 km2) - Water 4.3 sq mi (11.1 km2) 11.91% Elevation[2] 9 ft (2.75 m) Population (July 1, 2007)[3] - City 184,892 (126th) - Metro 5,413,212 Census Bureau estimate Time zone Eastern (EST) (UTC-5) - Summer (DST) EDT (UTC-4) ZIP code 33301-33340, 33345-33349 Area code(s) 754, 954 FIPS code 12-24000[4] GNIS feature ID 0282693[5] Website http://www.fortlauderdale.gov/ Fort Lauderdale (pronounced /ˌfɔrt ˈlɔːdərdeɪl/) is a city in the U.S. state of Florida, on the Atlantic coast. It is the county seat of Broward County. According to 2007 U.S. Census Bureau estimates, the city had a population of 183,606. It is a principal city of the South Florida metropolitan area, which is home to over 5,413,212 people. The city is a popular tourist destination, with 10.35 million visitors in 2006. Fort Lauderdale is sometimes known as the "Venice of America" because of its expansive and intricate canal system. The city is a major yachting center, with 42,000 resident yachts and 100 marinas and boatyards in 2006. The city sits 23 miles north of Miami, Florida. Fort Lauderdale and the surrounding area host over 4,000 restaurants and 120 nightclubs in 2006. Fort Lauderdale is named after a series of forts built by the United States during the Second Seminole War. The forts took their name from Major WilliamLauderdale, who was the commander of the detachment of soldiers who built the first fort. However, development of the city did not begin until 50 years after the forts were abandoned at the end of the conflict. Three forts named "Fort Lauderdale" were constructed; the first was at the fork of the New River, the second at Tarpon Bend, in what is now known as the Sailboat Bend neighborhood, and the third near the site of the Bahia Mar Marina.
About Coral Shores:
With over 600 Realtors and 9 real estate offices throughout Florida, Coral Shores Realty is the Number 1 Real Estate Brokerage in the State. Our Realtors are high caliber professionals with diverse backgrounds and talents that specialize in all aspects of real estate including residential sales, new construction, investment properties, luxury vacation homes, commercial and business brokerage, rentals, international real estate, foreclosures, short-sales and property management.
If you are planning on selling your home soon, we would be happy to provide a free market analysis to help you calculate the fair market value. We also have short-sale specialists who can assist in loss mitigation negotiations or loan modifications.
If you are planning on buying a home, our specialists will set you up to automatically receive personalized MLS or Commercial listings by e-mail so that you are promptly notified of any properties that meet your specifications. Also, we offer free MLS search with all the Florida listings available including Foreclosure properties.
As full-service Brokers, we will always keep your best interests in mind and help you to make the most knowledgeable decision. Please let us know how we may serve you!
CORAL SHORES REALTY is FLORIDA'S OWN REAL ESTATE COMPANY !
About Me:
Darren Nelson was born in Mount Kisco, NY and raised in Mahopac, NY. At the age of 13 his family moved to New Milford, CT, this is when Darren began his work career. It was at 19 years of age when Darren realized that his lifelong pursuit would be with Finance and Real Estate. Since that point he has engulfed himself with every bit of knowledge and understanding of the industry and what drives it.
Darren attended WCSU where he majored in Business Management. He entered the real estate market in 1999, starting in personal real estate investing while developing and running several successful companies. For several years, he owned and managed a mortgage company of almost 30 employees spanning throughout 6 states. This experience has allowed him to understand all aspects of a real estate transaction.
Darren moved to South Florida in 2002 and began buying and selling real estate. He has shown that hard work and his vast knowlege of the real estate business translates to happy clients and successful real estate transactions. He has the vision and the ability to seek opportunity and convey this information to his clients. Darren always makes himself available to his clients providing them with 24/7 access to him at all times. He uses all the latest technology and resources which allows him to stay ahead of his competition. Work with Darren on a purchase, sale of your home or a rental and you will see his excellence in customer service and his state of the art tools that he uses to ensure a smooth simplified real estate transaction.
Darren's specialty is working with Short Sales & Foreclosures. He has a proven ability to seek out properties with the deepest discounts for his investors has allowed them to exit their transaction with the most profit. His Short Sale process is the best in the business and has given his sellers an easy headache free exit strategy. If you are looking to find deep discounted homes or sell your home FAST, Darren can help you!
"The three great essentials to achieve anything worth while are, first, hard work; second, stick-to-itiveness; third, common sense."
Thomas Edison
Goals:
Darren's goal is to have an unparalleled knowledge of the South Florida Real Estate Market, a thorough understanding of your needs and the expertise to ensure that the many moving parts of your transaction are handled seamlessly.
Awards & Recognitions
During his career he has earned several awards and recognitions ranging from Top Producer of the year to being featured in Publications for his achievements.
Darren is a REALTOR®, a member of REALTOR® Association of Greater Fort Lauderdale (RAGFL), the Florida Association of Realtors (FAR), and the National Association of Realtors (NAR).
Gold Coast School of Real Estate – Preparation & Understanding the FAR/BAR "As-Is" Contract and meeting the requirements and high standards of Gold Coast School of Real Estate
State of Florida Division of Real Estate "How to Attract More Buyers and Create More Sales"
Testimonials "Darren is a consummate professional with a tireless work ethic. His works performance earned my highest recommendation and praise for a job well done." Top qualities: Great Results, Expert, Creative" James Reynolds "I performed closings for Darren in the state of Massachusetts. Darren has always put the needs of the borrower first, and it was a pleasure to work with him." Attorney, EZ-Closing, LLC" George Matta "Darren is a very detailed person whom I enjoyed working with very much. I have referred many of my friends to Darren because of his great work ethic." Bryan Bennett "Darren is a professional and motivated entrepreneur who has established himself, at least in my opinion, to be successful in the field of real estate investing. He has created a well-oiled machine at finding distressed properties at far below market value and turning them into profits for all involved." Real Estate Sales Associate, Coldwell Banker Residential Brokerage" Jeff Lippman "Darren has a strong background in assisting clients in finding and financing property. He is professional, sincere and trustworthy. I would recommend working with Darren on your real estate needs." Financial Advisor, Webster Investment Services" Kathy Hanson "Darren is an incredibly prolific professional. His dedication and attention to detail with each account he works with catapults his ability to serve his clients through the roof. You will NOT be disappointed or unsatisfied with any service that Darren provides." VP of Marketing, Lease One Corp." John Bryson Why choose Darren Nelson as your real estate agent? For one thing, he really listens to you and will work tirelessly on your behalf.
Darren Nelson's Blog Posts
ActiveRain Community
–

almost 11 years ago
ActiveRain Community
–

almost 11 years ago
ActiveRain Community
–

almost 11 years ago
ActiveRain Community
–

almost 11 years ago
Certifications
Areas of Expertise
Darren has a wide array of expertise and talents ranging from an extensive financial background to both Commercial and Residential Real Estate. He also has a keen sense of knowledge and experience with all aspects of Marketing including but not limited to; Social Media (Facebook, Twitter, LinkedIn, Hootsuite), Organic Search (SEO), Pay per Click, Print, Direct Mail,Telemarketing, Email Marketing, Banner Advertising and much more…
Darren uses the latest Internet marketing tools to expose your property to the widest possible range of qualified buyers.
Darren specializes in the following;
Short Sales
Foreclosures/REO's/Bank Owned Properties/Distressed Properties
Darren's area of coverage within South Florida is as follows;
AndytownArlington ParkBarwalBay HarborBeverley BeachBirch Ocean FrontBonnie LochBoulevard GardensBreezeswept Park EstatesBrentwood EstatesBroadviewBroadview ParkBroward EstatesBroward GardensBroward HighlandsBrowardaleCarver HeightsCarver RanchesCarver VillageChula Vista IslesCoconut Creek*Coconut Creek ParkCollege ParkCollier ParkCooper City*Coral EstatesCoral HeightsCoral HillsCoral ManorCoral Ridge IslesCoral Springs*Coral WoodsCountry Club IslesCrystal LakeCypress HarborCypress Isles EstatesDania Beach*Davie*Deerfield Beach*Driftwood Acres East Gate ParkEastway ParkFair GateFairlawnFern Crest VillageFlamingo VillageFloresta EstatesFort Lauderdale*Franklin ParkGarden IslesGolden IslesGolf EstatesHacienda VillageHallandale Beach*HammondvilleHarbor BeachHarbor HeightsHarbor VillageHigh Ridge EstatesHillsboro Beach*Hillsboro PinesHillsboro RanchesHollywood*Hollywood Beach GardensHollywood Ridge FarmsImperial PointJenada IslesJessie WilliesKendall GreenLake ForestLakeviewLauderdale Lakes*Lauderdale-by-the-Sea*Lauderhill*Lazy Lake*LeisurevilleLighthouse Point*Little Harbor on the HillsboroLoch LomondMargate* Margate EstatesMelrose ParkMiami GardensMiddle RiverMiddle River ManorMiddle River VistaMiramar*North Andrews GardensNorth Bal HarborNorth Lauderdale*North Pompano BeachNurmi IslesOak PointOakland Park*Ocean VuePalm AirePark HavenParkland*Pembroke Park*Pembroke Pines*Pine Island RidgePlantation*Plantation GardensPlantation IslesPlantation ParkPlayland EstatesPlayland IslesPlayland VillagePompano Beach*Pompano Beach HighlandsPompano EstatesPompano IslesPompano ParkPort EvergladesPort Everglades JunctionPort LaudaniaRavenswood EstatesRio Vista IslesRiverlandRock Island Rock Island VillageRo-Len Lake GardensRolling OaksRoosevelt GardensRoyal Palm IslesRoyal Palm RanchesRoyal Palms ParkSabal Palms EstatesSaint GeorgeSanders ParkSanta Barbara ShoresSea Ranch Lakes*ShorewoodSilver ShoresSoroka ShoresSouthwest Ranches*Sun Swept IslesSunrise*Sunrise HeightsSunrise KeySunshine AcresSunshine ParkSunshine RanchesTamarac*TedderTerra MarThe CoveTwin LakesUtopiaVillage ParkWashington ParkWest Deerfield BeachWest Dixie BendWest HollywoodWest Park*Westgate Lake ManorWeston*Wilton Manors*Woodsetter North Other Populated Places in Broward County (Neighborhoods, Subdivisions & Settlements) Avon Park Collier Estates Collier Manor Coral Ridge Coral Villas Cresthaven Downtown Fort Lauderdale Driftwood Estates Fleetwood Manor Lauderdale Harbors Lloyds Estates Lyons Park Melalevca Isles North Andrew Gardens Pinehurst Village Plantation Acres Sunrise Victoria Park
4FORTY FLAGER VILLAGE►ALEXAN SOLMAR►SATORI►GABLES AT WILTON PARK►SUNRISE HARBOR►FALLS AT MARINA BAY►THE WAVERLY►THE EXCHANGE ►AVENUE LOFTS►SOLE►NU RIVER LANDING►LAS OLAS BY THE RIVER►NOLA LOFTS►BLUX AT VICTORIA PARK►350 LAS OLAS PLACE►ALTIS►GROVE EAST►MIDTOWN 24►PINE CREST VILLAGE►SAILBOAT BEND►THE RIVER HOUSE►FOUNDRY LOFTS►LAS OLAS BEACH CLUB►STRADA 315►THE MILL►WATERGARDEN►THE SYMPHONY
Introducing a fresh new look for your Profile.
Click the 'Edit Profile' button below to enter 'Edit Mode' and continue the tour.