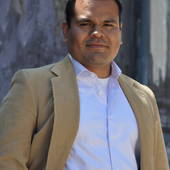 0456250
Real Estate Agent
Dennis Sanchez
Hackensack, NJ

—

Coldwell Banker Tenafly

Coldwell Banker Real Estate LLC
-Realtor -ASP, Accredited Staging Professional -Fine Homes Specialist -Serving all of Passaic and Bergen Counties -Expertise in customer satisfaction
Get to know Dennis Sanchez
What does it mean to be a real estate agent?
An agent is someone that can comfort, support and educate, either the "Dream Home" shopper or the "Dream Investment" shopper and maximize the amount of sale of your "Pride and Joy" home.
Why am I worthy of being your personal real estate agent?
Starting at an early age of 12 I have been exposed to tiresome and laborious work, so hard work is no stranger to me.  Since I was 18, I was on a mission to learn and understand everything that had to do with real estate.  So how am I worthy of being your personal agent?  You will enjoy the tough, hard working, knowledgeable yourth full of energy, ready to serve your every real estate need.
What do I specialize in?
I specialize in Residential, Multifamily, and investment property listing and sale. 
What areas do I specialize in?
I specialize in the Passaic and Bergen County areas. 
What I have to offer?
Full time realtor Generate at least 20-30 new contacts a week Since 1-1-2008, clients have been calling more I do plenty of internet and mail advertising Homes listed by me get constant advertising per day and with many resources Phone and email communication with owners at least once a week I  specialize in internet and custom flyer marketing Staging, pricing, and marketing always gets a house sold 100% satisfaction guarantee or I return the listing back to the owner NO HOUSE I CAN'T SELL!!! CONTACT ME
  Popular Videos >Buying Your First Home   Help make the first time home purchase less daunting with guidance from your local Coldwell Banker® Sales Associate. >Is There Value in a Bathroom Update?   Discover the newest design ideas and budget tips for getting the best return on your bathroom remodeling dollars. >Design a Kitchen that Sells   Find out how to get the most return on your investment through a kitchen remodel.>Effectively Working with an Agent   Find out how to get the most out of a partnership with a real estate agent.    Popular Tools >Open House Buyer ChecklistEasily compare different homes with our dowloadable open house checklist for buyers.>Open House Seller ChecklistUse our downloadable checklist to help prepare your home for the open house.>Financial CalculatorsColdwell Banker Mortgage provides several helpful calculators to aid you in making home financing decisions.>Home Evaluation WorksheetEnsure you ask all the right questions and keep track of the homes you're evaluating with this handy worksheet.>Home Price Comparison IndexCompare more than 300 housing markets across the U.S. and Canada.   Popular Articles >Buying Your New HomeHomebuying 101: from determining how much you can afford to learning what documents you'll need.>Home Sweet Home ImprovementSome essential home improvement tips that might increase the value of your home.>What Homesellers Don't Know Can Hurt ThemLearn what the pitfalls are in selling your home and how to avoid them.       Home PriceComparison Index Compare more than 300 housing markets across the U.S. and Canada. > more Neighborhood Information Where is the best neighborhood for you? Find out in our neighborhood information section.
Real Estate Glossary
What does Interest Rate mean? Find out in our glossary of Real Estate terms.
> Mortgage Center
> Understanding Commissions
> Concierge Home Services
> Special Offers & Coupons
Coldwell Banker Real Estate LLC would love to hear from you. To contact us, simply choose from these options. Our goal is to help buyers, sellers and homeowners with all of their real estate needs. From finding the home, researching neighborhoods and schools, to learning about your home's value, we offer the people, tools and resources to help. No matter what your question, suggestion, or comment, we value your feedback.
Contact a Sales Associate
For help with all of your real estate needs, find a local Sales Associate here.
Contact an Office in the United States
Find a local Coldwell Banker® Office here.
Contact an International Office
Find an International Coldwell Banker Office here.
Learn About Career Opportunities
Learn about career opportunities with Coldwell Banker in the United States.
Learn About Franchise Opportunities
Contact us here for information on Coldwell Banker franchise opportunities in the U.S. or Internationally.
Dennis Sanchez's Blog Posts
Certifications
-Concentration is in Paterson
-Accredited Staging Professional, Real Estate Agent
-Very familiar with surrounding areas of Paterson and most areas of Bergen County
-Very familiar with the mortgage process and can answer most mortgage questions
-Great with first time homebuyers
-Plenty of experience with investors
-Fine Homes Specialist Designated
-Some school information
PUBLIC SCHOOLS IN PROSPECT PARK
PRIVATE SCHOOLS IN PROSPECT PARK
PUBLIC SCHOOLS IN PASSAIC TOWNSHIP
PRIVATE SCHOOLS IN PASSAIC TOWNSHIP
Looking Through the Buyer's Eyes
Below are questions to ask yourself when preparing your home for sale to ensure it looks the best it possibly can in the buyer's eyes.
Exterior
Does your yard look well maintained? Are the trees and bushes trimmed? Is your lawn mowed and edged? Is your lawn free of weeds? Are the decks and patios clean? Does your house need painting? Are there any exterior holes or cracks? Are your walks and porches clean and in good repair? Does your roof leak or sag? Are any shingles or tiles missing? Is your chimney in good shape?
Carpeting/Walls/Ceilings
Are your carpets clean and in good condition? Do your carpets need stretching? Are there any pet or smoking odors? Do your walls have any cracks or holes? Do your walls need painting? What about that wallpaper? Do your ceilings have any water stains, cracks or peeling? Do your ceilings need painting?
Kitchen
Are your appliances clean and in good working order? Are your cabinets in good condition? Are your countertops in good condition? Is your tile grout clean? Is your sink stained, chipped, or in need or re-calking?
Bathroom
Do your faucets shut off completely? Do your sinks drain freely? Are your toilets in good condition? Are your shower doors shiny? Do your tubs need caulking? Is your floor in good condition? Are your vanities and mirrors in good condition?
Living Room
Is your fireplace clean? Is the fireplace screen in good shape? Are all drapes, shutters and shades clean and working properly? Are any window screens bent? Do all the windows open and close easily? Are the windowsills clean? Are your doors in good condition? Do any doors sag or stick? Do the locks work? Is the paint in good condition? Do the doors seal tightly?
Basement/Attic
Is your basement/attic organized? Are they well lit? Are they clean? Are the stairs in good repair? Do the doors open and close easily? Are there any signs of insects or rodents?
Garage
Is your garage organized? Is it well lit? Is the floor swept? Are there oil spots or other stains on the concrete?
To help you with your homeownership, we've assembled some world-class resources. And when you're ready to move to the next step, be sure to contact a Coldwell Banker® affiliated Sales Associate - they can make all the difference.
Tools >Home Price Comparison Index>Home Value Estimator>Mortgage Center>Interest Rate Watch Knowledge >Home Sweet Home Improvement>Is There Value in a Bathroom Update?   >Home Safe Home>What Is Your House Worth>Preventing Burglary>Lower Your Water Bills>Which Renovations Truly Boost Home Value>Seal Your Ducts and Save Money  
Introducing a fresh new look for your Profile.
Click the 'Edit Profile' button below to enter 'Edit Mode' and continue the tour.