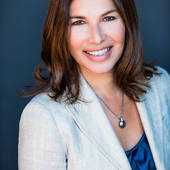 BRE #01483649
Real Estate Agent
Gloria Commiso
Hermosa Beach
Hermosa Beach, CA

—

Keller Williams

Keller Williams Realty Inc.
1601 Pacific Coast Highway #265
Hermosa Beach , CA 90254
---
Real Estate Agent, ALC member for KW Beach Cities, specializing in residential & income property. Covering Manhattan, Hermosa, Redondo Beach & South Bay including Hawthorne, Torrance, lawndale & more
Get to know Gloria Commiso
I believe our job is to not only find a home for a client or sell a property, It is to use the upmost care in dealing and to operate in good faith. In addition, i utilize an in depth due diligence process to gather information concerning the neighborhood and property condition. I also know what it's like to be both a buyer/investor and seller. I have experienced both positions and can identify with the processes for each side. I have had continued success in the last 11 years due to the steady stream of referral business. please see my website. Im a BIG believer in referrals and have had a few exchanges with Active rain members. I really believe that real estate is all about relationships and guiding clients to the local expert when they relocate out of area or out of state.
My professional experience includes twenty years of inside and outside sales experience in both corporate and entrepreneurial cultures including; Automobile Club of Southern California, Nordstrom, and Pottery Barn. Serving Keller Williams since 2004, Ive  built a sales career on referral business from both current and past clients. My Real Estate experience includes residential and commercial representation as both a listing agent and buyer's agent.  Utilizing a formal graduate education in Negotiations and Integrative bargaining,  Im focused on representing the client's best interest and places an emphasis on under promising and over delivering. In addition to being a fulltime licensed professional, I was formerly an Art Docent with the Young at Art Program in Hermosa Beach Unified School District and contributes a portion of every commission to charity.  
Im lucky enough to be involved in the following charities: Habitat for Humanity, School on Wheels (www.schoolonwheels.org), KW CARES (chairperson for 5 years), Hermosa Beach Youth Basketball, Manhattan Beach Youth Basketball, AYSO, Relay for life, i to i, Toys for tots etc. Please join me on facebook and look for agent4change, my group dedicated to agents that do charity and volunteer work. I look forward to connecting with you!
For further commentary please see testimonials
I proud to say that beginning in 2010, I contributed a large donation of books to the new "School on Wheels" facility near skid row. I have continued to support through in kind and monetary donations. This ever depleting resource center allows foster & homeless children to permanently take books with them when they relocate. My mission is to continue to contribute to the library through self funding and donations in kind. In 2012, I look forward to my incoming President elect position with the Womens Council of Realtors, an organization committed to educating, empowering and inspiring fellow realtors.
Gloria Commiso's Blog Posts
Certifications
Listing and Buyers agent specializing in residential and residential income sales. I have had extensive experience with short sales and distressed property sales and from 2007 thru 2011 have closed several short sales through persistence and determination. My graduate school background in negotiating and integrative bargaining has prepared me to assist sellers in highly complicated short sale transactions involving multiple lenders and liens including, mechanic liens, hoa liens, and back due property taxes. At a time when agents are choosing to leave the market, I am embracing the challenge and focusing on assisting buyers and sellers accomplish thier real estate goals. In the past i have helped several clients who have sold and purchased concurrently and those transactions required negotiating lease backs and strategic planning.
During the past four years I have been working with a support staff to process short sales. We are focused on getting the right buyer that will go the distance and closing with as little stress as possible.
I have also taught listing classes and buyer courses through Keller William's IGNITE program which trains both new and experienced agents.  My office is located in Hermosa Beach but my coverage areas include LAX to Palos Verdes, I'm originally from Inglewood CA but have lived and owned property in Manhattan Beach for 10 years, Hermosa Beach for 7 years and now have settled into West Torrance CA. Additional ciites where I work include, El Segundo, Redondo Beach, Torrance, Gardena, Lawndale, Hawthorne, Lomita, Rolling Hills, Harbor City, Wilmington, Carson, and Westchester.
In 2012 I'm pleased to announce my service as the Womans Council of Realtors (WCR) President elect for 2013. The WCR serves the southbay and was created to educate, empower and inspire both female and male realtors.
Testimonials for Gloria Commiso
Dear Gloria,

I wanted you to know that your exemplary business efforts on behalf of my family
have not gone unnoticed.

Your attention to detail is first-class. Your knowledge of the real estate
industry and its trends are unrivaled. And your understanding of a buyer's and
a seller's rights in any real estate transaction is brilliant.

These factors have helped to put my family at ease every time we've come to you
for your services. When we needed help with the sale of our brand new home at
1019 Duncan Avenue in Manhattan Beach, we never thought twice about calling any
realtor but Gloria Commiso. We know that you'll be at promised meetings early,
handle open houses personally, be on-call for whatever we need 24/7, and even
though you may have other important clients, you make us feel as though we are
your only client.

Thanks again for doing what you do so well.

Kind regards,
Marc Reede



Dear Gloria,
I wanted to take a moment to write a short letter of appreciation but as I look over the tremendous work you did for me in helping purchase this house, it is nothing "short" of a miracle and impossible to address in a "short letter." During a failing economy in a market riddled with challenges and when I needed to sell one house and find another, in a time when my entire life savings was in jeopardy, you came through like a champ. I cannot express my gratitude and the blessing of having you in my life as a professional realtor and confidant when it comes to not only the purchase of this house but the continued efforts to build it out to my dream home. You are a lifelong strategic partner that will always be my first sounding board no matter what property I purchase in California, the U.S. or abroad. As a former Captain USMC, CIA SpecOps Officer and now Creative Consultant for Fortune 500 companies, it is my job to know who the best of the best are in every profession and I can say without a doubt, you are that person. I have spent over 40 years buying and selling homes and I only wish that I had known you during those periods...my decisions would have been wiser, my stress lower and my profits higher. Your honesty, kindness and overall unselfish ability to do the impossible astounds me in a world where everyone else is all about throwing the client under the bus just to make a dime. You may not realize this, but you came highly recommended by an overwhelming number of professionals in California, all saying the same thing...there is no better person. I am delighted to say that as well. In addition to your sterling character you are just about the smartest person I've known in real estate and frankly I don't know how you learned it all. If there is every anything I can do for you, please do not hesitate to ask. The world is blessed to have you here and I know God smiles on you every time you take on a new client, because in that, you will accomplish the mission and the client will be a much better person for it.
Be well and Semper Fi


Raphie Machado

07/01/2010

Gloria was on point during the whole process. She is very professional, and made sure our goals were of upmost impotance.to her. I would not hesitate to recommend her services!

Stacey and Mike Calcagno

05/03/2008

"Thank you for all you have done for us in the past few months. From the first time you came to our house, until the close of escrow, you exceeded our expectations as a realtor. Your hands-on approach to staging was appreciated. This combined with your idea of changing the bonus room into an office, were key to selling our house so fast and at the right price. We wish you luck in your current business and look forward to working with you again when we buy our next house."

Christine Stich

06/30/2007

"It is with heartfelt gratitude, respect and admiration that I write this recommendation for our real estate agent, Gloria Commiso. We are truly thankful for having Gloria represent us on both sides (sale and purchase) of our property transactions, and successfully negotiating us through the biggest investment transaction in our lives. She is definitely a trusted professional with that genuine personal touch which is hard to come by. There is no doubt that we would utilize her talents in any future real estate transactions that present themselves and would not hesitate to recommend her services to our family, friends and colleagues. Christine and Dan L."
Introducing a fresh new look for your Profile.
Click the 'Edit Profile' button below to enter 'Edit Mode' and continue the tour.