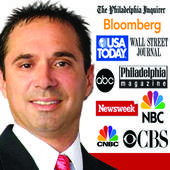 DRE# RS295474
Real Estate Agent
James Harner
James Harner Group - Philadelphia PA Real Estate
Royersford, PA

—

Considering Selling Your Home? Call 610-310-7646 first
Ardmore, Audubon, Berwyn, Collegeville, Chester Springs, Conshohocken, Devon, Downingtown, Exton, Gladwyne,
King of Prussia, Limerick, Malvern, Media, Phoenixville, Pottstown, Royersford, Skippack,Wayne
PA 19426
---
It's not just about what we do that is different, it's how well we sell homes faster and up to 18% more money. We specialize in Fortune 500 marketing practices and Ivy League Pricing Research
Get to know James Harner
WHAT IS THE JAMES HARNER GROUP:
James Harner Group is a unique team of real estate, research and marketing professionals allied with Keller Williams International Realty. Highly successful in marketing Philadelphia homes and helping buyers of Philadelphia Real Estate with his extensive knowledge of business marketing, computers, websites, and aggressive search engine strategies. Our ability to dig deep into real estate market statistics, the quality of homes, numbers of buyers in any price range in any community, and even the backgrounds of sellers, buyers, and their agents  -  sets us apart from traditional real estate agents and brokers.Our approach to helping buyers and sellers is creative, very detailed, practical and fast. No other real estate broker, group, or team does more to market homes through traditional, internet, and social media advertising. None.The benefit to sellers in unparalleled in the industry -- we guarantee that we can sell any home within 59 days at 100% of listing price - or we won't take the listing. For buyers, we guarantee the perfect home if it is available anywhere on the market, and at price and with a loan strategy that will save them thousands or even hundreds of thousands of dollars over what 95% of agents and lenders typically offer.Our clients include executives with Fortune 500 companies to first time home buyers who appreciate our no BS, fact-based, hard nosed investigatory work and who are willing to follow our process of - real estate - research - results. Now the PA House Quest Real Estate Sales Team works the entire Philadelphia homes region and 5 surrounding Counties including:  Berks, Bucks, Chester, Delaware and Montgomery County. Listing homes in the many suburban towns like Ardmore, Blue Bell, Chester Springs, Collegeville, Conshohocken, Devon, Downingtown, Exton, Gladwyne, King of Prussia, Lansdale, Limerick, Malvern, Media,Phoenixville, Plymouth Meeting, Pottstown, Royersford, Skippack, Wayne, West Chester and Villanova are are Team specialty.
"Our team is one of the most aggressive real estate marketing companies in Pennsylvania and is working on being the most successful real estate team in the state of Pennsylvania. Our handpicked team is made up of buyer's agents, listing specialists, investment coordinators, mortgage consultants, and a large admin and IT staff.
Two years ago I knew that the future of real estate was going to be ran by real estate teams who can implement technology and now finally the future of Pennsylvania real estate is here."
James Harner, A Montgomery County Realtor and Certified Residential Specialist is Known for his superior property marketing skills, strong background in negotiations, and an unwavering adherence to ethical principles as the cornerstones of his succesful real estate business practice.
Being highly competitive, passionate, persuasive and articulate, he is able to achieve results others believed to be impossible. Excelling in Residential Homes marketing of Montgomery county luxury homes; including HD video production, social media marketing integration, blogging and brand building in addition to tradition marketing methods.
James Harner grew up in Montgomery county real estate. Born into a family with a PA Real Estate Brokerage and real estate construction as family professions.
James sole desire in his chosen profession, Montgomery county Realtor, is to drive the inefficiencies out of the practice of real estate sales and help consumers build wealth and save more money, while reducing their stress and anxiety in the process. During the last four years, James has trained and mentored with a variety of top real estate, social marketing, and network marketing companies.
He is currently building the technology infrastructure that will help The James Harner Group become a top 100 national real estate team within a matter of a few years.
CORE VALUES
Act with Values of Honesty & Integrity at all times and in all situations. Continually improve our services to exceed our client's expectations. Create and nurture a fun, exciting, creative and productive work environment. Tirelessly pursue personal & Team growth while reaching well-formulated         goals. Work with only the most enjoyable and motivated clients and co-workers.
EDUCATION
James attended Drexel University  and then transferred to The University of Washington. He graduated from the Michael G. Foster School of Business in 1993 with a B.A. in Business Administration with a focus in International Business and Marketing.
Since college graduation, James has been trained and mentored by many top sales professionals. He has numerous certifications and accredations like the coveted CRS or Certified Residential Specialist designation. The CRS designation is the only Professional Designation acknowledged by the National Association of Realtors. James also is a certified E- Pro and has the SFR Short Sale and Foreclosure certification.
James believes you can never stop learning and he continues his education today. He is currently finalizing his Pennsylvania Real Estate Brokers license.
 MARKETING EXCELLENCE
James has owned and sold several successful sales and marketing companies prior to a full time Real Estate career.
CHAMBERS BROTHERS ARCHITECTURAL PRODUCTS, Philadelphia, PA 2000 – 2004 Partner and Sales Team Leader
Quickly reactivated inactive accounts, accelerated sales growth based on proven campaign management, C-level relationship development, sales-team leadership, strategic planning and new market development skills. Company V.P. Sales and Marketing, 12/99 to 02/04
• Managed marketing budget and served as Sales Team Leader, overseeing all accounts.
• Represented manufacturers to end user clients; developed all marketing programs; incubated new accounts; reactivated dormant client relations, deepened and broadened C-level long term relationships.
• Managed direct sales campaigns from cradle to grave; clients included Turner Construction, J.J. White, Irwin and Leighton, GSA, Target Construction, Skanska USA, Bechtel
THE KIND ASSOCIATION Virginia Beach, VA 1994 – 1999 Founder and President
• Created, branded and expanded client base selling imported women accessories, jewelry and home decor; consistently exceeding sales goals and penetrating beyond niche markets into box retailers including QVC.
• Led a staff of 15-20, including sales reps, designers, account coordinators and billing.
• Oversaw Creation of internet portal sales pipeline, streamlining ordering and reducing costs.
REAL ESTATE
Prudential Fox and Roach Realtors, Collegeville PA, 2011
Certified Residential Specialist, E-Pro and Short Sale Certified Realtor and Team Leader of the James Harner Group.
RICHARD A. ZUBER REALTY, Royersford, PA 2002 -2011
Certified Residential Specialist, E-Pro and Short Sale Certified Realtor and Team Leader of the James Harner Group. Top producing sales agent 2006,2007,2008,2009 with accelerated sales growth, even in down real estate market.
• Within 5 years, generated nearly $39 million in sales revenue personally.
• Increased real estate listing revenue by 46% from $1.3Million to $1.9 Million within one year.
• Generate sales through internet portal and direct sales clients.
• Work closely with clients striving to identify their needs and challenges and provide solutions-oriented marketing campaigns that meet timelines and financial goals. Revamped marketing plans calendar and helped generate the largest record of sales in the company's history.
• Constantly striving to create, develop, and implement new ideas, strategies, and services that will benefit our clients, associates, partners and friends for life.
• Created special branding packages for Agents seeking to elevate their market penetration with ghost writing and market domination advertising creating "local expert branding"
James is a Montgomery county Realtor and top producer listing who specializes in strategies to save his clients time and net more money at settlement.
He has the real estate industries most aggressive 88 point marketing plan A 150 point home selling system to smoothly guide sellers to settlement An Easy Exit Listing agreement that makes working together "worry free" A communication guarantee to speak weekly for marketing and showing updates. He guarantees his real estate services in writing or you can FIRE HIM!
James's true passion is helping families live a sustainable healthy lifestyle and build wealth through sound real estate investment principles. Helping sellers reach their Real Estate goals and dreams stirred James's spirit and he became a highly successful Realtor obtaining Top Producer awards on a consistent basis. As he saw the smile on each face of each person he helped he knew that this was his passion. James Harner keeps on top of the Philadelphia region's real estate market and has a sixth sense when it comes to future development.
AWARDS
Top Producing Sales agent 2006, 2007, 2008, 2009
AFFILIATIONS
James Harner is a Certified Residential Specialist (CRS) and ranked in the TOP 3% of Realtors® in America. A Certified Residential Specialist (CRS) Designation is the ONLY professional designation awarded to REALTORS® in the residential sales field. Less than 35,000 of the more than one million REALTORS® in business today in America hold this prestigious title. Top Producing Sales volume is a requirement to achieve this Achievement in the field of residential real estate sales.
James Harner is SFR "Short Sale"certified. This certification recognizesand his ability to help buyers and sellers navigate both short sale and foreclosure real estate transactions. These complicated transactions, require a higher level of skill and knowledge due to their complexity, as demand for professional expertise with distressed sales grows, I have gained additional knowledge and advanced training to continue to provide consumers with the tools and skills they need from a real estate professional
.James is currently finalizing a Pennsylvania Real Estate brokers license.
He is a certified Credit consultant and capable of credit repair. He continually strives to offer the most up to date technologically advanced real estate products and services to create relationships for life with clients, associates, partners and friends.
James Harner's Blog Posts
Home Selling
–

about 10 years ago
Mortgage / Finance
–

almost 10 years ago
Home Buying
–

almost 11 years ago
Certifications
Philadelphia Homes for Sale > Selling Philadelphia Real Estate Search Philadelphia Homes for Sale | Find Philadelphia Real Estate 
Philadelphia Homes for Sale is Our mission at the James Harner Group. Providing BUYERS of residential real estate with the strongest possible client representation. We provide a veteran team of expert Realtors, that are highly trained and offer many, many years of successful transactions.
We strive to be your trusted Real Estate Advisers for life. Search for homes in Montgomery County Homes, Chester County Homes and the entire Philadelphia Homes region at PaHouseQuest.com
 Philadelphia Homes for Sale | Chester County Homes for Sale | Montgomery County Homes
Montgomery county homes, Montgomery county land  Montgomery County Real Estate, Boyertown homes , Chester Springs homes, Collegeville homes, Conshohocken homes, Downingtown homes for sale, Exton condominiums, Gladwyne luxury homes, King of Prussia real estate, Morgantown homes for sale, Pottstown foreclosures, Phoenixville homes, Red Hill homes for sale, Royersford homes, Wayne real estate and all Montgomery County and Chester County property.
We have weathered all Real Estate climates good and not so good . In our market we know how to market our listings so that they will get sold if they are properly priced.
As a lifetime of resident of the Montgomery county real estate market, I offer the perspectives and first-hand knowledge afforded to a true local expert; and my services specialize in representing clients in the following areas of real estate practice:
1. Residential Listing Representation
2. Short Sale Negotiation
3. Foreclosure Mitigation
4. Investment Property Sale and Acquisition.
Our expertise is in selling properties that other agents have not been able to sell. We have a large portfolio of expired listings that when we marketed those listings we got them sold. We are the Expired Experts.
James lives and works in the Suburban Philadelphia region serving the following 5 counties: Berks, Bucks, Chester, Delaware, Montgomery. He has intimate knowledge of over 50 towns and communities in the Philadelphia Region.
If you are considering selling your Montgomery county homes, you should interview your Realtor to find the best candidate for the job.
Below is a list of interview questions to ask any Montgomery county Realtor, before considering hiring them to sell your home. I welcome the opportunity to interview for the job of selling your home.
15 QUESTIONS FOR Potential LISTING AGENTS
1. ARE YOU A CRS; Certified Residential Specialist Realtor? (only held by the top 3% nationally)
2. Do you have preferred placement of your listings on Realtor.com?
3. How many buyers are you currently working with?
4. In what ways will you encourage other Realtors to show and sell my home?
5. Do you have a Pre-Listing Information package?
6. What are your average days on market per listings sold?
7. What is your listing –to- sales price ratio?
8. How often will my home be advertised, and where? May I see some examples?
9. Will you prepare an informative Home Book and feature marketing sheet for buyers to take when viewing my property?
10. Do you have a system to follow-up with other agents and brokers?
11. How often, will you communicate with me and in what way will I be kept informed?
12. Do you have a Team of professionals and transaction coordinators to help with the details of selling my home?
13. Do you have a Detailed Real Estate Marketing Plan. May I see it?
14. Do you offer a Menu of Commissions so I only pay for the Services I need
15. Do you have a hassle free 100% satisfaction guaranteed policy?
Introducing a fresh new look for your Profile.
Click the 'Edit Profile' button below to enter 'Edit Mode' and continue the tour.