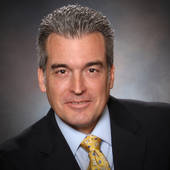 NMLS #124935
Mortgage and Lending
John Parker
Texas Veteran Loan Officer
Murphy, TX

—

Summit Funding, Inc.
Texas Veteran Loan Officer. With all of the recent changes in the mortgage industry you need a loan officer you can trust. I specialize in helping military veterans and active duty member with........
Get to know John Parker
I help military veterans and active duty military members who are looking for the correct advise for purchasing a home or refinancing the one they are living in. Unlike many lenders or brokers who try to push you into the loan that will help them, I concentrate on helping you determine the best loan program available for you and to build a secure financial future so you enjoy your current home or your future dream home without any surprises!
I started working with veterans a few years ago when I realized that most loan officers and mortgage brokers looked at veterans loans as "too hard" and had "too much paperwork". They would try to steer veterans into loan programs that weren't in their best interest and often resulted in higher rates and fees, often with prepayment penalties.
 One of my niches is active duty and military veterans. You can visit my VA Home Loans website or my Dallas Mortgage Loans website...
Certifications
My service focuses on providing clients with a stress-free lending experience and helping real estate agents build loyal clients. I understands what's involved with rendering quality service that stimulates referrals and builds client loyalty.
If you're searching for ways to increase your referrals and improve client loyalty, contact me to learn how my strategies can help make a difference.
Testimonials for John Parker
There's a saying that somewhere there is the perfect buyer for the every property. Sena has always believed if you look hard enough, you'll find that perfect buyer.

Not too long ago, she was the Realtor® listing a unique property - a large home that had been retrofitted to meet stringent American Disability Act Standards, a house that was home to ten disabled children.

It's not easy to find a buyer that wants a home with concrete ramps, kitchens modified for wheelchair access, and bathrooms that resembled a hospital. But Sena got creative and found a buyer - a couple which needed wheelchair access and a place to call their own.

Like many families struggling with a disability, their financial situation has been in upheaval, resulting in a low credit score. For most people, a FICO score this low would have prevented the sale.

Fortunately, this couple was eligible for a grant through the Veteran's Administration. They qualified for a grant that gave them $50,000 to be used on a down payment, closing costs and any repairs necessary for the property. Sounds like a dream situation. Unfortunately, the dream quickly turned into a nightmare.

Sena watched helplessly as three different lenders turned down the loan. Even with the substantial down payment, she was forced to watch her buyer's home slip away. That is until she contacted John Parker.

"John pulled off a miracle. He got the loan through when it seemed like no one else could," Sena said.

Because of John's knowledge of VA, he was able to figure out all the angles. He was incredibly patient and persistent, even when the buyer and the seller were a bundle of nerves from past problems.

"John was completely hands-on. He knew this was a special circumstance and pulled out all the stops to make the loan happen," Sena said.

This may not have been one of the easiest loans for John, but it was certainly one of the most rewarding. With a little diligence, John helped a family make their lives easier.

Life is full of special circumstances and a committed loan officer like John Parker can make it possible for buyers to live their dream.

Glenn spent years in the Army as a doctor serving his country. When he retired, he and his wife wanted an opportunity to enjoy all the benefits they'd worked hard to attain. As most people are aware, there are lots of benefits for veterans including financing for home loans. Glenn was curious to see how his veteran's benefits could help finance a new home.

Unfortunately, it's hard to find loan officers familiar with the Veteran's Administrations loan process. Like many other government agencies, the Veteran's Administration brings a lot of red tape to loan processing. So much so that many loan officers don't even want to work with the Veteran's Administration. That was Glenn's experience. He'd received a lot of advice from loan officers to stay away from VA loans.

Glenn looked up VA loans on a Texas Veteran's website. It referred him to John Parker - a loan officer with years of experience with VA loans."I'd heard it would take months to complete a loan through the VA, but John was familiar with the process and we were able to close in two weeks," Glenn said.

Because of John's familiarity with the process and knowing where to avoid problems, he was able to help Glenn's real estate agent get up to speed on VA loans.

"John has a real gift for working with the VA system. Not only were we impressed, but our Realtor® was wowed," commented Glenn.

It's rare to find a great resource - especially one that can help clients get the benefits they richly deserve. John Parker is the kind of resource that his clients are thrilled to have access to; he helps them and their friends get into their homes with ease.

Who doesn't deserve that kind of benefit?
Introducing a fresh new look for your Profile.
Click the 'Edit Profile' button below to enter 'Edit Mode' and continue the tour.