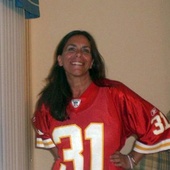 91013
Real Estate Agent
Kara Casamassina
Boomers and beyond
Aiken, SC

—

International Property Management Group, LLC
Aiken, SC ~ One of the most beautiful cities that I have had the honor to live in. I'm serious. I fell in love with Aiken the first time I visited. I'll tell you all about it in a blog, sometime.
Get to know Kara Casamassina
Hi. My name is Kara, and I am a Realtor in Aiken, South Carolina. I am also a SC licensed Broker, and now Broker-In-Charge at International Property Management Group, LLC!     
I like to bake cupcakes, rollerskate and take pictures! (not necessarily in that order, and not at the same time!..although I have been known to wear my skates in the kitchen on occasion)  I am a football girl, my teams are Kansas City Chiefs and Los Angeles Rams :)                                                             
I grew up in New Jersey, and lived there most of my life.  (pleeeeease--- don't say Joyzey!)  Small town. North Western part of the state.    I love being a Jersey Girl.  Jersey will be in my heart forever.    I've been in Aiken almost 20 years and wish I had moved here sooner.  Seriously!  It is one of the prettiest little towns.  I'll have to write a post on 'why I love Aiken'.          
I've been involved in real estate in some way, shape or form since 1996 - but have been a SC Licensed Real Estate Agent and a Realtor since 2006. I worked as a licensed assistant for many years, surrounded by top producers in the office :) I learned a lot, that's for sure!  In 2015 I got my SC Broker license!                                                         
I love my family, friends and I love the beach.  I have a very large extended family....tons and tons of cousins.  If you think you have a large family, I think mine can beat yours! And not going back 100's of years!! I mean starting with MY Grandparents :) 
Aiken is about 2 1/2 hours from Hilton Head Island :) my favorite beach! - and about 2 hours to the NC mountains....and 3 hours to Atlanta, -we're in a great spot.
Well, as you can see, I'm a talker.  Guess I'll save all that stuff for my blog.   Oh - there will be plenty of real estate tips, news, updates, things to do,  etc......   Watch for it!
I like to read blogs...and I am enjoying writing this blog - and the ActiveRain community.  :)    A bunch of blogging Realtors... how fun is that!!  And to be part of this great community of real estate related professionals is just wonderful.  Advice - opinions - suggestions - perspectives - comic relief - insight - sounding boards ...... from so many different professionals in so many different locations.  I'm happy to be here.      
Photo Credit Disclaimer: I use my own photographic images whenever possible.  Other photo sources who deserve credit are: Photobucket, Microsoft Clipart, City of Aiken, Aiken County. 
Kara Casamassina's Blog Posts
Local News and Events
–

over 1 year ago
Local News and Events
–

almost 2 years ago
Local News and Events
–

almost 2 years ago
Local News and Events
–

almost 2 years ago
Certifications
I AM A REALTOR!   I have been a member of the Aiken Board of Realtors - Education Committee 2006-2008, and served on the ABOR Grievance Committee 2009-2011.  I also served at the State level on the grievance hearings panel from 2011 - 2019. I feel very honored to have been selected for this position, and I am hoping for another VERY SLOOOOW year, haha -- let's all play by the rules - ok guys!?
Hard to separate business from personal sometimes, I am who I am - I am no different with my clients as I am with my friends. Always honest - always looking out for them - dependable - ethical - loyal...... Ok, so I know you need to get to know me, and you will, but I'm not here to brag on myself by no means. (even though that is what 'they say' to do.) 
Working as an assistant for many years, I learned from the best in the business!
I loved doing the administrative stuff, keeping things organized. (as best I can anyway) . I love meeting new people and showing them around this great city, too.   I'm no longer the assistant :) and happy to be doing my own thing!
In 2008 I took some extensive education to earn a designation of "Seniors Real Estate Specialist"and was very excited to put it to work for me ----- after weighing the expense of maintaining this designation, it was with a heavy heart that I chose to let my membership lapse.  (it didn't bring us any more business, so why keep on paying for it - times are tough these days, afterall!)    NOW REMEMBER -   I can help a buyer/seller of any age, but I had hoped to create a specialty niche with the mature crowd.  I hate the word 'senior citizen', and I never want to hear it said to me, so I will never use those words here on my blog, again. (I don't even like being called ma'am...and in the South you hear that A LOT)  I may be a Baby Boomer, but I'm far from old. And most of the other Boomers I know feel the same way. When does old happen? Hmmm.... sounds like a good blog topic to me, lol.
I'll be posting all sorts of things! I hope you come back and check from time to time so you can get to know me ----and then hopefully when you or someone you know needs some real estate assistance, you can contact me ---even if you/they are not moving to/from my town...I can help by way of a referral.   
Please come back and get to know me. I'd like the opportunity to assist you with your real estate needs. Let me find an agent to help you no matter where you are moving to/from ----whether you are buying/selling.
Like I said, my topics will vary, please enjoy :)
Welcome to Aiken :)
Introducing a fresh new look for your Profile.
Click the 'Edit Profile' button below to enter 'Edit Mode' and continue the tour.