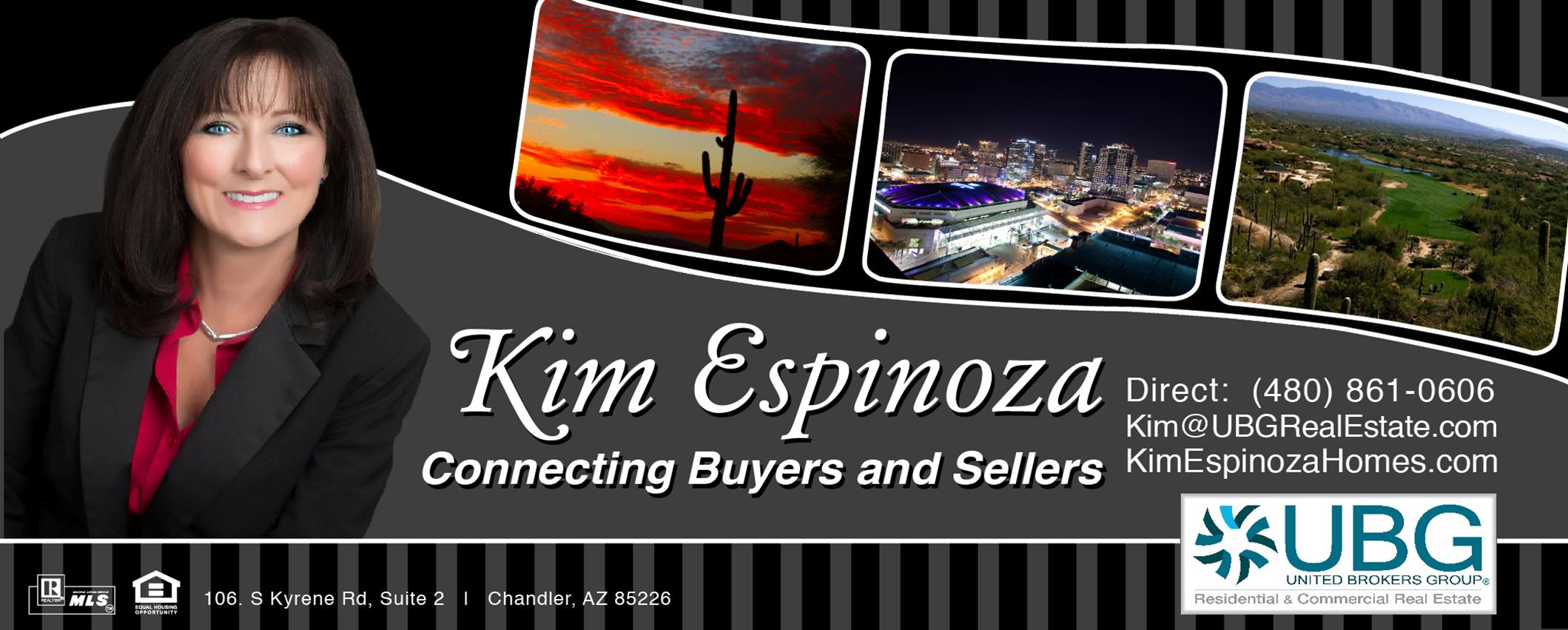 Get to Know Kim Espinoza
Welcome! If you are interested in investing in Real Estate you have come to the right place. Our current market has opened a window of opportunity. This window only comes around about every 15-20 years. Now is the time to buy your first home if you are Renting or buy a second if you have a home. This is a great location to spend your vacations! Contact me today and let me show you how to Build your Wealth through Real Estate!  If you own real estate that you're thinking of selling, I would be happy to provide you with a FREE Home Evaluation. I would also like to take the time to show you how to hold onto that home, make it work for you while you buy your next property. I want to help you build your wealth through Real Estate! In today's competitive real estate market, timing is important. Many good homes are sold before they are ever advertised. Beat other homebuyers to the hottest new homes for sale in Phoenix with my Home Buyers Scouting Report.    There has never been a better time than now to invest in real estate! Whether you are buying your first home, second home, an investment property or trading up - interest rates are down, prices are down and selection is abundant. When making such a big investment of time and money I think you'll agree that you need a professional, experienced negotiator. I invite you to contact me as I'd be happy to assist you with this important transaction. In addition, if you have any general questions about buying or selling real estate anywhere in Arizona, please contact me as I'm more than willing to help. Please browse my website for listings, reports and important local real estate information www.kimespinozahomes.com. For a personal consultation please contact me via e-mail: KimEspinoza@cox.net or directly 480-861-0606.
Certifications
Whether you are buying, selling or have real estate questions.......   
Finding the right agent to represent your interestes is key!  Kim is that agent. She is dedicated to serving you as your trusted advisor.  The majority of her business is done by referral.                                                
 By Referral means,
100% of her time and energy is dedicated to servicing her clients.  You and your referrals will receive her undivided attention and dedication to providing you with the level of service and attention to detail you have come to expect from her.
What that means to you is the highest possible level of service from Kim and her team. She is able to continue this level of service as a result of receiving your heartfelt endorsements to family, friends and work associates who would appreciate being served by a Realtor whose commitment to them is for life.
Kim's philosophy about Real Estate is simple.  In every situation she puts herself in your shoes.  She treats your money like it's her money.  What would she accept as a price for her home?  Will this home increase in value? Nothing satisfies Kim more than seeing the smiles that come with a successful sale or the purchase of a lifetime.
Shes is interested in building strong, lasting, lifelong relationships one person at a time.  Her goal is to become..........
Your Personal Realtor......for life. 
Kim Espinoza
Oh yes............
If you know of someone who would appreciate the type of personal service that I offer, please give me a call or e-mail me with their name and phone number.  I'd be happy to follow up with a phone call and help them with their Real Estate needs.
format_quote
Now is the time to buy a first or second home in the Phoenix Metropolitan area! Prices are at all time lows and Rental demand is at an all time high. Let me help you negotiate the best deal today!