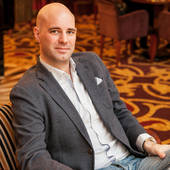 Services for Real Estate Pros
Trevor Barzee
"Making You The Authority In Your Marketplace"
—

Promote Your Projects & Promote Yourself With Location Cubed Design.
Properly positioning yourself as the authority figure in your marketplace allows your clients and prospects to create an emotional bond with you and your business. Set yourself apart from the crowd.
Get to know Trevor Barzee
Hi, My name's Trevor. Thanks for taking a look at my profile here. I began my real estate career in the early 2000's, where I rapidly expanded into my own brokerage firm. We specialised in both residential and commercial property management, custom spec home development, small mixed-use developments, and also resort/destinational projects. I'm an artist, world traveler, ever-growing entrepreneur, and all around just a great person to get to know...
Here's what I do in a nutshell - During the early stages of building my real estate company (in-house projects) I took it upon myself to do my own marketing. I had "clear" visions in my mind about how things should be done - and wanted them done that way. Furthermore, I had (have) the skills and talent to able to bring these ideas and thoughts to fruition. I learned how to market single family homes for sale & rent, multi-family properties, custom homes, commercial properties, pre-sale market positioning of new construction on both small and large scale, and more.
I expanded my scope to both the Caribbean and Europe, where today, I spend the majority of my time putting my skills to use for others...
The company I work with, Location Cubed Group, helps make people the "Authority Figure In Their Marketplace". We deal with many clients in many niches, but do to my real estate background, I absolutely love to work with people in the Real Estate industry via digital marketing and proper branding of yourself, your property(s), and your unique selling proposition.
• If you're a real estate agent, and wish to "neutralize your competition" in your local area, then I've learned how to help you achieve just that.
• If you're an owner/broker of a firm that's not restricted by an International Franchise/Brand, then we can help you break through your "glass ceiling".
• If you're trying to market your own personal properties for sale/rent, etcetera, then we can also help.
You can visit my website, www.LocationCubedDesign.com for further details and explanations of what I can do for you, plus you'll see some success stories and examples. You can also visit www.LocationCubedGroup.com, our parent site, for even more details.
Skills
• Experienced In Multiple Global Markets
• Digital Marketing
• Online Branding & Authority Building
• Project Creation/Conception
• Project Strategy
• Print Media (non-digital and digital support materials)
• Business Plan Development
• Real Estate Portfolio Planning
• Buyer Targeting
• Seller Targeting
• Property Managment Systems
Testimonials for Trevor Barzee
Hi, I'm Scott Medina, the owner, and broker-in-charge of Go Punta Cana Real Estate, in the Dominican Republic. I'd like to take a moment to talk to you about a company that came into my life at just the right moment to continue my companies momentum bringing it to a level beyond my competition. This company, the Location Cubed Group, is a strategic element within the Go Punta Cana Real Estate team. First, a brief summary of my companies' past, and present.

I relocated to the Dominican Republic with the purpose of moving my career in real estate to this emerging tropical destination. I established Go Punta Cana Real Estate in 2007 as a boutique real estate agency that could help people with their property buying needs in this area. I'd actually been featured on a very early episode of HGTV's House Hunters International as "myself" arriving to Punta Cana and shopping for my personal residence.

Once settled there, I went ahead and opened my doors as Go Punta Cana Real Estate. Initially, I ran the business out of my home office, and the conference areas within the local apartment complexes. I became a part of the Point2 Agent system, which is sort of like a "Facebook for real estate agents" – it lets agents share and cross-promote their listings, organized by region and so forth.

At the time, this was about enough to allow me to sell a property here and there, and slowly grow my business to allow me a small office on the beach where I could market to passers-by.

I worked my way into managing properties on the side per the request of the new owners of condos I sold, purchased some billboards to display around town, and hired an additional agent to work with me.

Fast forward the clock a few years, and Punta Cana was growing – so was my business. I maintained my standard of integrity and honesty, which helped support my standing in the market. Other agents came and went, but I stayed firm. I maintained a small rental portfolio and promoted the properties that I was able to secure as listings.

As Punta Cana was definitely growing, as was the competition. Turns out a lot of people have a dream of running a real estate agency in paradise! Around 2012 / 2013 I began to hit a "glass-ceiling" if you will. I needed a solution that would help push me way ahead of my competition once and for all…

During this time period, I had noticed that there were many groups of people out there that had very prominent visibility online. These people were promoting sales and rentals for a lot of the popular communities around town – communities that my company was trying to promote as well. It was about this time I met Trevor, with the Location Cubed Group. Trevor was actually closing down his property management company locally, and discussed with me the possibility of having Go Punta Cana Real Estate absorb his property portfolio. During our discussions, it came to my attention that the Location Cubed Group was responsible for the majority of the marketing that I was seeing all over the area, digital and otherwise, that I assumed was done by many people. Trevor mentioned in passing he does "web work" to put it mildly, and this is where our working relationship truly began.

As one would expect, I had my reservations at first, I didn't need just another web designer, I needed someone that could actually bring my company to this "next level" I really wanted. I needed a complete overhaul of my image in order to compete with the big international name brands here. This had the potential to be very complex and ever-evolving undertaking.

Together, we first set out to re-define my image – who I am and what me and my company represent to potential clients. I had coined the phrase "The Caribbean Is Calling" and we stuck with that moving forward. Trevor created a great logo to be used as a company device on what would eventually become a large network of marketing platforms. The logo was something that could instantly be recognised by people as the Go Punta Cana Real Estate logo, and would be just as great displayed on a t-shirt as much as a website. Next, the Location Cubed Group developed what could best be described as a large network of websites, each catering to a different niche I was promoting or wished to promote in the future. These niches included everything from Golf Course communities to ocean front communities in the area, all the way to marketing very specific apartments and villas for sale or lease.

It wasn't long before my digital footprint expanded so much, that I needed to expand my "physical" space as well. I found a new office I could occupy right in the heart of the city – in the highest trafficked area of town, where we could plaster my new image everywhere. The billboards were re-done to reflect my new image, and Location Cubed even designed the signage for the front of my office. I was now known as the "new big company in town" even though I'd actually been doing business there for five years prior.

Now, things began to grow exponentially. Locals took note of my new physical presence in the area, and naturally began inquiring about how I could help them rent or sell their properties. Foreigners arriving here notice my company first, and typically send me multiple contact requests unknowingly as my digital footprint is quite vast now. My rental portfolio surged, where today it stands at roughly 50 in-house-managed properties.

I've needed to hire more staff to support the growing business, to what is now quite a large team of professionals that arrived here from various countries around the world.

HGTV took note of my growing prominence in the marketplace, and was more then happy to allow me to do my own casting calls with my clients for upcoming television shows. I've since been on multiple editions of House Hunter's International AND was chosen to be featured for the Dominican Republic episodes of HGTV's Caribbean Life.

The Location Cubed Group helped me get to the point where I'm overseeing the sales listings for hundreds of millions of dollars of real estate – that could mean an enormous amount for my companies' bottom line, and we're seeing a very large amount of cash flow now from the ever-growing portfolio of rental properties managed.

These things may have been possible in the long-term growth plan, as I and my team are very good at what we do, however Trevor and his team were able to take all the necessary elements of Go Punta Cana Real Estate and roll it in to one large package that presents us in a light that makes us stand out from the crowd!

Go Punta Cana Real Estate is poised to become one of the largest residential real estate companies on the island in the near future. We'll venture into residential construction and development, as well as in to commercial real estate opportunities very soon.

Thanks again to Trevor and the Location Cubed Group for helping me realize the full potential of my company. I would strongly advise that any business or service that wishes to put their best face forward and make a strong and substantial digital impression to seriously consider what they have to offer.
Introducing a fresh new look for your Profile.
Click the 'Edit Profile' button below to enter 'Edit Mode' and continue the tour.