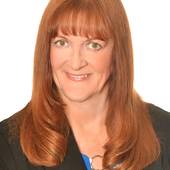 BR114848000
Commercial Real Estate Agent
Linda Gerchick, CCIM
"Make the Market work for You!"
Scottsdale, AZ

—

Gerchick Real Estate
I am a commercial Real Estate Broker that has attained her CCIM and specializes in Multi Family Investment Property. I work for the largest Wholesaler of Residential and Commercial Property in the St
Get to know Linda Gerchick, CCIM
Designated Broker
Linda has been in the real estate business for 20 years and has a well rounded track record in advising buyers and sellers as a Commercial Broker and consultant. She has extensive experience in developing successful working relationships with clients, buying and selling, as well as in bringing together an entire team of professionals to help her clients with their commercial real estate investments.
Linda was born in Nebraska and raised in Phoenix, living in the Valley of the Sun most of her life. Early in her career Linda bred, raised and sold Arabian horses. Her ability to work well with both seasoned and first time investors was instilled in her at an early age when she sold horses to a wide range of clients - from the Prince of Saudi Arabia to small rural families. She learned the art of negotiating from Dr. Armond Hamour and polished her skills in dealing with Arabian horse investments. This provided a perfect segue into real estate, where she drives a hard bargain for her clients on a daily basis.
Linda has been a part of the elite CCIM (Certified Commercial Investment Member) group since 2005. Linda has given seminars throughout Arizona, California and Canada, sharing her extensive knowledge. She provides free tools and information to investors and has hosted many on visits to explore and invest in the Phoenix market.
In today's market it is important for a buyer's agent to possess knowledge and experience in bank foreclosures and short sales. Linda's extensive experience negotiating with banks and buyers through this process offers her clients peace of mind that their transactions will proceed to close of escrow as quickly and smoothly as possible. Linda has also increasingly been assisting clients with the valuation, acquisition and stabilization of REO and distressed commercial real estate projects. She partners with a strategic advisory team that consists of CCIM members and other brokers and developers around the country to source and finance various commercial real estate opportunities with a focus in the multi-family arena. She has sold over 2,000 four-plexes and a plethora of apartment buildings, office buildings, and retail centers among others.
While at Re/Max Commercial Investment she was ranked #2 and #4 with Commercial Closed Sales in the world, two consecutive years. She was recruited by Keller Williams Commercial in 2009 to head up the Northeast Valley office's commercial division. In 2010 she was tapped by the PTE Real Estate Group to join US Investment Realty and spearhead a newly formed commercial division for the company, just as she did again in 2011 for The Robinson Group. She now heads the Commercial Division for UpTown Realty
The Brokerage offers ongoing Seminars for the beginning thru advanced investors.  The Brokerage also offers 12 mentoring classes during the year.  The company also sponsers many charity organizations.  One other items of note is that at UpTown Realty -other Real Estate agents are offered Continuing Education Classes geared for the Commercial Real Estate Agent.
Certifications
Certified Commercial Investment Member (CCIM)
Linda is an expert in the commercial and investment real estate market
If you own, invest, or use commercial real estate, you need a CCIM
Only 7500 professionals are designated as CCIM in North America
Recognition of Excellence
CCIM curriculum reveals core knowledge of commercial investment practitioners
Ability to deal with the diversity in the market/industry
Four Courses of Distinction
Financial Analysis
Market Analysis
User Decision Analysis
Investment Analysis for Commercial Investment Real Estate
Continuing Education in a Dynamic Business
Resume of closed transaction and consultations demonstrating depth of experience
Comprehensive Examination to Earn CCIM designation
Linda is proficient in theory and practice
Continuing education after the CCIM designation is earned to master new subjects in the dynamic business of real estate
Most Coveted and Respected Designation in the Business
Only six percent of the estimated 125,000 commercial real estate practitioners hold this designation
Membership mirrors the changing nature of the industry
CCIM's complete approximately 156,000 transactions annually representing $400 billion
There are 12 CCIM regions representing 1,000 cities
The CCIM designation was established in 1969
Courses leading to the designation are now offered throughout the world
---
Benefit from my experience as a CCIM and rely on me for information and service in the following areas:
Overview of Commercial Investment Real Estate
Recognize the features of the different commercial real estate types
Understand the space, capital, and property value markets
Identify resources and data needed to analyze and market commercial properties
Estimate net operating income and cash flow after taxes
Commercial Leases
Review common leases clauses and costs that impact the bottom line for the owner and tenant
The Basics of Investment Analysis
Review the fundamentals of investing
Apply compounding and discounting techniques to investment decisions
Calculate net operating income (NOI) using source data
Calculate the impact of time value of money on investment performance
Calculate the internal rate of return for a variety of investment scenarios
Mortgage Loans
Evaluate mortgage loans using compounding and discounting techniques
Calculate amortization values (mortgage payment, loan balance, interest, principal and different amortizing periods)
Target appropriate financing sources
Know the criteria lenders use to evaluate a loan application
Real Estate Taxation
Review real estate taxation issues
Calculate tax liabilities from "tax world" and "real world" perspectives
Understand the difference between taxable income and cash flow before taxes
Shelter taxable income through cost recovery
---
The Certified Commercial Investment Member (CCIM) designation is conferred by the CCIM Institute to real estate professionals who complete a challenging education program, pass a Comprehensive Examination and demonstrate experiential requirements. CCIMs demonstrate expertise in commercial real estate brokerage, asset management, valuation, and investment analysis. The CCIM designation was established in 1969 by visionary professionals who worked to establish a network of ethical, professional practitioners. Today, the network includes more than 7,000 designated professionals, and the designation is widely recognized as one of the most prestigious real estate designations in the world.
Designation Requirements
Candidates for the CCIM designation must complete one of the two curriculum options: The general candidacy program (four core courses for a total of 12 core credits plus three elective credits) or the Fast Track program (an accelerated program available to candidates who have earned a qualifying designation). Those under the general candidacy program must successfully complete the CCIM course work and submit a resume of qualifying experience showing a depth of experience in the commercial field. Each candidate mush document in the resume: at least 10 qualifying activities that total $5 million or more; 20 activities regardless of the total volume; or $30 million in volume regardless of the number of activities. All activities documented must have taken place within five years prior to the resume submittal date. After fulfilling these requirements, the final element needed is to pass a comprehensive examination. Fast Track candidates must successfully complete the four core courses and pass the comprehensive examination within 18 months of the candidacy date.
The CCIM Membership Network
The CCIM network mirrors the increasingly changing nature of commercial real estate. Members include brokers, leasing agents, investment counselors, asset managers, appraisers, corporate real estate executives, property managers, developers, institutional investors, commercial lenders, attorneys, bankers and other allied professionals. Through this business network, and through enhanced communication with the CCIM electronic network, CCIMs successfully complete approximately 60,000 transactions annually, representing more than $54 billion.
The CCIM Electronic Network
Since the debut of www.ccim.com in 1995, CCIMs have taken advantage of technology to increase opportunities in networking and education. The introduction of the Site To Do Business in late 1999 was the latest leap forward in that direction. Exclusive to CCIMs and candidates, the site is an integrated resource of industry and business information. It offers quick access to desirable data from a single location. Through www.ccim.com, designees can send broadcast e-mail lists for property and other business-related information sharing. And, the site now hosts the CCIM/Landauer Investment Trends Quarterly, a quarterly analysis of national transaction data. CCIMs can network with fellow members, other commercial real estate professionals, and CIRE magazine staff through a full array of services including e-mail, forums, and property information services such as CCIMNet. The CCIM Red Book also includes member e-mail addresses.
The Future
CCIMs recognize that technology has not only energized the industry, but changed the way real estate business is transacted. The Institute has taken a leadership role among real estate associations in offering useful and user-friendly electronic tools for designees and candidates. The future holds continued exploration of these electronic frontiers, as today's CCIMs utilize the CCIM network and technology to advance professional service and growth. By combining the same qualities that marked the designation's founders -- analytical ability, enjoyment of their work, and the ability to grow professionally -- with the technology advantages of the 21st century, CCIMs will remain leaders in the commercial real estate industry and standard bearers of excellence for many years to come.
Skills
Finding the right property for the investor is sometimes a very complicated assignment. It takes not only open communication between the investor and Gerchick Real Estate; but the ability to meet all of the needs of the investor's real estate portfolio.
First, and foremost: Gerchick Real Estate works with the investor to make sure that we have a clear understanding of short and long term investment goals. We also need to know what quality and size of investment the investor wants to place money into. This is the time to discuss risk tolerance and how much money is to be invested.
Our talent really lies in the fact that we can bring other agents into the transaction for their listings and really find some opportunities that may not be on the market. We continually comb off market opportunities. The relationships that we have developed over the years; with listing agents, banks and pre and post foreclosure companies; allow us to stay on top of the current market trends and what is available for our investors.
Once we have identified the property, we do as much work as possible to make sure that not only from the surface this is the right property, but that both the investor and the property are a suitable match for each other. This takes the resources of our Team, our vendors and the investor.
We also make sure that the property, if it is going to be leveraged, meets the lender's qualifications and that the investor meets the criteria of the lender's.
Once we have negotiated the deal and have an accepted contract on behalf of the investor; we then start to make sure that the books and records flow smoothly to the investor, lender and anyone else that needs to review them.
We also want to make sure that the investor is using the best form of an entity to make their purchase. We have made an effort to team up with some of the best CPAs and lawyers to help the investor make educated decisions regarding their entities.
Once all of these things have been taken care of, we will start the physical inspection with the property inspectors — whatever kinds of inspections are required by the investor and the lender are taken care of. This work is done with the least amount of disturbance to the tenants. Sometimes it looks like many people are involved on the same day — that's on purpose as we try to schedule everything at the same time while everyone is on the property site. Once the reports start coming in, we work with the investor to understand the process. We encourage the investor to attend the inspections, but that is not always possible. Due to this, the UpTown Realty advisor will attend all inspections and take plenty of pictures for the investor. Our goal is for our investors to make well-calculated and fully educated investment decisions.
Testimonials for Linda Gerchick, CCIM
Ozzie Jurock's "Go To" Professional

Self improvement author Mark Victor Hansen (Chicken Soup for the Soul) says "Ozzie is the wisest money man alive ... Drink deeply of his wisdom, insights, advice and you'll permanently prosper."

Originally from Cologne Germany, author and speaker Ozzie Jurock is not some self styled investment theory expert. He is a former president of Royal LePage Canada, then over 7000 real estate salespeople in 600 officers across Canada. Jurock is the past chairman of NRS Block Bros. and has managed real estate companies in Taiwan, Hong Kong and Tokyo. Jurock's service includes the boards of BC Real Estate Council, the Vancouver Real Estate Board, the UBC Real Estate Research Bureau and the Quality Council of British Columbia. He is president of the Canada Taiwan Trade Association, and has judged for the Ernst & Young Entrepreneur of the year award.

Ozzie Jurock is known as one of Canada's leading business motivators. His investor outlook conferences attract audiences of over 500 attendees every time. There is only one reason: Ozzie Jurock delivers more than he promises and he has selected Linda Gerchick as his go to professional in Phoenix and the Southwest States of the U.S.

A Broker On Roller Skates

"When you are with Linda," says Jurock, "you better have on your roller skates as she is going to cover opportunities faster than anyone else. The fact she is a CCIM means she knows what we want and what to look for. Linda does not waste our time."

"We know the data and are so targeted that we play neighborhood differentials such as why a condo (building) in Phoenix versus Scottsdale will produce better cash flow, versus appreciation or when to prefer a blended return."

"Because Linda understands these investment nuances better than most real estate agents she positions us and our Canadian clientele to achieve better odds and better returns." OzzieJurock.com or LandrushCanada.com
Introducing a fresh new look for your Profile.
Click the 'Edit Profile' button below to enter 'Edit Mode' and continue the tour.