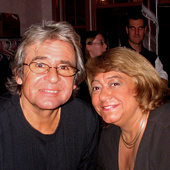 Services for Real Estate Pros
Jan Chilton
Real Estate Marketing
Retired. Real estate marketing, SEO content writing, social media marketing, and blogging. Become an authority on real estate in your city.
Get to know Jan Chilton
I've been working with real estate agents and small businesses since 2003, designing small custom websites, and specializing in search engine optimization.  My business website, Myrtle Beach Web Design describes how I work and the things that are important to making a website rank in Google, Yahoo, and Bing.
I try to share my knowledge on Active Rain as much as possible, and hope that some of my tutorial blogs about SEO and Social Media Marketing will help someone.  If anyone has a request for an article or topic, please let me know and I'll try my best to put as many do-it-yourself tips on the blog as possible. I enjoy teaching, and wish I could do that more than the actual "doing" sometimes. :-)
I've worked with several Myrtle Beach real estate companies in the last 5-6 years, and as it ends up, they are now all affiliated and are partners.  The first site I did, Condolux.net is legendary in the area, as it ranks in the top 3 for over 100 of the most important keyword phrases.  I've built or SEO'd about 10 MB business sites in all, and when it comes to condos in Myrtle Beach, two or three of my sites are always on the first page of the search results.  Between all of my websites and blogs, and all of my customers' sites, we have around THIRTY thriving websites about Myrtle Beach. There are Myrtle Beach vacation rentals sites, golf sites, real estate sites, and many other businesses such as Allstate, tree companies, and retail stores.   
SEO has changed so much in the last few years. It's gotten harder and harder to rank a new site, and almost impossible to rank one without an enormous amount of original, well written, and useful content.  I find myself becoming more of a website copywriter than anything. Success comes from having a customer that knows his business and is willing to put some of his own effort into helping to build the very best site for the type of business he's in.  This is especially true for Realtors and the community they work for.  If they can't tell me why I would want to live there, they probably won't be successful in selling it to a potential customer, either.
I've recently started doing mostly SEO content building, training, and leaving all the months and months of work up to someone else. I can't charge enough for the amount of work you have to do to make a site rank from the bottom up. It's to the point now that the owner either has to buckle down and work on his website, hire someone else to do it,  or use pay per click.  I suspect Google means for it to be that way, too... If you are looking for an SEO consultation or search engine optimized content writing, though, I'm your girl. I have a ton of references if you care to call them.
My clients almost always become long-lasting friendships, and offer helpful advice and help with social media until a site ranks.  That's the way I like to do business, and the main reason my business has done so well.   Nothing beats a network of Realtors helping each other, conferring together, sharing knowledge and helping to make us all have better websites and more sales!
You can find me on Facebook, Linked in, and Google+  
For those who might wonder, I'm a lifelong Monkees and Davy Jones fan. My photo is a cherished one of Davy and me from 2006.  He was a wonderful, beautiful man, and I will miss him always.
###
Jan Chilton's Blog Posts
Home Buying
–

over 7 years ago
Home Buying
–

over 7 years ago
Real Estate General Information
–

almost 8 years ago
Home Buying
–

almost 8 years ago
Certifications
Over 10 years experience in SEO and Websites. 
Skills
Search Engine Optimization, content creation and management, blogging, social media marketing, general internet marketing, blog training, Google Local and Maps help
Testimonials for Jan Chilton
I had Jan do web design and SEO for me and I couldn't be more pleased. I highly recommend her. She definitely "knows her stuff" and knows how to make it work for her clients.

I asked Jan to help me improve my website rankings in 2001 and within three months my website was on the first page across several search terms. Now because of her advice, my website is on the first page across ALL my search terms. I would recommend Jan as an SEO consultant for any small business. I have done well by her advice and I highly recommend her for SEO consulting. Great person to know on a personal level as well.

Mechelle and Lee Cunningham

01/05/2010

Jan is the best. No one could beat her so we joined her. :) When she works with you she brings her vast experience, knowledge and will power into play. She gives 110% and doesn't stop until you are where she thinks you should be. I fully recommend her to anyone needing SEO and web design work.

I whole-heartedly recommend Jan to anyone who is looking for honest, professional assistance with their website or SEO program. Jan is always helpful, and is one of the hardest workers I know. She has extensive knowledge of her business, and is easy to work with.

Diann Tonnesen

10/09/2008

Jan is one of the most honest and intelligent people I have come across in the web design field. She knows SEO backwards and forwards, and keeps on top of the game consistently, promoting her sites to the top of the search engines.

Of all the SEO people that I know in the U.S., Jan Chilton is the one with the most consistant ability to deliver top quality and value. Her sites universally rank in the number one or two positions in their relative field and this is almost an impossible to achieve goal over four or five years in competing with huge multinational firms. Yet, somehow she does it. I would recommend her for anything SEO or website wise.

Simply put Jan knows her stuff. As far as website optimization goes she is the best I have seen. She is friendly, kind and willing to share ideas with others which makes her special in a business where everybody wants to keep their secrets. This is what makes her special.
Introducing a fresh new look for your Profile.
Click the 'Edit Profile' button below to enter 'Edit Mode' and continue the tour.