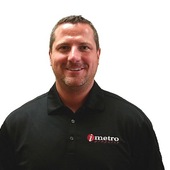 Real Estate Agent
Matt Ebbighausen
Burnsville, MN

—

iMetro Property
I inform, equip, connect, and serve my clients so they are empowered to make well informed decisions about the buying and selling process.
Get to know Matt Ebbighausen
About Matt Ebbighausen
Matt is the Broker/Owner of iMetro Property.  Matt has been a Realtor for 11+ years and has helped clients navigate the highs and lows of the market.   Matt's passion beyond real estate is being with his family, coaching, and church.  Matt has been married for 12+ years, has four children, and lives in Lakeville.  Matt coaches traveling soccer and hockey in Lakeville.
Matt grew-up in Burnsville and graduated from Burnsville High School.  After graduating from Burnsville he attended St.  Olaf College in Northfield where he graduated with a BA in Political Science and played hockey and soccer.  After college Matt worked for a Fortune 500 Logistics Company in sales and National Account Management.  It was shortly thereafter that Matt began investing in real estate and decided to commit to real estate full time to follow his passion.  Matt focuses on traditional single family home sales, first time and experienced buyers, investors, short sales and REO/Foreclosures. 
Matt is well respected and trusted within the real estate industry at large.  Matt has been voted "Super Real Estate Agent®" by Minneapolis & St. Paul Magazine for 2008, 2009, 2010 and 2011, and "Real Estate Agent Voted Top in Their Field" by Twin Cities Business Magazine.  Fewer than 3% of all licensed real estate agents in Minnesota are selected to receive these distinctions.  Matt's team sold 225+ homes in 2013.
For the past 8 years Matt's real estate experience, industry knowledge, and hard work earned him the opportunity to work with many lending institutions across the country to help manage, preserve, and sell their bank owned properties (REOs).  Matt's clients included Fannie Mae, Freddie Mac, Bank of America, Wells Fargo, Housing Urban Development (HUD), US Bank, Ocwen, and OneWest Bank.
In 2013, Matt was presented with an opportunity to work for Blackstone Group out of New York to help launch their subsidiary company, Invitation Homes, in Minnesota.  Invitation Homes purchases primarily distressed single family homes, renovates them, and then offers those homes as high-quality rentals.  The position required a high level of expertise and extensive knowledge of the Twin Cities real estate market.  Matt managed and approved the purchase of more than 950+ homes in Twin Cities for Invitation Homes in less than 8 months.  Nationwide Invitation Homes currently owns over 40,000 homes and has deployed over $8 billion.  
Matt's real estate experience is extensive, diverse, and unique.  Know that when you are working with Matt that you are working with a true industry leader to help you make informed and sound decisions when buying or selling your home!
About iMetro Property
iMetro Property was founded to differentiate itself from other brokerages by doing things uniquely and distinctly. We aspire constantly to challenge the status quo of the business. We embrace change in order to make it the cornerstone of our success.  We strive to continually discover and develop new business strategies in order to improve the real estate experience for the benefit of our clients and associates.  We challenge ourselves to create an environment that meets and exceed our clients' expectations over and over again. Today, that vision remains clear and resolute!
Our Vision
iMetro Property is a company whose core values embrace family, team, and community.  Client relationships are the heart of our company and our experienced team is the pulse.  We believe that people and the relationships created sell homes and that our future success lies squarely in the hands of the people that represent us with competency and integrity.  At iMetro Property authenticity, competency, innovation and creativity are the cornerstones of our foundation.  We are intent on building an environment that enhances our business rather than render it impersonal or ordinary.  We have established a unique culture that allows us to enhance our business through leadership and new technology.  The real estate market is always changing and as a result, our agents regularly attend training sessions and events to further their knowledge and be sure that they are focusing on current conditions that affect today's buyers and sellers. This type of training is imperative if we are to be successful in obtaining top dollar on home sales. Our goal is to make sure that we satisfy the special needs of all of our clients and at the same time make the process and transactions go as smoothly as possible.
Matt Ebbighausen's Blog Posts
ActiveRain Community
–

over 10 years ago
ActiveRain Community
–

about 11 years ago
Certifications
1.) Experienced Home Buyers & Sellers 
2.) First Time Buyers
3.) Luxury Homes
4.) REO Property Preservation and Sales - NRBA & Open Door Institute Member, RDCPro, A-Credited REO
5.) Short Sale  - CDPE® Designation
6.) Investment Real Estate (Commercial and Residential)
AVOID FORECLOSURE!  Chances are, you or someone you know is facing the possibility of foreclosure. You or your friend/family member need to understand that, THEY ARE NOT ALONE!
Today, 1 out of every 7 homeowners in America is behind on mortgage payments. These are tough and frustrating times. Now more than ever, it's important to identify your options. Foreclosure can be avoided, your credit can be saved, and your financial future can be salvaged.
Through my experience of handling distressed properties, I've found that homeowners today have more questions than answers about their circumstances. That's why I earned my CDPE® Designation to so I can help homeowners better understand the possible solutions to foreclosure, as well as provide a detailed explanation of short sales, which may be the best course of action for some homeowners.
 As an agent with the CDPE® Designation, I have a strong and unique appreciation of the factors affecting the market, and know that there are options available to you.  The idea of losing a home can be overwhelming, and I feel it is vital for you to have all the facts necessary to make an informed decision.
If you would like to know more about your options, please call me at 952-457-9864.  I am here to help...
For Buyer's:
Buying a home is an exciting time in one's life. Making the smart move of choosing a REALTOR® is your first step to ensuring that your new home and community meets your needs. My services and experience range from financial aid to helping you find the home that best suits you and your family. For your convenience,  Ialso provide listings by email. I pride myself on repeat business and hope you'll come to understand why.
To make your experience more enjoyable and less stressful also review the THE HOME BUYER'S HANDBOOK. 
As Your Agent, I Will:
Assure that you see only the properties that meet your criteria. Guide you through the entire home buying process, from finding homes to look at, to getting the best financing. Make Sure you don't pay too much for your new home and help you avoid costly mistakes Anser all of your questions about the local market area, including schools, neighborhoods, the local economy, and more.
I offer my clients a home warranty when they purchase a new home.  Unlike, other home warranties, there are now age restrictions in the warranty contract on appliances and mechanicals.  It gives buyers piece of mind so they don't have to be concerned about unexpected home repairs.  It's an ideal way to move worry-free!
Before You Start Looking For Your New Home:
Check your credit rating. Straighten out any errors before its too late. Determine a comfortable monthly budget for your new purchase, including down payment and monthly payment. Find a loan program that meets your needs and get pre-qualified (preferably pre-approved). Choose a REALTOR® that you trust and who understands your needs. Determine what neighborhood best matches your needs. Identify important features you need your new home to have.
Closing Costs to Expect:
Lender fees include charges for loan processing, underwriting, preparation and establishing an escrow account. Third Party fees include charges for insurance, title search, and other inspections such as termites. Government fees include deed recording and state & local mortgage taxes. Escrow and Interest fees include homeowner's insurance, loan interest, real estate taxes, and occasionally private mortgage insurance.
For Sellers:
Selling your home shouldn't be a stressful ordeal. Making the smart move of choosing a REALTOR® is your first step to ensuring that your investment in your home pays off. Our services and experience allow you to focus on your move while We manage your home sale from our initial consultation to the closing deal, and beyond. I pride myself on repeat business and hope you'll come to understand why.
For additional information on selling your home review THE HOME SELLER'S HANDBOOK.
As Your Agent, I Will:
Complete a comparative market analysis that will compare your home's value to that of your neighbors. Compile a comprehensive plan detailing all the efforts we will employ to sell your home, including Internet and local media. Present your home to as many qualified buyers as possible getting your home maximum exposure. Help you stage your home and generate curb appeal to ensure you get the highest price. Assist with obtaining offers and help you in negotiating the best deal as smoothly as possible. Help you find your next home and answer all of your questions about the local market area, including schools, neighborhoods, the local economy, and more.
Recent Home Sales
What are homes selling for on your street? Feel free to contact us to find out what neighborhood homes are selling for, free of charge, or to receive a more detailed analysis of the value of your home.
Getting the Highest Price for Your Home
Curb appeal is key and could make a difference whether people stop and take a flier, or drive right by. Here are a few tips to increase the curb appeal of your home. Staging your home is important. Many buyers will stay in your home longer if it's staged appropriately. We have compiled some ideas to present your home in the most effective manner.
We offer our clients a home warranty.  It gives buyers a piece of mind when buying a home.  Statistics show a home offering a warranty sells 50% faster than those without and have been known to increase sales prices by up to an average of 3%.
Closing Costs to Expect:
Title Insurance fees depend on the sales price of the home. Broker's commission is a full-service fee and will cost anywhere between 5% to 7%. Local property transfer tax, country transfer tax, state transfer tax, and state capital gains tax are the charges that you'll pay for the privilege of selling your home. Credit to the buyer of unpaid real estate taxes for the prior or current year are variable and depend on when you close and when your taxes are due. FHA fees and costs are all fees are now negotiable between an FHA buyer and seller. Home inspections fees are in some circumstances paid for by the seller and include pest, radon and other inspections. Miscellaneous fees can accrue from correcting problems noticed during the home inspection.
For Investors:
What is a CAP Rate and how do you calculate it?  How do you calculate IRR?  Should you do a 1031 Tax Deferred Exchange? All things a knowledgeable real estate investor should know.
What are your goals and aspirations for investing in real estate?  Tax benefits, buy and hold, appreciation, speculation, short sales, foreclosures, commercial, development or multi-family. Everyone's goals are different....
Matt is an experienced real estate investors and working to get his CCIM Designation.  It's the highest designation a real estate professional can earn in commercial and investment real estate. Contact me for a free investment consultation.
Introducing a fresh new look for your Profile.
Click the 'Edit Profile' button below to enter 'Edit Mode' and continue the tour.