Maya Garg * ASP/ASA/ABR/CNE/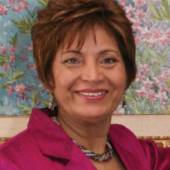 Real Estate Sales Representative
Maya Garg * ASP/ASA/ABR/CNE/
Moving you Forward.... Buyers, Sellers, Investors
Mississauga, ON

—

Royal Lepage Signature Realty,Mississauga, Ontario
Mississauga, Oakville, Milton, Brampton, Toronto
30 EGLINTON AVE W
Mississauga , ON L5R3E7
---
Realtor /Stager who helps stage clients homes. Ranked in Top 5 in the office. Serving Mississauga,Oakville,GTA,Milton,Brampton. Property Management made Easy.
Get to know Maya Garg * ASP/ASA/ABR/CNE/
As a Real Estate Agent in Mississauga, I am always striving to exceed my client's expectations,providing excellent service and serving you with honesty and dedication. I specialize in selling,buying, renting residential properties, investment properties, townhouses,condominiums,in the Mississauga, Oakville, Milton, Brampton & Etobicoke areas. And in Greater Toronto Area.  I offer you the highest degree of integrity and proven results.  With years of selling and relocating experience in the shipping,banking,travel and re-location industry,I bring a fresh and unique approach to Buying and Selling homes in Mississauga,Oakville and surrounding areas.You owe it to yourself to consider me when buying, selling, renting or investing in Mississauga, Oakville, Milton,Brampton and surrounding areas.  You will not be disappointed.  You will be happy that you made a contact with me.  Having taken my Accredited Senior Agent's course, I also help SENIORS who would like to downsize from the current home to a smaller home or a condo.  Looking after all aspects which may be needed just to make the life of the Seniors stress-free.  Even when children are away they can contact myself and my team to look after all the needs of the Seniors.
 My professional philosophy is to provide the ultimate in real estate services, resulting in satisfied clients, referrals and repeat clients. I take the time to understand what is important to you by asking a lot of questions and really LISTENING to your requirements and concerns.  When you are ready to sell or buy a home, you will also realize the importance of having a realtor represent you with  'great negotiating skills'. 
Awards achieved:
Centurian Award (2nd top level award level with Century 21) 1999-2005
Director's Platinum Award 2005- 2006,2008,2009,2010,2012 Represents the the 2nd top award level within Royal Lepage Canada
President Gold Award-2007,2011
Consistently Top 3 in Royal Lepage Kingsbury
Member of Toronto Real Estate Board
Member of Mississauga Real Estate Board
Member of Canadian Real Estate Association(CREA)
Member of Ontario Real Estate Association (OREA)
Accredited Staging Professional (ASP)
Accredited Senior Agent (ASA)Helping Seniors transition & Downsize 
Accredited Buyer Representative 
Business Background 
My success in Real Estate is in part, due to my background in a variety of sales and sales management positions spanning 20 years with Inchcape Shipping Services, Dubai, UAE, ACL Canada,  Expeditors, AMJ Campbell International, in Canada.  The time at Inchcape, ACL and AMJ Campbell  allowed me to develop great negotiating and conflict resolution (objection handling) techniques. These are skills you will come to appreciate when I am handling the sale of your home or the purchase of a new home. I love getting the best deal for my clients. Whether working from my home office or the offices of Royal LePage, my service is completely computerized, providing you, with instant, updated market information. 
On a Personal Note 
I have lived in MIssissauga for more than 20 years but I am originally from Bombay, India and prior to migrating to Canada l lived and worked in Dubai for 18 years (my second home) While I commit the majority of my time to Real Estate, I also know it is part of my job to keep my finger on the pulse of the community. As a result of this, I serve as a valuable resource for information regarding the local educational systems, community businesses and neighborhoods in Mississauga.  To keep fit and to relax, I enjoy meditation and  love gardening in the summer. ..I am an Accredited  Staging Professional and  give staging consultations to my clients- which is free when they are buying or selling.
 "Real Estate is not about Brick and Mortar... it's about people and I love people!", says Maya..."it brings immense pleasure to see my clients happy and satisfied with their decision. My main role is to prevent my clients from making a decision that they regret later..." Adding to this upbeat attitude, Maya's sound Commitment to Excellence, Extensive Experience, her Market and Industry Knowledge explains why Maya is one of the most demanded and favourite Real Estate Professionals. Maya's client base stretches globally
Maya Garg * ASP/ASA/ABR/CNE/'s Blog Posts
Real Estate Market Trends
–

almost 2 years ago
Home Selling
–

almost 2 years ago
Real Estate Market Trends
–

almost 2 years ago
Real Estate Industry
–

over 4 years ago
Certifications
Helping people from all walks of life has been my passion.  Whether First time buyer who has no idea of buying their first home or a New immigrant who has just landed in the country-not knowing what to do -They find my tips and education very helpful.
Whether you are a First Time Buyer or a Move up Buyer looking to Buy a luxury home from Mississauga, Huron Heights, Terry Fox, Mavis,Britannia,Creditview,Streetsville,Churchill Meadows,Erin Mills,Winston Churchill, to Port Credit, Lakeshore and Milton, Brampton, you can rest assure that you will have first hand knowledge on these areas from the Realtor who has lived and worked in these neighbourhoods over 14 years. 
Understanding how consumers have changed the way they shop for real estate is a tremendous factor in planning the real estate marketing mix.
To aggressively market your home, your advertising needs to include a combination of Internet, Videos,Social Media and printed promotion.
Maya's experience, background and willingness to help makes her a unique person. Her approach to real estate includes technical expertise as well as personal attention. This combination qualifies Maya as the right REALTOR® for you.
When helping you sell your home, Maya will prepare a personalized marketing plan that meets your needs and expectations. In implementing this plan, she will guide you in pricing & staging your home to help achieve the results you seek.
When helping you find your new home, Maya draws on her experience to offer you a wealth of information about local communities, schools & neighborhood.
Upon analyzing the 'Personal Needs' of the Sellers and Buyers identifying unique features of a property - Maya implements a suitable Marketing Strategy for a quick and hassel free sale or Purchase. Maya's expert approach to understand the buyers needs, eliminates unnecessary aggeravasion and results in saving several thousand dollars.
When helping you find investment property, Maya guides you to invest in the Real Estae which will bring you great ROI.
When helping you with Property Management, she personally supervises everything to ensure that your property is managed well from selecting a Tenant to making sure that the property is looked after.
She can also draw upon her network of contact and other available resources to help you with financing, insurance, moving & virtually any other services that you may require to complete the purchase of your home. For all clients, Maya coordinates all details of the transaction and keeps in touch regularly throughout the buying & selling process.
Maya has a great "Fan Club" Her past clients who refer her all the time.  She is committed to working closely with her clients from first meeting until the close of transaction, celebrates every victory right along with them.
 I specialize in helping buyers who are relocating to the Greater Toronto area, specifically Mississauga, Oakville, Etobicoke, Milton, Burlington and Brampton.  I also assist, seniors and empty nesters looking to down size, move-up buyers, and with listing homes.  I focus on creating extensive online exposure for my listings including web commercials and virtual tours. I  assist every year approximately 100 families with the sales / purchases of their home .
If you are looking to buy or sell a home in Mississauga, Milton, Brampton, Oakville or GTA (Greater Toronto Area)you owe it to yourself to call me today!
You can contact me directly on 416-565-2780
Awards
Director's Platinum Award..Top 5% in Real Estate Industry-Royal Lepage
President's Gold -Royal Lepage
Award of Excellence -Helping Buyers & Sellers achieve their goals
Certificate of Masters Designation-Richard Robbins
Certificate in Accredited Staging Professional-Stagedhomes.com
Accredited Senior Agent. ASA
Century 21 Centurian Award ..Top 1% of Real Estate Professionals
Certificate in Real Estate Relocation-
Certificate in Buyer Representation- Ken Wilder Enterprises
Skills
Negotiating Contracts,                                                                                                                                                                                                                 
Listening Skills,
Home Staging
Real Estate Buying, Selling, Rentals
Relocation, 
Property Management
Testimonials for Maya Garg * ASP/ASA/ABR/CNE/
Maya,
I am so delighted that I was referred to you by your past clients Raj and Shakeela. The moment I met you in your office until you sold our home despite so many challenges I can only say that you are GOD Sent gift to us.
You helped us by making us comfortable, listening to our challenges and guiding us step by step how to proceed with the Sale of our Home right from the time of 1st visit, helping us stage the house and getting us multiple offers in 3 days to the full asking price.
Your negotiating skill was evident when you delivered more than we had thought of.
Thank you.
On the Buyer side you worked very hard to get us the home where we would feel comfortable and very good negotiating here too.
You are the Best and Myself and Roy would not hesitate to refer you to our many friends who would like to do any Real Estate Buying or Selling.
Rakesh helped us at every step with our Mortgage, bridge financing and guiding us.

You both husband and wife make a good Team of a Professional Realtor and a Mortgage Broker/Financial Planner.

God Bless you Both

Mary and Roy

Shailaja Dalal

04/10/2014

Maya has been my realtor in Canada and I've known her since early 2010. There are very few people that I recommend and Maya is one of those few. Maya is insightful in understanding the needs of her clients and works hard until she finds them a perfect place - a place that her clients will love. She is very professional and takes pride in going the extra steps to deliver more than what is generally expected. She is a good negotiator and keeps herself current and well-informed about housing market trends, especially in West GTA. On top of this all, she is trust-worthy, personable, and carries her infectious enthusiasm and positive attitude wherever she goes. I encourage you not to miss the opportunity to work with Maya.

Reggy & Fabien

04/09/2014

We have only known Maya Garg for 4 days because thats how long it took for her to sell our house. Due to the expertise she demonstrated in correctly pricing our property, along with her experience at the negotiating table, we not only sold our house in a timely manner but received exactly what we were looking for as far as selling price went. We found Maya warm and friendly. Her staging abilities helped her in selling our home. We have been singing her praises to all our family and friends. Thank you Maya for making us feel at home. Our little daughter Crystella adores Maya. Reggie & Fabien


Radha & Sriram

03/26/2014

Hi Maya:

Thanks a lot for your hard work and tenacity in getting our home sold for more than asking in a short time. I was very impressed with the way you handled the prospective offers when we were in your office last week. All the best.

I hope you have put the SOLD sign in front of the house now.


Regards,
Sriram
Churchill Meadows, Mississauga



Adrianna & Sam

03/22/2013

Hi Maya,
May God Bless you for doing everything right for us. When we were deciding on the agent to sell our home, we had over 20 agents to choose from but myself and my husband Sam felt very comfortable listing with you. It was a hard decision but we are so happy that we CHOSE you to sell our home. You were so articulate and your guidance on showcasing our home resulted in an offer within 30 days (though the homes in our area take more than 60 days to sell) and you gave us wonderful news on a X'mas day that we have an offer. Your negotiating skill, your presenting of the home and marketing strategy and the exposure of our home...they all added up for a SUCCESSFUL SALE at the price which we were aiming at. Thank you. We will always keep you in our prayers.



We are also Thankful to you for the home you selected for us. We all love you for that. My son adores his space and so does my daughter. You were the one who made us buy that home. You really understood our requirements and what will make us happy as A FAMILY. My whole family is grateful for your sincere advise. WE ALL LOVE YOU. You are the BEST. KEEP DOING GOOD WORK.

Adriana & Sam

Hi Maya,

What a pleasant experience in buying my first Condo to live in. I didn't even know how smooth this process went. I had heard horror stories from others but dealing with you in buying my first place was such a happy experience. Your knowledge about the market,your understanding of my goals and timeline, above all negotiating the best terms for me are admirable.

When I was referred to you by your past client, I was in two minds whether to meet with you or with other agents which were referred to me. I can NOW SAY THAT I MADE THE RIGHT DECISION by choosing you as my Realtor.

I would not hesitate recommending you to anyone who is thinking of buying.

Good Job...Well Done

God Bless

Rajat

Hi Maya,

Once again you have proved that you understand client's requirements and will follow through on their plans and achieve their goals. This time our goal was to buy something for our living. (You already helped us before for buying other properties) and you selected the areas which will make us happy. We finally closed our home to live in and we cannot Thank you enough for helping us in every respect to make this our Home. Thank you for being their for us and guiding us in making right Real Estate decisions.



Sathish & Gita

February 2013




Wajahat Zaidi-Switzerland

06/28/2012

Dear Maya What can I say about your service. You have proved me all the time that you go beyond your DUTY OF THE CALL. When we bought our condo at 35 Kingsbridge Garden 6 years ago you helped us with every aspect of the purchase and then you managed the property for us so well making sure to choose the right tenant and also looking after our property. In October when we decided to sell the condo, you got us the BEST PRICE in TOWN in the building and also helped us close the whole transaction and even pick up our final cheque. We didn't even have to come to get the formalities done. We appreciate all your hard work,your patience and above all your Passion for helping. We will surely refer you to all our friends, family and ofcourse when we decide to buy again we know where you are? Ofcourse this time we will make Switzerland our Home for now. Thank you once again for everything. Keep up the good work. Wajahat Zaidi

Dear Maya,
I've written this genuine recommendation of your work for you to proudly share with anyone who needs to review your credentials.God bless you.

Details of the Recommendation: "Maya is a very experienced, thus knowledgeable, comprehensive and a result oriented professional who is dependable, trustworthy and a pleasure to know and deal with. Without exaggeration, Maya is the last real estate professional you'll ever need."
Service Category: Real Estate Agent
Year first hired: 2011
Top Qualities: Great Results, High Integrity, Creative

Hi Maya,

I too must express my sincere thanks to you and I echo Nelina's sentiments below. You handled everything superbly and delivered excellent service with confidence and extreme credibility. I wish you were here to sell my home too.

I too look forward to meeting at some time in the future.

Take care, have an awesome weekend and mother's day. Please let me know if I can ever do anything for you in Calgary while I am here.

Thx so very much again.

Chit
Introducing a fresh new look for your Profile.
Click the 'Edit Profile' button below to enter 'Edit Mode' and continue the tour.