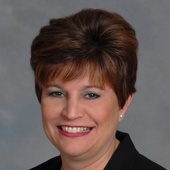 Real Estate Agent
Vickie McCartney
Broker, Real Estate Agent Owensboro KY
Owensboro, KY

—

Maverick Realty
Inactive at this time. (as of Sept.27, 2011)
Get to know Vickie McCartney
** Inactive as of Sept. 27th, 2011**Vickie McCartney is Your Owensboro, Kentucky Real Estate and Home Marketing Specialist that exceeds your expectations, and specializes in happy endings! She is an experienced and a PROACTIVE Real Estate BROKER (Associate) licensed in Kentucky, Focusing on the Owensboro, KY area, a Realtor and Real Estate Blogger, an experienced Staging Professional, an Accredited Buyers Representative, a certified E-Pro Internet Professional, as well as a dynamic ,proactive and assertive Real Estate Broker with over 12 years of Real Estate experience and 20 years in Sales and Marketing. She has been selling Real Estate full time for many years, 7 of those years as the Broker/Owner of a successful Real Estate company called McCartney Real Estate in Brownsville, TN. and was awarded the '"Small Business of the Year Award' in just the second year in business, so she really does know how to get the job done. She is married to her high-school sweetheart, has 4 grown children and 2 wonderful grand-children that she truly adores! (yes, she is a "young" grand-mom :) She has had to relocate many times because her husband's job promotions, and can truly can relate to anyone relocating and is especially in tune to what is entailed in relocating and in moving! ( She have lived in Pennsylvania, South Carolina,Tennessee and now Kentucky). When you are ready to buy your dream home or sell, especially in the Owensboro, Kentucky area or just have some questions you need answered, just call or text Vickie McCartney,Realtor or if you prefer, you can just send an email.
This competent, highly energized, no-nonsense professional delivers what is promised. Her background as a registered nurse also contributes to her caring attitude and genuine desire to help others. You will discover quickly that I she is one of the hardest working Realtors in Owensboro, Kentucky and is considered a Go-Getter! She simply gets the job done! Look no further, this is the Dynamic Real Estate Broker is the one you are looking for when it comes to Owensboro, Kentucky Real Estate and the only one you will ever need. Vickie's newest investment in Real Estate has been taking classes in Staging Homes so that she may pass on her knowledge to YOU. This experience in Staging homes is just another way she is constantly learning and searching for knowledge and new ways to serve you better. You simply work together and partner as a "team" and get the job done! Owensboro, Kentucky Real Estate is her main area of focus.
Vickie McCartney's Blog Posts
Real Estate General Information
–

about 9 years ago
ActiveRain Community
–

about 11 years ago
Certifications
Schools for Owensboro, KYView public school list
There are two public school systems, Owensboro and Daviess County, plus the Owensboro Catholic School system, comprise the K-12 education system in the community. Heritage Christian and Good Shepherd operate Christian schools providing education from preschool to middle school and preschool to high school respectively. The Triplett School offers private education for kindergarten through high school.
The Adult education programming is available at the Longfellow Education Center.Owensboro is home to two four-year liberal arts colleges--Brescia University and Kentucky Wesleyan College. Each has an enrollment of approximately 800 students. The region is home to the Owensboro Community College, one of 13 community colleges in the Kentucky Community and Technical College System (KCTCS). More than 2,300 students attend the community college. The two locations of Owensboro Technical College, located in Owensboro, are also a part of KCTCS.
Western Kentucky University offers extensive undergraduate and graduate programs at its Owensboro campus. Owensboro Community College offers associate degree programs in several fields and numerous business and industry training options. Some are available via telecommunications. Brescia University offers the Master of Science in Management degree to provide early and mid-career professionals with enhanced skills and abilities to meet the increasing needs of local employers.
The Owensboro Junior College of Business, a 37 year veteran of the community, provides training to approximately 300 students, as well as corporations throughout Western Kentucky.
Arts and Entertainment for the Owensboro,KY area
Owensboro boasts some of the best arts and cultural activities for a city its size in the country. Whether your interests lie in museums, music, art or theater, Owensboro has it.
The RiverPark Center
The curtain is always rising on a new event at this performing arts and civic center which is located on the Ohio River in downtown Owensboro. The RiverPark Center includes a 1,500 seat multi-purpose auditorium, an experimental theatre that seats up to 300, lobbies and support facilities, a riverfront plaza, an open-air courtyard, and meeting/reception rooms. Each year, the RiverPark Center hosts more than 150 performance events and more than 900 civic events.
The RiverPark Center is home to several local performing arts organizations including the Owensboro Symphony Orchestra, Owensboro Dance Theatre, the Owensboro Community College Oak Island Theatre, and the Owensboro Concert Association. In addition, the RiverPark Center presents a professional Broadway series, an Arts Teach Kids series, Kidstuff series, as well as several special events including the Taste of Owensboro.
The International Bluegrass Museum
Bill Monroe, known as the "father of bluegrass music," was born and raised in Rosine, Ky., just a short drive from Owensboro. That tradition is still alive and well in the area and is celebrated at the International Bluegrass Music Museum, which displays the history of bluegrass music through interpretive exhibits, posters, costumes and instruments. Other local bluegrass events include a winter concert, the Yellowbanks Dulcimer Festival at English Park and the annual Bluegrass Blast during the last weekend in September.
Owensboro Symphony Orchestra
The Owensboro Symphony Orchestra has an annual concert schedule and performs at the RiverPark Center. The symphony performs with some of the best musical talent in the world and annually conducts a Christmas Pops concert.
Theatre Workshop of Owensboro
Theatre Workshop of Owensboro (TWO) is celebrating 40 years of presenting community theatre to Owensboro and Daviess County. Shows planned for 2004 include "Rope", "Sylvia", and "Painting Churches". TWO is housed in the Old Trinity Centre, which is a registred historic landmark.
Museum of Science & History
The Owensboro Area Museum of Science and History and the Wendell Ford Government Education Center is one of the finest facilities of its kind in the region. Among the features of the museum are historic memorabilia, including arts, crafts, and antiques, as well as natural history exhibits and a planetarium. A new Speedzeum opened in 2003 and celebrates the rich racing heritage of the Owensboro-Daviess County region, covering everything from Soapbox Derby to local dirt track auto racing to NASCAR, motorcycle racing to hydroplane boats. With six active NASCAR drivers and countless crew members in service in NASCAR's various racing circuits, Owensboro claims one of the highest levels of motorsports participation of any city in the country. The Speedzeum demonstrates and celebrates this connection, beginning in the early 20th century and following the developments right up through present day, featuring displays of racing vehicles, audio/visual presentations and interactive displays, including a full-scale NASCAR simulator.
Owensboro Museum of Fine Arts
The Owensboro Museum of Fine Arts is housed in two historic structures-the Carnegie Library and the John Hampden Smith House, which dates back to the Civil War. The museum features a permanent collection of 19th- and 20th-century paintings and sculptures, decorative arts dating back as far as the 16th century, and the spectacular Stained Glass Gallery. The museum also features traveling exhibits and hosts educational youth tours during the school year.
The Public Library
The Daviess County Public Library provides services to the entire county population from a single facility located in Owensboro. The library provides a wide array of services, including materials in all formats for all age groups; reference and information services; Kentucky history and genealogy research services; interlibrary loan; programming for children and adults; homebound delivery service; public access internet; dial-in access to the on-line catalog; fax and photocopy services; and outreach services to schools, daycare and headstart centers, and other community agencies. About 275,000 people visit the library each year.
ChamberThe Owensboro Chamber of Commerce provides information for business and industry in Owensboro and Daviess County. Owensboro is the industrial and cultural hub of western Kentucky. Located along the southern banks of the Ohio River, Owensboro is the third largest city in terms of population in the Commonwealth of Kentucky. Owensboro is located 32 miles southeast of Evansville, Indiana; 123 miles north of Nashville, Tennessee; 109 miles southwest of Louisville, Kentucky; 203 miles southeast of St. Louis, Missouri; and 205 miles southwest of Cincinnati, Ohio.
HospitalOwensboro Mercy Health System (OMHS) is committed to providing health education, prevention, early intervention and wellness programs in addition to high-quality, cost-effective inpatient and outpatient services. At all locations, OMHS offers state-of-the-art technology with a medical staff of 130+ physicians representing a wide range of specialties. This not-for-profit regional health care provider, serves 13 counties in Kentucky and southern Indiana. The main hospital, located at 811 East Parrish Avenue, is licensed for 469 beds. The mission of OMHS is to heal the sick and to improve the health of our community.
NewspaperThe Messenger-Inquirer, the primary daily newspaper serving Daviess, Hancock, McLean, Muhlenberg and Ohio counties in Kentucky, publishes seven days a week with circulation of 34,242 Sunday and 31,559 daily.
Introducing a fresh new look for your Profile.
Click the 'Edit Profile' button below to enter 'Edit Mode' and continue the tour.