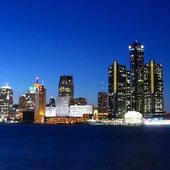 1201069512
Real Estate Appraiser
Moe Farhat
Dearborn, MI

—

Tri-County Appraisal Group, Inc.
A local Appraisal Co. located in Dearborn, MI serving the Detroit Metro Tri-County Area for the past 7 years . We specialize in REO Appraisals in Wayne County, MI. www.mireoappraisals.com
Get to know Moe Farhat
We are a full service Appraisal Co. Serving SE MI. Oakland, Wayne, Macomb, Washtenaw, Livingston, & Monroe Counties. All the appraisers here are licensed and have a minimum of 4 years "full time" experience. So you get a Knowledgeable, honest, and ethical Appraiser. Please visit our webiste for a detailed look @ our coverage area and what we do. http://www.moefarhat.com/ or http://www.mireoappraisals.com/.
Tri-County Appraisal Group, Inc. is a local Appraisal Company located in Dearborn, MI. We've invested time and money in training and technology. With up to date USPAP training, Michigan Laws, continuing education and seminars; along with state of the art computer and navigation systems, we provide our greatly appreciated customers with faster turn around time (24-48 hours), the most accurate and highest quality reports, and the most professional service (we are approved by all lenders). Also at Tri-County Appraisal Group, Inc. there is always someone here to take your call Mon-Fri 9:00am to 6:00pm. No more phone tag! No more unanswered calls! We are not a home-based Appraisal Co., so you won't talk to us on a cell phone while we are on the road. You get a Knowledgeable, honest, and ethical Appraiser, not a "part timer". I know I would not want a part time Appraiser valuating the most important investment I have made.
With 5 Appraisers on my staff, and 3 Certified Appraisers we will work with you on RUSH Appraisals.
WE EXCEPT ALL MAJOR CREDIT CARDS, PAYPAL, CETRTIFIED CHECKS, CASH, AND MONEY ORDERS.... NO PERSONAL CHECKS PLEASE!
Certifications
We specialize in REO/Bank foreclosure appraisals. With an "AS IS" value, a "Quick Sale" value, a "90 day" value, and with an "As Repaired" value, all the Major banks we deal with get more than just an idea of what the home is worth; they get an understanding of what the market looks like at the time of the appraisal, as well as different options on what to list the home for; and depending on how fast they want to sell it, they can decide on which value they want to use.
Foreclosure/REO Appraisal
Homes in foreclosure and homes that have reverted to your institution's ownership present special appraisal challenges. At Tri-County Appraisal Group, Inc, we're more than ready and able to help.
For a property in foreclosure, you may need to know the difference between fair market value and "quick disposition" value, to know your potential charge-off liability. At Tri-County Appraisal Group, Inc, we have experience in both providing snapshots of fair market value for our mortgage lending and servicing clients as well as "quick sale" forecasts that understand your timeline.
Owners of property in foreclosure, of course, present special challenges. They may be unwilling to allow an inspection of the property. If they have abandoned the property already, they may have neglected care of the home for some time -- or worse, caused damage. We have the experience and training to deal with the special dynamics of a foreclosure appraisal, and you should not hesitate to rely on us.
For a property that has already reverted to Real Estate Owned, you likewise will be interested in a quick disposition. But you may want to know and compare three values: As-is, as repaired, and "quick sale." These represent the value of the property without any work done to it, with the work required to make the property marketable to full market value commensurate with competing properties in the area, and, somewhere in-between, with minimal investment in repairs -- selling the property quickly, probably as a "fixer-upper." Again, we understand your timeline and the unique circumstances of an REO property, as well as the special information you'll need -- competing listings, market trends, and the like.
New Fannie Mae/Freddie Mac Forms
Since November 1, 2005 Fannie Mae and Freddie Mac required the newly redesigned appraisal forms for their loans (11 in all). We've been using these forms which include the new URAR (1004 form), the 2055 and other redesigned forms. Whenever you need them we hope you consider us your valuation/appraisal experts, and we know that you expect us to get you the reports you need, on the forms required by your company and its secondary mortgage market partners.
We are known for our fast turn around time, we do not just advertise it. Believe me when I say that if you want your appraisal the same day, just ask. You'll be surprised because we will work around the clock to satisfy our customers.
If there is something that I did not cover in this area, feel free to contact me anytime. If you have any questions that relate to the appraisal process or anything that deals with real estate, just email or call me and I'll be glad to answer any questions.
Introducing a fresh new look for your Profile.
Click the 'Edit Profile' button below to enter 'Edit Mode' and continue the tour.