Key Partners Property Management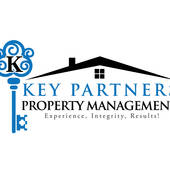 Services for Real Estate Pros
Key Partners Property Management
Experience, Integrity, Results!
Lenexa, KS

—

Key Partners Property Management

Better Homes and Gardens Real Estate
Professional Leasing and Property Management servicing the greater Kansas City area.
Get to know Key Partners Property Management
There is a growing demand for leasing and lease options in the current market. We are a full service property management and leasing company.  We specialize in locating qualified executive tenants for leasing, lease purchase or lease option and then properly manage the property.  This will allow you to maximize the return on your investment and/or wait out the current real estate sales market. If you'd like to hang on to your property until the market returns, have a monthly income and build equity, contact Key Partners! The core of our business is human services: serving our clients as owners and our clients as residents.
What makes us unique is our simple, yet driving focus-seeing things from their point of view and putting them first in all we do.   We deliver this with an exacting standard of excellence and a shared commitment to superior results.  Our success is due to a hands-on approach and the owner's direct involvement with the operation of each asset.  You are not another demographic or our "target market".  We treat people differently by communicating differently and most importantly, effectively.  We want to help you; to work WITH you, advise you, give you choices and make you feel like you are our partner. We want you to know that we care about what YOU need and want. Give us a call or send an email today, we promise to listen to your individual needs and tailor a program to fit you!
Key Partners Property Management's Blog Posts
Real Estate Industry
–

about 1 year ago
Real Estate Industry
–

almost 4 years ago
Real Estate Industry
–

over 5 years ago
Real Estate Industry
–

over 5 years ago
Certifications
We offer full-service rental management services for condos, townhouses, duplexes and single family homes. We manage your property as if it were our own. We focus on maximizing your ROI (return on investment) with integrity, reliability, industry knowledge & property management expertise. (We can also locate qualified tenants for owner managed homes)
Our services include: · Filling vacancies · Lease preparation · Credit/background checks · Collection of rents · Handling of tenant repair requests
Real Estate investing requires homework and industry knowledge. For its combined advantages and benefits, there is no investment that can compare to real estate. But like any investment where the returns are high, real estate requires commitment, courage, sound judgement and continued homework and industry knowledge.
Testimonials for Key Partners Property Management
Online Reviews

12/05/2013

Reviews for National Property Management Group


• Melissa S.
Belton, MO
4/24/2013 They were so helpful! We moved here and had no idea about the area. They gave us great information and helped us find a great home! The whole move in process went smoothly and everyone we talked to was very nice and professional. Thanks!

• Connie H.
Gardner, KS
4/8/2013 Being a property owner became a pleasure instead of drudgery when I signed on with you 3 yrs ago. Having just added another unit to your capable hands, I'm satisfied you'll locate an outstanding tenant for me in no time at all. Thanks for your attention to detail and expeditious service.

• Brittny W.
Independence, MO
3/5/2013 My recommendations are high. I was very confused if I should buy or rent. Lesley walked me through all my options.

• Caren J.
Overland Park, KS
2/15/2013 I just moved to a new house from another management company and I have to say the process at National Property Management was fast, easy and EVERYTHING is online. I never had to leave my computer, found my new house, made an online appointment, applied for the house, signed the lease all at home! Amazing, the most efficient company I've ever seen. All of my emails were answered the same day and calls returned quickly and everyone was very friendly. Looking forward to my new lease!

• Beth M.
Seattle, WA
9/5/2012 We had a great experience with Leslie and her company. We live out of state and Leslie was easy to reach and took care of things as needed. If there were issues with the property or renter, Leslie let us know about it and took care of the problem.


• Sarah C.
Kansas City, MO
8/22/2012 EXTREMELY IMPRESSED WITH WITH LESLIE AND HER MANAGEMENT GROUP!!!

I have been a tenant of theirs for a while and they make renting from them extremely easy. Any time I've had an issue or question, they respond almost immediately through phone calls, texts and emails. You can tell they actually care about the individual and not just the sell. I was in a situation where I needed to get out of my lease early and they more than helped me find new renters to move in with minimal costs on leaving the lease early. I know the owners of the house I rented and they said they absolutely love the way NPM has handled my specific situation.

As far as maintenance requests...I had 3 maintenance requests total and all 3, they had a handyman out within a day or two of the request. That was awesome!! Being someone who has lived in apartments for the past 5 years, I could never find service like that.

The move in and move out process was extremely easy with no complications at all. Leslie took time with me on the phone several times before the move in to make sure all my questions were answered. I am very impressed and would recommend them to anyone!

• Grant S.
Lenexa, KS
8/14/2012 I want to say how much I appreciate National Property Management. They have been managing my house for almost a year and recently saved me from a potentially very costly maintenance emergency. The renter reported a water leak from the refrigerator that was leaking into the finished basement. They called a contractor who was at the home within 30 minutes to get the water shut off and the part picked up and installed the next day. The tenants were happy and since NPM and their maintenance person acted so quickly, the damage was minimal and not very costly. Thanks for being so responsive and professional!

• Tracy W.
Fontana, KS
6/11/2012 I am in the unique position of being both a tenant of National Property Management as well as a landlord of several out of state properties for which I use a couple of different management companies, so I know firsthand how a management company should operate. I have been very impressed with National's operation. I only had a couple of repair issues and the maintenance was performed extremely timely and on my schedule. I was surprised at how many showings they had for the house (as I am moving) and they got it rented extremely fast, avoiding and gap in tenancy.

Should I acquire any properties here in KC I would hire Leslie and her team instantly.

• Elisa H.
Kansas City, MO
1/5/2012 I'm a fan! If you want rental property information in Kansas City, call NPM. As far as property management companies, they are tops!


• Rob C.
Longview, TX 12/23/2011 National Property Management is a great company to work with, The Staff is extremely friendly and has gone above and beyond what I feel is necessary when trying to help me find good renters and take care of my house. I've only been with them for a few months, but have no complaints. The guy that referred me is very happy also. I would definitely recommend them.

• Dan D.
KEY WEST, FL 12/22/2011 I employed National Property Management Group to handle my property 5 years ago. I can highly recommend this company if you're interested in hiring a property management company. They' re very trustworthy, bright, proactive, and responsible. They are sensitive to the tenant requests for repairs and always gave me options on repairs and contractors. My property is always in good shape under their management. I must say: I'm truly happy with their service and would encourage you to consider the bad reviews to be posted from their unhappy competitors.

• June b.
Kansas City, KS
Update - 12/22/2011 The NPM team has done it again! We have terrific new tenants all lined up to move in. Hats off to their marketing system and professionalism.

•
12/13/2011
Our experience with Leslie at NPM has been absolutely fantastic. She was extremely… Read more »

• Anne F.
Pearland, TX
12/21/2011 Love NPM!! I own several properties and National Property Management has managed them for the last few years with very positive results! They have a well organized marketing team that promotes my properties and rents them really fast. The tenants that have lived there loved it because they offer immediate support on any problem that might come up, plus they can pay their rent online! I am so happy with their services!


• John H.
Leawood, KS
12/14/2011 I have read, with interests the comments about Leslie Courtney and her company. I have found Ms Courtney, not only charming and a pleasure to do business with, but also honest and straight forward. She does not waste my time, and like most business people, she will come to the point quickly, as business requires decision, and many people just can not pull the trigger, and that is because they are afraid. Where one has a tenant, they also should want someone that will quickly solve the problem for which we paid her to do. Her job is to assign the repair job to someone trustworthy and prompt, and not to follow them around and to report back to me several time per day. That is why I hired her; to keep me out of the loop so I can concentrate on my own job. She has handled seven houses for me and I have been more than pleased with the freedom her management has allowed me to enjoy. She informs me mostly by mail and seldom by phone and that is better for me. She is clear on the expression of the problem, and I do not expect her to know each step the repairman takes. I expect her to hire respectable and competent people who will do a class A job on my property, and the property costs to much to take any other action. How long will your stock broker take with you. If it is very much time, he is not functioning properly, and will not be around long. We are in the electronic age, and business is done on the computer. If you want a 22 year old, so called property manager, that will talk with you and be so sweet and discuss all of your children, and the latest news, then go somewhere else, but if you want a no nonsense and fully occupied professional straight arrow, then you may want Ms Courtney. I want someone that will do the job with out me telling them how, and someone who will always remember that there those things that a tenant can cause great trouble over, like mold and water issues, and heating and airconditioners. Learning in court can be deadly expensive and that is how she helps me; keeping me free of entanglements and not wasting my time, however nice it is to chat from time to time. If I want some one to hang out with, I will get a girl friend and because time is money, I will stick with the one who allows me to make more with the proper use of my time. Sure your tenant would rather have you because you do not know enough to control them, and that will bite you someday. I will stick with National Property Management, and Ms Courtney.


• Sarah M.
Overland Park, KS
12/14/2011 Choosing NPM to manage our properties has been the best decision we could have made. My husband manages a multimillion dollar company and we both know what it takes to provide and coordinate services. However, we do not know the home rental business and each time we attempted to manage our own three investment properties, we incurred nothing but problems. It wasn't worth the stress or anxiety. Within two days of turning over management of the first property to NPMG, we had a quality tenant in the home, and it has not been vacant since. We immediately turned over management of our other two properties, and the National Property Management team has thoroughly screened all prospective tenants and presented us with options so that we can make the best decisions for us. They have efficiently and correctly handled everything from routine maintenance to an emergency air conditioner problem in the summer, saving us time, unnecessary expense, and the anxiety of trying to handle something that we do not have knowledge of. We are looking at adding two new properties this summer, and wouldn't think of using anyone other than Leslie and NPMG. If you've had problems in the past or are new to the home rental industry, I highly recommend using this company. Great company!

• June b.
Kansas City, KS
12/13/2011 Our experience with Leslie at NPMhas been absolutely fantastic. She was extremely professional and timely in her responses and worked diligently to resolve differences between our requests and the tenants. She has always returned calls promptly and even found us a house to rent when we unexpectedly had to return to KC two months prior to our rent contract being up. I highly recommend Leslie and her team if you are looking to rent or if you have a property to put on the market. Dealing with her has been a fantastic experience and am looking forward to working with her again when my husband and I leave after the first of the year. Don't let one unhappy person's vendetta steer you away from working with one of the top teams in Kansas City. Everyone at NPM has always treated us in an extremely professional manor and with the utmost respect.

Introducing a fresh new look for your Profile.
Click the 'Edit Profile' button below to enter 'Edit Mode' and continue the tour.