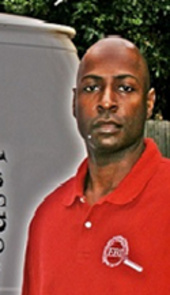 Home Inspector
Richard Clemons
Belleville, IL

—

Extraordinaire Building Inspectors
Whether you're buying, selling, or renting, having a professional home inspection from a leading home inspection company will give you peace of mind and assist you in a fair and smooth transaction.
Get to know Richard Clemons
Use this section to write about yourself - don't be shy - Why should a buyer or seller want to work with you? Do you have any certifications and qualifications? What sets you apart from other agents/loan officers?
Certifications
Whether you're buying, selling, or renting , having a professional home inspection from a leading home inspection company will give you peace of mind and assist you in a fair and smooth transaction.

Extraordinaire Building Inspectors is the premier home inspection company in your area. We have been trusted by home buyers to help them make informed buying decisions. Our home inspections typically range from 2-3 hours long depending on the size of the house and you're invited to follow along with your inspector as they perform their inspection.

We take great pride in every inspection we perform. When the inspection is over, your inspector will prepare a detailed inspection report regarding the property. Call us today to book your home inspection!
Extraordinaire Building Inspectors supplies various types of inspections to meet your need.
Pre-Purchase Inspection
A home inspection is a visual process where all of the items typically used within a home are tested and/or operated to verify proper operation or installation. Doors and windows are opened and closed, roofing materials inspected, air-conditioning and heating systems operated. The Inspector will fill the sinks and tub(s), run the shower(s), and flush the toilets. All the while making notes on the condition and operation of the components tested. Upon completion a report will be distributed to you.

Pre-Listing Inspection
Our home inspectors will conduct a comprehensive visual inspection, inside and out. The inspection report will identify deficiencies that must be disclosed to potential buyers. It will include recommendations for repairs that may enhance the marketability of your home. A professional home inspection can help you sell your home faster at the highest possible price. A pre-listing inspection is a valuable marketing tool.

New Construction InspectionsNew construction inspections are performed at the completion of construction, but prior to your final walk through with the Builder's Customer Service Representative or Superintendent. It is always a good idea to verify that utilities (gas, water, and electric) have been turned on, either by you or the Builder depending on the Builder's policy. The inspection should be scheduled just a day or two before you final walk through with the Builder. This will ensure that most, if not all, last minute items have been completed prior to your inspection. At the conclusion of the inspection a completed report will be distributed to you.

Pre-Warranty InspectionsWarranty inspections are performed during the 11th month of your 1-year Builder Warranty. The inspection will be performed to verify that proper building techniques were used and that the various components of the home were properly installed. You will be presented with a completed report at the end of the inspection along with digital photos taken as needed for inaccessible areas.

Four-Point Insurance Inspection
The Four Point insurance Inspection was created after Hurricane Andrew struck Florida in 1992. It is performed on behalf of the insurance companies and typically, as a requirement for the insurer offering insurance to the new homeowner. More insurance companies are seeing the benefit of the inspection as it spread across the country.
A Four Point Insurance Inspection focuses only on four main areas of interest in a home.
HVAC
Electric wiring and panel
Plumbing connections and fixtures
Roof

Commercial Inspection
A commercial property is defined as the building structures and improvements located on a parcel of commercial real estate. These may include structures such as buildings with residential units operated for profit, mixed-use buildings, strip malls, motels, hotels, factories, storage facilities, restaurants, and office spaces. EBI has the training and certification to provide commercial property managers, investors, and owners, the necessary service to provide reassurance and peace of mind in the commercial real estate industry.
There are a lot of things a buyer worry about during the home buying process. Take the worry and stress out of the inspection process and call Extraordinaire Building Inspectors for your inspections.
Introducing a fresh new look for your Profile.
Click the 'Edit Profile' button below to enter 'Edit Mode' and continue the tour.