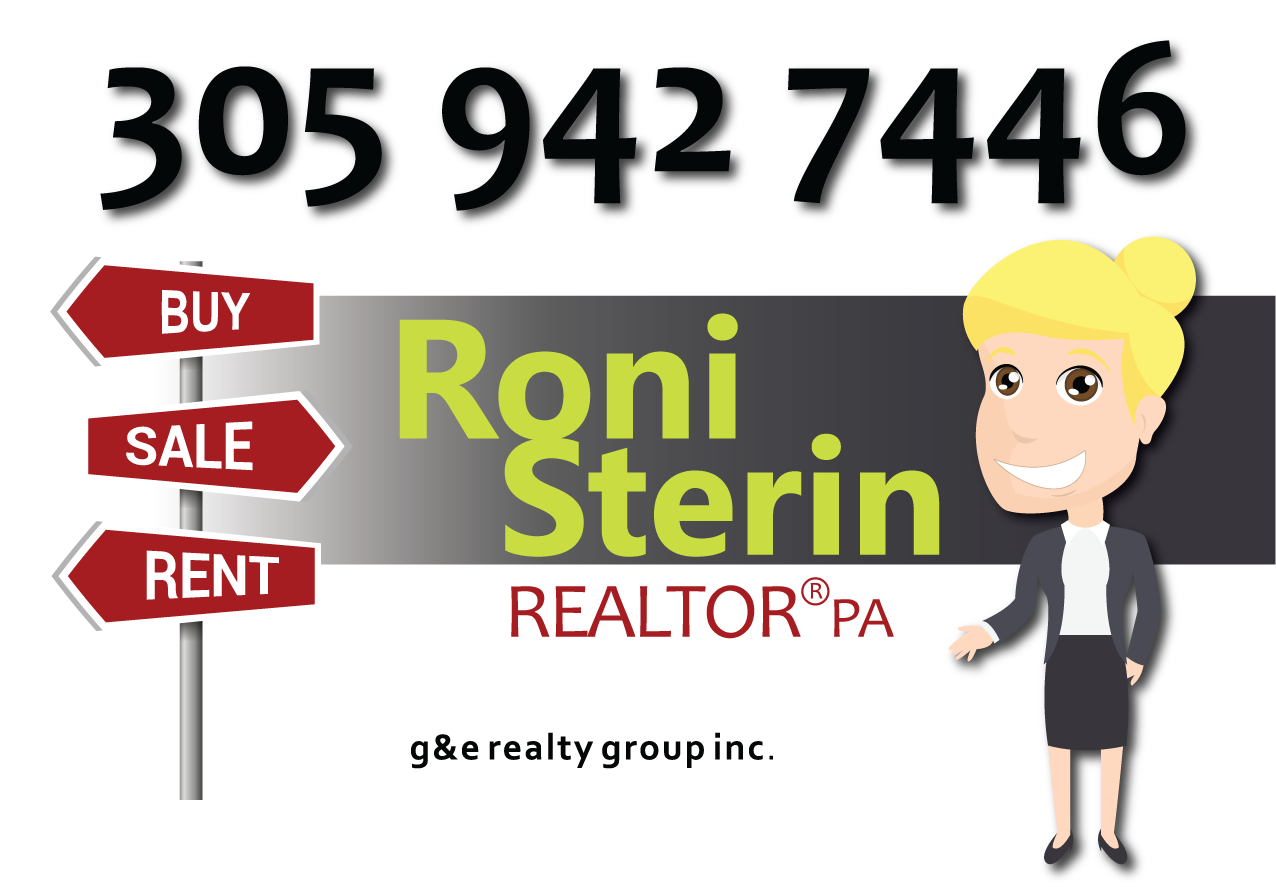 Get to Know RONI STERIN
Roni will help navigate through one of the most important financial decisions one can make.  Real Estate is her life.  Roni has an incredible amount of understanding, patience and dedication which will help as you reach a decision that works best for you.   
Roni has over 15 years of marketing experience which will assist you in buying or selling your property and your business.  Roni speaks English,  Hebrew, and Spanish fluently;  living and working in South Florida one needs to be multilingual.         
Trust Roni, she can provide you with current helpful information.        
Roni lives in Cooper City, FL, one of the most desirable areas in the heart of Broward County.  Her knowledge and patience will assist you in finding the perfect property whether it is a luxury water front home in a golf course community or your dream home she will turn your dreams into a lifetime of happiness.      
Roni is proud to serve the entire South Florida Market.
She believes the her clients are entitled to the highest level of integrity and knowledge of the Real Estate Market in South Florida.  Her fast response and open timely communication are crucial to her success, and your successful transaction. 
golan kahalani
01/21/2016
A professional dedicated real estate agent! Highly recommended for your RE needs. Roni knows the area, knows how to approach both buyers and sellers, to make sure deal is done! Her expertise also comes beyond her scope of job, involving maximum efforts and connections to make the deal right and on time.
Joe 53427
11/23/2015
Working with Roni was an absolute privilege for us. When we decided to consider relocating to the area, we came for a visit and Roni spent about six hours showing us around the area (not something I expected her to do at all, but just shows you who she is). She was more than patient with us over the past two months, showed us each and every property that could possibly meet our standards, until we found the one. Roni is not your typical broker. She will turn the world upside down in order to assist you with all your needs. Available until the late hours of the night, makes communication super easy. She is extremely dedicated, committed, creative, proactive and does anything in her power to make the impossible, possible. I would highly recommend working with Roni and would do it all over again
Cheri
11/06/2015
We used Roni to assist us in finding a rental home in Weston, FL. We had specific things that we were looking for and Roni was great about sending listings that met that criteria. Roni was very patient with us in the process and when she had to go out of town she was still available to respond to questions and send additional listings! I would not hesitate to recommend Roni and will definitely be using her again when we are ready to purchase a home in the area
Jan Mart
10/29/2015
Roni was great throughout the whole process. She is very experienced but remained human in the same time, it is a great combination. She is following up regularly and is able to react to any changed circumstances, yes there were many of them in our case. I would sincerely recommend Roni if you want to have a stress free process
nir
10/15/2015
"Words cannot describe how lucky we are to work with Roni Sterin. I would highly recommend her to everyone. Roni is a fantastic realtor, and guided these first-time homebuyers painlessly through the process. We'd use her again in a heartbeat."
Carmen S
09/19/2015
The process can be stressful, listing, looking, etc... So, you want someone that is confident and knows what they are doing so that you don't have to do the work. Roni is on top of things and always one step ahead to ensure that the best deal is made. Very appreciated.
zuser20150918194659177
09/18/2015
Roni helped us finding the perfect place with all of the requests we had. We moved from out of state and did not had any idea about where to move to . Schools and demographic. Roni had all the information. And made sure to find us a place in a timely manner
sharon g
07/28/2015
Roni is very kind, tolerant for any question we had. Listened and tried to adjust what suits us according to our needs. Strongly recommend, we will definitely working with her in the future.
eli ar
07/02/2015
Thank you Roni for making our first home purchase a smooth experience, connecting us to all service providers and local contractors, and being an awesome negotiator on our behalf! And most importantly - finding (and closing) the ideal house for us based on our desires and budget. Couldn't ask for a better realtor!
Cesar & Kelly Girona
06/02/2015
Roni surpassed all expectations from beginning to end! With all her hard work, we got 4 offers within the first 24 hours of listing our home. Our home was sold in a matter of 2 days. She is honest, responsible, and just an overall rockstar!! We will definitely be working with her in the future and recommend her to our family and friends!
nina
11/28/2014
The main reason I recommend this agent is because of her honesty. It can be difficult to find these days, but I feel that Roni did an amazing job because she listened to our needs and did everything she could to find the perfect home for us. She always responded quickly to our calls and messages, and she was on time. She also has a very friendly, kind, and calm personality. We give her our best recommendations.
format_quote
Helps navigate through one of the most important financial decisions one can make