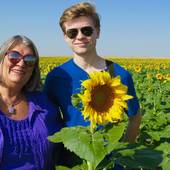 By Carra Riley & Declan Kenyon, Helping people Transition at all ages!
(Brokers Guild Cherry Creek Ltd)
Activerain Agents Hanging Out For Veterans  Be part of history at activerain and come take part in this google+ hangout on air with real estate agents from all over the country discussing their market conditions and Veterans in today's real estate market.   Where:  Google+ Hangout On Air Watch the Veterans United stream for the on air post or go directly to the Veterans United youtube channel. When: Thursday, November 8, at 4:00 p.m. CST Who:  Sarah Hill,  an Emmy award winning Hangout Host, Video Storyteller and Social Media Strategist for the Veterans  United Network will be broadcasting for the Veterans United channel. Sarah was the first journalist to use a G+ Hanogut on TV.  Sarah consults with broadcasters and businesses on how to use Google Plus Hangouts to connect with customers...