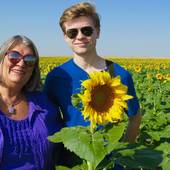 By Carra Riley & Declan Kenyon, Helping people Transition at all ages!
(Brokers Guild Cherry Creek Ltd)
Mobile Marketing?  Are You There? Mobile Marketing is a place you need to be and something you need to know about! If you have not "connected those dots" you need to meet Susan Rice-Lincoln on Thursday, November 3, 2011 9:00 a.m. Pacific Time on the Cosmic Cow Pie Blogtalkradio show. Call into the show on (347) 994-1903 or join is in the chat room. The more you learn about mobile marketing and where today's eyeballs are the better off you will be in adjusting as the Cosmic Shift Happens™. Susan Rice-Lincoln is a Mobile and Social Media Marketing Expert and author of "Mastering Web. 2.0." Currently living in France and connecting all over the world. Individuals, small businesses and non profit organizations will want to listen to this life changing information. Susan will be sharing secr...