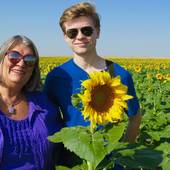 By Carra Riley & Declan Kenyon, Helping people Transition at all ages!
(Brokers Guild Cherry Creek Ltd)
Thinking Global Acting Local Contest Winner Announced The big day has arrived to announce the winner of the "Where In The World Is Carra Riley?" contest. Participating in a journey around the world gave me plenty of time to think about becoming a "glocal" citizen.  I learned to Think Global and then Act Local with some of the lessons learned. First and foremost a HUGE thank you to all the participants in this fun game around the world! My foursquare updates on twitter are taking on a new meaning as I "think global and act local." What an experience it was to voyage around the world with friends in the Cosmic Cow Pie! It is hard express in words how meaningful your comments and participation were as we were out in the middle of the ocean with no old friends or family on the ship.  We did...