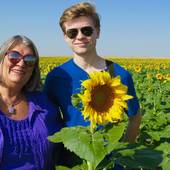 By Carra Riley & Declan Kenyon, Helping people Transition at all ages!
(Brokers Guild Cherry Creek Ltd)
Cooking With Carra! I know, I know.. what is that crazy Carra doing now?  Creating some Cosmic Chili for Christmas and New Years! It's always a good time in the Cosmic Cow Pie! Check out the Cow Tips to making great Chili for a big group!    Quick Cosmic Chili 6 or 7 15 oz. cans of different chili 1  10 oz. can diced tomatoes and green chilies 1  4 oz. can diced hot green peppers 1  15 oz. can stewed tomatoes pureed in the blender 1.5 lbs. hamburger browned 1 large white onion sauteed 1 pkg. Chili seasonings 1/4 cup sugar 1 16 oz can V-8 juice 2 cans water Be sure to bake some cornbread.. add creamed corn to your mix or some cream cheese for chewy cornbread.  Try green chilies for some southwestern spice! Watch the video for chili directions....or wing it.. Cooking with Carra is a creat...