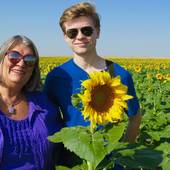 By Carra Riley & Declan Kenyon, Helping people Transition at all ages!
(Brokers Guild Cherry Creek Ltd)
My House Is Not Selling And I Want To Buy Now! This is the dilemma I heard from a Broker I was talking with recently who was frustrated with a seller. The seller has an overpriced condo in an area which is not easily accessible from a main street. The seller wants open houses and newspaper ads to ger her condo sold so she can move on to a bigger home.  This sounded to me like a familiar problem. The broker had given the seller the statistics of the sales in the complex and the prices.  The seller still did not want to reduce the price of the house. I shared with the broker the four key factors that sell a home: Price Terms Condition Location As we talked about the property the answer came down to PRICE, as it usually does. I asked the broker if she had heard of "conditional marketing" a...