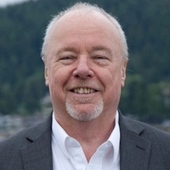 By John Grasty, Your Tri-cities REALTOR, neighbour and volunteer.
(for real estate results in the Tri-Cities.)
It isn't going to be a secret for much longer but the best pizza you have ever tasted is now available in Port Moody's newest Restaurant. With a bit of luck, that is if you act quickly, you'll have a chance to beat the inevitable crowds that will fill the place once the word gets out. Everyone has been wondering, "When is it going to open?" Very quietly the wood-fired ovens of the Heritage House Pizza Company were lit-up last week at 2714 Clarke Street in Port Moody. The first thing that strikes you is the building itself; now restored similar to how the original Appleyard Residence must have looked when it was built back in 1910 on a lot across the road. Last night Catharine and I walked over and were warmly welcomed by Darryl and Martina, the proud parents of co-owner, Sam Tolentino. ...