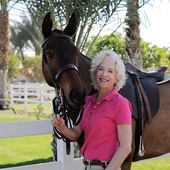 By Kimberley Kelly, SFR, HAFA, GREEN, I do Real Estate like I played polo-to WIN!
(HK Lane, Christie's International Affiliate, 760-285-3578)
The Palm Springs Valley offers approximately 120 Golf Courses!  What??  It's true, so today I'm just going to present some of the Stats and information, regarding the Golf Course Communities in the city of La Quinta. PGA West:  Offering six golf courses, three public and three private, and covering approximately 1200 acres, PGA West is the largest golf course community in La Quinta. Home price ranges run from approximately $150,000 to approximately $3,000,000. Membership is $40,000 and monthly dues are $1145 per month. Total home numbers are approximately 2950. The Hideaway:  Known as "the social club", home prices range from approximately $1,000,000 approximately $7,000,000. Golf membership is $150,000 with monthly dues of $1650. There are approximately 250 homes. The Citrus:  An affil...