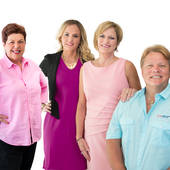 By Joy Carter & Jeff Booker Brother and Sister Team, Trust Your Family's Move To Our Expertise!
(Keller Williams Parkland/Coral Springs Realty-GreatFloridaHomes Team)
I was dropping off an application for a Buyer to apply to a condo association in Tamarac, Florida.  The President of the association told me the interview had been cancelled because it fell on, "Decoration Day". Not wanting to be rude, I just nodded and asked when it would be rescheduled. Back in my car, I thought, "Decoration Day? In what country, I thought we honored those who died in service on Memorial Day (since the day he was referring to was the 27th of May). Well, ignorant be me!  Decoration Day is Memorial Day. That was the first time I had ever heard Memorial Day referred to as Decoration Day. My generation grew up with Memorial Day and his generation grew up with Decoration Day. A Day To Honor Many I'm not overly concerned about what they call it. I am interested in taking th...