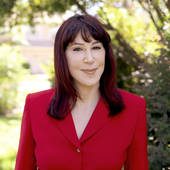 By Wendy Rulnick, "It's Wendy... It's Sold!"
(Rulnick Realty, Inc.)
Do you think landscaping doesn't make much difference in the curb appeal of a home?  Think again!  Look at the two photos below of a Fort Walton Beach Florida home I have listed for sale."Before" "After"Isn't the difference in the "Before" and "After" photos are striking?  In the Fort Walton Beach market area, this curb-appeal change may bring the homeowner $5,000 - $10,000 more in sale price.  The investment?  Only a few hundred dollar for wood chips and cleaning the exterior siding.  Sure, if this home already looked good, and just a few flowers were added, it might help with "salability", but not so significantly dollar-wise.  But what if a home lacks any landscaping pizazz, and has perhaps overgrown bushes, weeds, and no obvious attention?  That's when the return-on-investment can ...