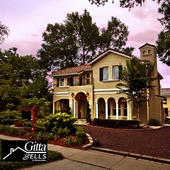 By Gitta Sells and Associates, Where home sellers and buyers always come first.
(Gitta Sells & Associates at Keller Williams Heritage Realty)
Lake Mary, Fl condo prices seem to be on the mend again especially in Notting Hill condo complex. Notting Hill is a great condo development, close to I-4 and in a great school district. Walking distance to some of the superb restaurants are at The Lake Mary Hyatt Hotel and many other conveniences. Notting Hill offers a gated and non gated area with community pool, tennis and a club house. It is located right on the Seminole County trail for walking, jogging, biking and what have you. The gated side of the development offers a 2 car garage and some of the units have a fireplace. There are 1 bedroom, 2 bedroom and 3 bedroom units available. Best of all, the sales in the development have been red hot for this year, sales increased from 92 units in 2009 to 117 units in 2010 and we have seen...