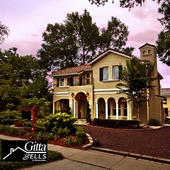 By Gitta Sells and Associates, Where home sellers and buyers always come first.
(Gitta Sells & Associates at Keller Williams Heritage Realty)
  Lake Mary, FL – If you are selling your home, then ask the buyer to write a letter about why they want to purchase the home. If you are a buyer, then write that letter. Discover my list of Lake Mary luxury homes by clicking here. The listing agent will submit that letter along with the short sale paperwork. With a little luck that letter will help "grease the wheels" and cause the short sale to be approved faster. Short Sale negotiators are human beings. They have emotions that can be touched by a good story. These letters might sound like a joke, but they can make a huge difference. I've even seen home owners lose money on their sale because the liked a certain buyer over another one. In that case, the seller sold their home for several thousand dollars less to a buyer that they lik...