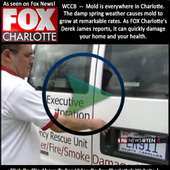 By David Snell 704.545.0098, CERTIFIED MOLD INSPECTOR, CERTIFIED MOLD REMOVAL.
(WWW.ExecutiveRestoration.Com)
Should people be using,  the Crawl Space, for Pets?Is this a good or bad idea? Do you want to use the Crawl Space for Pets?Although, this is a creative idea, I would not let or allow pets in the Crawl Space. Either intentionally or unintentionally.  Here are some reasons, why. 1/ Your Crawl Space affects the indoor living environment.  Your Crawl Space door, should be shut at all times and you should have a Crawl Space door on your Crawl Space and the door should be closed and secure at all times.If you have no door on the Crawl Space, cats, dogs may enter out of the rain or in bad weather conditions or to keep cooler or warmer.  If a dog or cat goes to the bathroom in the Crawl Space, the odor could affect the indoor living environment, through cracks and crevices and around vent work ...