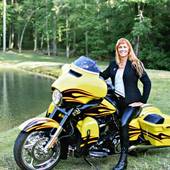 By June Tassillo, Let me help you with the next phase of your life!
(Owner/Broker RE/MAX Elite Realty)
Pottery & Artwork at Natually Yours Studio in Downtown Franklin, NC   Mike & Christy Barber own a quaint little shop in Downtown Franklin, NC   Be sure to stop in and see the latest hand thrown pottery by Mike and the Artwork of Christy.  ~ Barber Pottery ~ Our stoneware is handcrafted in the Smoky Mountains of North Carolina by Mike and Christy Barber. Every piece is wheel thrown by Mike before being hand carved by Christy. Finally, each piece is finished by spraying multiple layers of glaze before being fired to over 2100 degrees.   Are carvings and glazes take their inspiration from nature, where we spend our free time hiking and fly fishing. Our pottery is meant to be used and enjoyed. Every piece we make is oven, dishwasher, and microwave safe. We hope you will enoy using our potte...