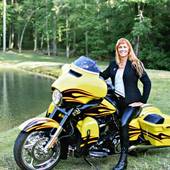 By June Tassillo, Let me help you with the next phase of your life!
(Owner/Broker RE/MAX Elite Realty)
Hello, I want to buy a house down Hwy.441 South can you help me? Sorry my taxi day's are over! Mr. Buyer called the office Thursday morning and asked me to help him buy a home down Hwy.441 South in Franklin, NC.  He said he was sick of driving over Cowee mountain everyday to work.  Mr. Buyer tells me Fruit of the Loom is opening back up and he is helping them to get ready to do so.   Of course I am going to help him. I would LOVE to help him and his family relocate.  He wanted me to go show him houses today, there are many to choose from and he has a few he picked right out of the book. He said he don't know what his comfort level with a mortgage is yet but he is ready to look at homes. Now, it all sounded really good on the phone and the poor guy really was sincere.  Then my questions ...