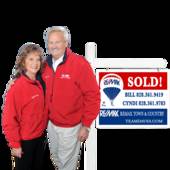 By Bill & Cyndi Daves, TeamDAVES - Your REALTORS In the GA/NC Mountains!
(Hiawassee, Young Harris, Blairsville, Hayesville, Murphy and Beyond!)
  My Kindergarten Year with My Granny Back in the dark ages in my hometown of Tampa, Florida kindergarten was not required. When it came time for my mother to enroll me, since it was optional, the family decided instead to have me stay with my grandmother who had been severely injured in a painting accident at home.  Unfortunately for my wonderful Granny, medicine wasn't what it is today and she was going to be bed ridden for many months.   Lying in bed with pins in her leg and a cast from her foot to the top of her leg, it was totally impossible for her to get out of that hospital bed.  Instead of grumbling, my Granny took the opportunity to teach me a lot that year.  I learned how to cook breakfast and lunch for the two of us and how to keep the house straighted up for when my "Gaga" ...