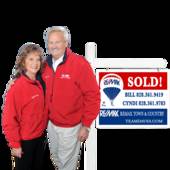 By Bill & Cyndi Daves, TeamDAVES - Your REALTORS In the GA/NC Mountains!
(Hiawassee, Young Harris, Blairsville, Hayesville, Murphy and Beyond!)
It Takes A Village To Raise A Child         Just like the saying "It takes a village to raise a child", well, it takes a village to reach a goal!!  Back in February when I/we started blogging regularly, 50,000 points seemed like an eternity. Somewhere along mid-April I set a goal of having 50,000 points by the end of the summer!! Then the 31 days of May Challenge came along and I readjusted and decided the end of May was a more likely projection.       Peg Barcelo-Jackson had a great post THIS IS LIKE WATCHING THE ODOMETER ON MY CAR.  She was totally enthused with watching the numbers jump.    As you will see from my comment on her post, on May 15th we had 43,565 points.                     Today, May 25th, we reached the goal of 50,000 points 6 days early!!!           Of course, we did...