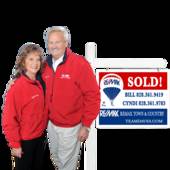 By Bill & Cyndi Daves, TeamDAVES - Your REALTORS In the GA/NC Mountains!
(Hiawassee, Young Harris, Blairsville, Hayesville, Murphy and Beyond!)
It started with a call from a customer that wanted to want to see a very rustic log cabin in an extremely remote area.  Two guys, passing through town on motorcycles, one of which wanted to buy a cabin. I had shown this cabin to a lovely couple just the week before so I knew how far out it was.  Since they wanted to meet me in the little town close to the cabin rather than the safety of the office, needless to say, my radar was on high alert.  This is one of those times when I am so thankful that we work together as a team and I didn't have to call on someone else to either work the buyer or go with me for safety reasons. Wanting to maximize our time with them we found several log cabins in the area and made arrangements to show those as well.  And, on Saturday morning at the appointed ...