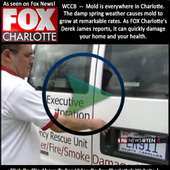 By David Snell 704.545.0098, CERTIFIED MOLD INSPECTOR, CERTIFIED MOLD REMOVAL.
(WWW.ExecutiveRestoration.Com)
I would encourage each and every one of you to watch the documentary called "Collapse" You can watch it off Net Flicks if you are a member and you will be quite surprised and shocked of what you see  and hear.  I would suggest you have an open mind when you are watching and listening to this information. Have you heard the expression or question that no one could have predicted to what is happening in the USA today or even the world? Ever heard of tent cities? Tent cities are groups of folks who are living in tents because there home has been forclosed on and they do not have any work. Emotional stages: Denial, anger phaze, bargaining and then accepting things for what they are and dealing with them.  The Titanic was built to never sink but sink it did one day when it hit an ice berg. A...