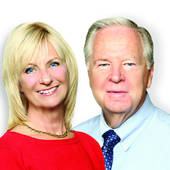 By Al & Peggy Cunningham, Brokers, Our Family Wants To Help Your Family!
(RE/MAX West Realty Inc., Brokerage)
Do You Know What This Is? If you answered a "hydro meter", you were partly right. What the picture is, is actually a brand new SMART METER, that was installed at our house yesterday.  Not just any old hydro meter, let us tell you.The old meters could only measure the amount of electricity being used over an entire billing period.  The new Smart Meter will record the total electricity consumption hour by hour.  And it is capable of sending that information wirelessly to the utility company.  This new meter makes time-of-use pricing possible.They say by the end of 2010 that every home and small business in Ontario will be equipped with one of these meters.  This meter will allow you to manage your power consumption.  The goal is to get us to adjust our habits and use the power in off hour...